This is a recipe I had bookmarked for a while – and is another addition to the banana-chocolate phase I seem to be going through. Well, to be honest, it's hardly a phase and more a 'lifestyle'.
One Sunday I was feeling a little indulgent and a lone banana caught my eye. No more excuse needed. This is a delicious one-bowl-wonder, which you can have from batter-to-eating in 20 minutes. No excuses accepted.
I had a little of this ice cream in the freezer, which I served on top. This cookie cake is crunchy and chewy on top, and deliciously soft and tender underneath. Best eaten in bed or on the couch under a blanket.
Recipe adapted from the most amazing Joy the Baker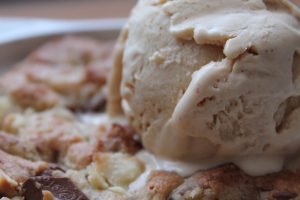 Ingredients:
1/2 cup butter
1 cup brown sugar, packed
1 large egg
1 teaspoon pure vanilla extract
1 ripe banana, mashed with a fork
1/2 teaspoon ground cinnamon
2 cups all-purpose flour
3/4 teaspoon baking soda
1/2 teaspoon salt
200g whole nut milk chocolate, chopped into chunks
Method:
Preheat the oven to 180 degrees C. Melt the butter and place in a butter in a 20cm oven proof dish. Stir in sugar and vanilla extract and whisk until thoroughly combined.  Allow mixture to stand and cool for about 5 minutes – so as not to cook the eggs when they are added.
Add the egg and whisk together until smooth, then add the banana and cinnamon and stir to combine.
Add the flour, baking soda, and salt.  Stir carefully until all of the dry ingredients are incorporated.  Add the chopped chocolate and stir until just combined.
Bake for 15 to 18 minutes until mixture is dry on top, but still slightly soft in the center. Serve warm with ice cream on top.