Food was always going to be a firm cornerstone of my recent trip to Paris.
After all, I had years to research and plan – so, like to think that my selection was well-curated. Fresh off the plane (if ever there was a more inaccurate statement, as it was more a case of "quick change of clothes at the hotel without a shower as I landed at 6am and my room wasn't ready") I hopped and skipped (that part is accurate, at least – the magic of being in Paris meant I had a spring in my step for 10 full days) to Benoit in the 3rd arrondissement – an Alain Ducasse restaurant, and the only traditional French bistro with a Michelin star.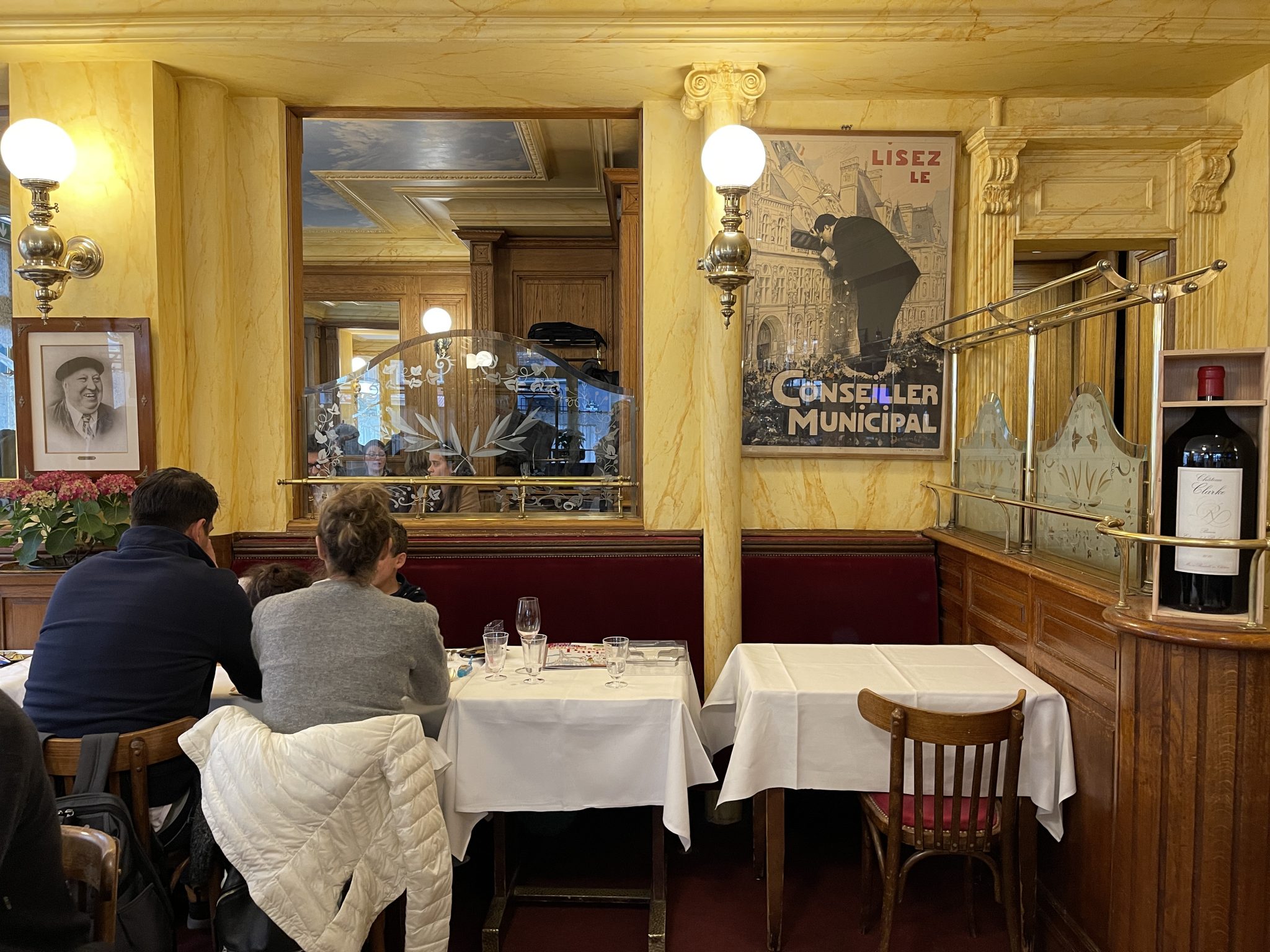 So, what do the professionals have to say about this institution? After all, it has been around since 1912:
"Alain Ducasse supervises this bistro with a delightful vintage decor and a lively atmosphere; founded in 1912, it is one of the oldest in Paris. The cuisine, prepared in time-honoured tradition, celebrates the treasures of the French repertoire: tuck into pâté en croûte, Lucullus beef tongue or snails in their shells. An authentic and fine establishment. One MICHELIN Star: High quality cooking, worth a stop!"
Watch my video reel of the experience on Instagram here.
I arrived 30 minutes early (whoops), and accompanied by a flurry of snow. Quickly settled onto a cosy bench, overlooking the restaurant, it would be my "home" for the lunch menu I ordered (€42). Welcomed by bread, fresh-out-the-oven gougères (you can get Monsieur Ducasse's recipe here) and an indecent amount of Normandy butter, well…you could say my first few hours in Paris were going exceedingly well. After navigating a French wine list, with the help of a friendly sommelier, we began.
I started with the duck ballotine, followed by the 7-hour lamb shoulder with potato au gratin, and had the Benoit profiteroles with warm chocolate start to end. One of the many benefits of dining alone include chatting to fellow diners – the Americans next to me were regulars, and told me that you can actually order an assortment of dishes for starter and dessert, and the team will just adjust the portion size accordingly.
There wasn't a foam, gel or sphere in sight – just good, classic French cooking. Which is exactly what you want, as you watch snow flurries through the window, glass of Pinot Noir in hand. Portions were exceedingly generous (the team kindly sent over a little chocolate mousse as a pre-dessert treat) – and I could barely finish the profiteroles. The team were warm and friendly, the restaurant bustling – honestly, if I could have made another reservation while I was there, I would have returned (especially for the millefeuille I spotted on the table of my American friends, and the intriguing egg à la Chimay that they couldn't stop complimenting.
If you're looking for classic French cuisine – prepared to the Michelin standard, of course – I can't recommend Benoit highly enough.
I paid for my meal in full. No review was requested or expected. All views and images are my own.
paris