Occasionally you eat somewhere that leaves you talking and thinking about it for weeks later – and Bedouin Deli is one of these places. Not only because their labneh and chilli jam kept our fridge and tummies happy for days afterwards, but because our visit was, simply, wonderful.
Bedouin Deli is on Albert Road in Woodstock, and a good reason to venture past the Biscuit Mill if you haven't yet – there is great food, less crowd and better value for money – if you're brave enough to drive on. As we walked in, we were immediately surprised by how light and airy the deli was – large windows, neutral colours and a little soft jazz in the background. Thankfully not a tassled carpet in sight.
Having looked at the menu for days before, I already knew I'd be having the Mediterranean Platter (to share) and the iconic Chicken Wrap – which we also shared. As we'd just come from a horrendous morning at Home Affairs, we needed to attend to the important matter of coffee first – Kamili, roasted to order in Cape Town, is the house blend.
We started on our platter – tzatziki, hummus, dolmades with chilli jam, olives and labneh accompanied by freshly baked flatbread. I was planning on eating it all myself, but was told I have to share. Everything was, quite simply, delicious. Nutty hummus with chunky tzatziki, the best dolmades I've had and the labneh – which deserves a paragraph of its own – a highlight, and at only R48, ridiculously good value for money.
A note about the labneh – it's a strained cow's milk (yoghurt) cheese that is fairly new to South Africa – but delicious. A smooth, creamy texture – similar to cream cheese – but with a more noticeable tang, it's low fat and a wonderful alternative. We had it as dinner one night – on crackers along with a dollop of their chilli jam – and feasted.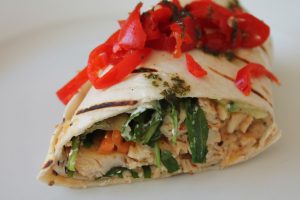 Another highlight of their menu is the Bedouin Chicken Wrap – with sumac chicken, labneh, hummus, chilli, carrot, lettuce and cucumber – it was perfectly done. It's difficult to get the 'moisture' balance right in a wrap – either there's too much sauce, which drips down your elbow and results in a soggy wrap, or it's so dry it gets caught in your throat on the way down. Bedouin got the balance perfectly right – moist and oh-so-tasty, it was one of the best wraps I've had.
The owner, Rachel, popped by our table and stayed to chat for a little while we enjoyed our lunch – and this was probably also what made it such an enjoyable afternoon. Passionate, bubbly and oh-so-down-to-earth, she (like her deli) are a delight. I may have developed a little crush on both.
Note : We enjoyed our lunch as guests of Bedouin Deli and were not remunerated. All images and opinions are my own.