This salad is the only way I will ever eat raw broccoli. Generally not my favourite vegetable (unless smothered with buckets of cheese sauce), this salad turns it into a crunchy, tangy carrier for the loveliest flavours.
Adding sweet red onion, crispy, smokey bacon and creamy feta – all tossed together in a sweet and tangy dressing – it'll convert even the strictest broccoli hater.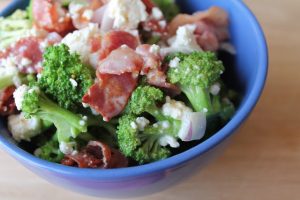 Originally a recipe from a family friend, it was passed on to my mom, and now to me – having eaten it twice in a week, I think it's a tradition that's going to stay. To make it into an easy meal, simply add a few pan fried chicken breast strips on top.
Bacon, Broccoli and Feta Salad
Serves 4
Ingredients: 
1 head of broccoli
250g bacon (shoulder or streaky)
1 tsp crushed garlic
1 small red onion100g feta
for the dressing:
250 ml mayonnaise
2 tbsp white balsamic vinegar
2 tbsp caster sugar (to taste)
Method: 
Cut the broccoli into small florets, and discard the hard stalks.  Fry the bacon and garlic in a frying pan, until the bacon is crispy. Remove from the pan drain off all oil and allow the bacon to cool on a plate.
Finely slice your red onion and place in a large mixing bowl. Add the cooled bacon and broccoli, and crumble in the feta. In a small bowl, stir together all dressing ingredients – adding more sugar to taste. Pour over the salad ingredients, and gently toss until evenly coated.
Refrigerate until ready to serve.