This should form part of a series called "Luke's Culinary Challenges". Which is strange, as they are merely flapjacks, and not much of a challenge – you would think. You see, my lovely man has an idea about certain meals in his head.
An idealistic, perfect view of something he may have eaten as a child – and my challenge is to recreate that flavour, meal or texture. Other dishes in this "challenge" include milk tart, creme caramel and chocolate pudding – all of which you will soon see attempted here.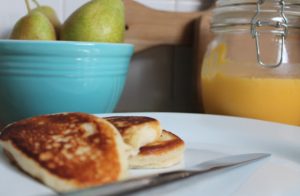 On to these flapjacks. Luke had this light, fluffy, sweet creation…in his head. A recipe some Tannie once made – a recipe all subsequent flapjacks have failed to live up to. I attempted this once before – with the verdict that they were "too eggy" (the recipe contained one egg). So, this past Sunday morning, looking for a lazy flapjack to enjoy in bed I decided to attempt the challenge again : Googling "light fluffy egg free flapjacks". The things we do for love.
As you'll see, this was the first recipe that came up. I had all the ingredients, was feeling adventurous – but still decided to make only half the quantity – in case it wasn't up to his exacting standards. Taking my attempt back to bed, awaiting the verdict – they won him over! Crispy on the outside, light and fluffy inside and the perfect vessel for homemade lemon curd, it was a Sunday morning victory. So much so, I was in the kitchen again a short while later making a full batch for us. Flapjack victory.
Recipe from here
Ingredients: 
210g flour
20ml baking powder
15ml sugar
335ml milk
5ml white vinegar
1/2 tsp salt
60ml melted butter
sunflower oil, for frying
Method:
Melt the butter and allow to cool slightly. Sift the dry ingredients together with the salt in a separate large bowl.
Place a frying pan on a medium-high heat and add the oil.
Add the milk and vinegar to the melted butter – don't worry if it curdles slightly. Combine the wet and dry ingredients and mix with a wooden spoon until it forms a thick batter.
Place heaped spoonfuls of the batter in the frying pan. Allow to cook for two minutes or until the bottoms are golden and bubbles start to form on the surface. Turn over and cook for a minute on the other side.