In the lead up to our anniversary weekend at Grootbos, I was contacted by the team behind Creation Wines and Great White Shark Tours, to see if there was anything that could be done to make our weekend 'more special'.
A wine and canape pairing at Creation Wines was an easy 'yes' – but getting into a cage with a Great White Shark nosing at the bars? More than a little hesitation ensued.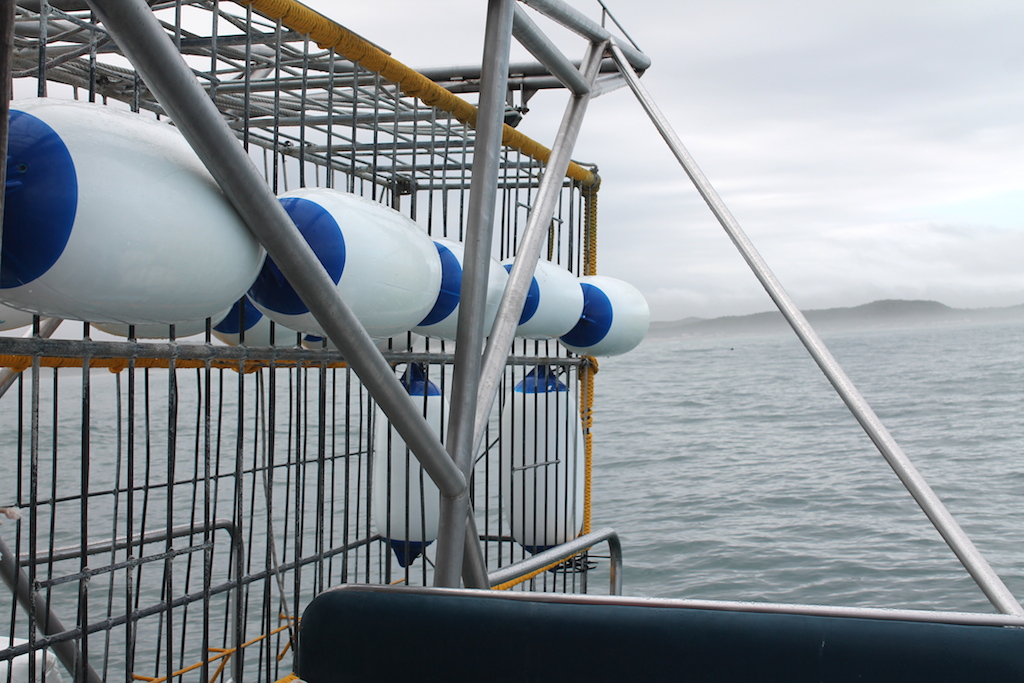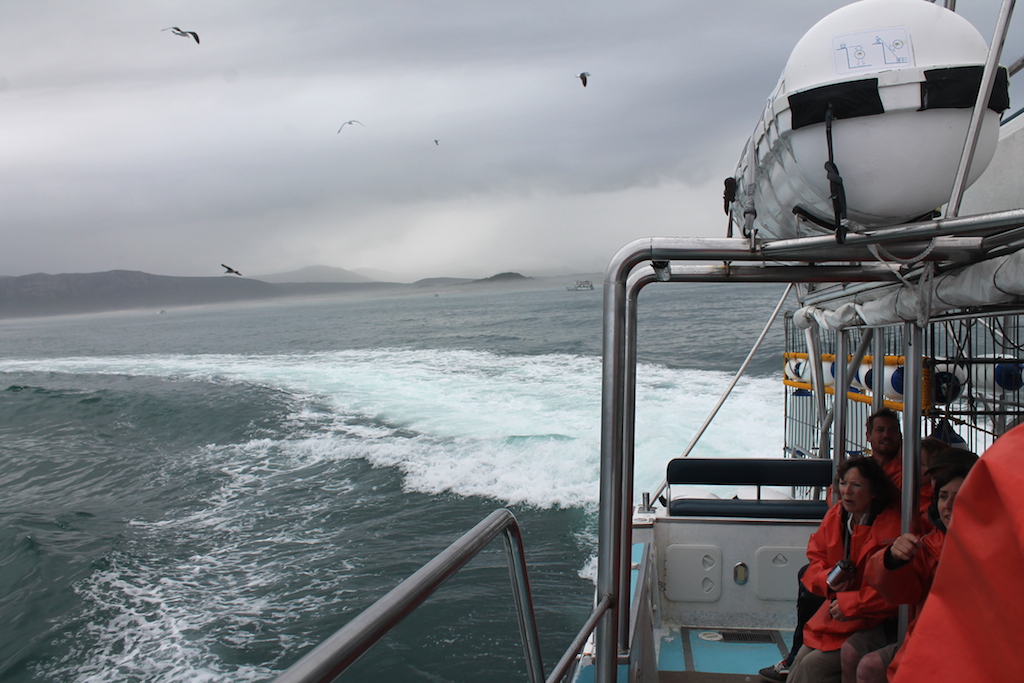 As a bit of background – I am not an ocean girl. My ideal day at the beach translates into reading a book on a towel, while getting a tan. No need to stick a foot in the ocean. Naturally, I think I may have been temporarily possessed by someone who actually likes the ocean, when I replied to the invitation with a 'yes'. The deed was done. I was committed. Let's do this.
After a (very) early start from Cape Town, we were collected from Grootbos and taken to the tiny harbour of Kleinbaai where Great White Shark Tours lives – a short drive of no more than 15 minutes. We were greeted by a continental breakfast and jugs of steaming hot coffee to warm our hands- skies were grey with cloud and drizzle. Not quite ideal conditions to be heading out into the great outdoors, but I had my adventure face on.
We were then greeted by the tour team and watched a video of what we could expected for the day. This calmed my nerves a little – watching exactly how the cage worked, the layout of the boat and even where the food is kept. After a short walk to the boat in the harbour, we were officially out to sea. Wind whipping my hair, sea spray in my face – I was totally adventuring.
After 15 minutes of conquering the wild seas, we arrived at what looked like good shark-meeting territory. We dropped anchor and started chumming (Great White Shark Tours do not feed the sharks nor use any part of a shark product in their 'secret chum mixture' and have signed a mandate to this effect) to see if we had any visitors in our area. An hour later, the first fin was spotted. Thankfully during this time we had rolls, chips and drinks to enjoy while lazing around and watching the mountains.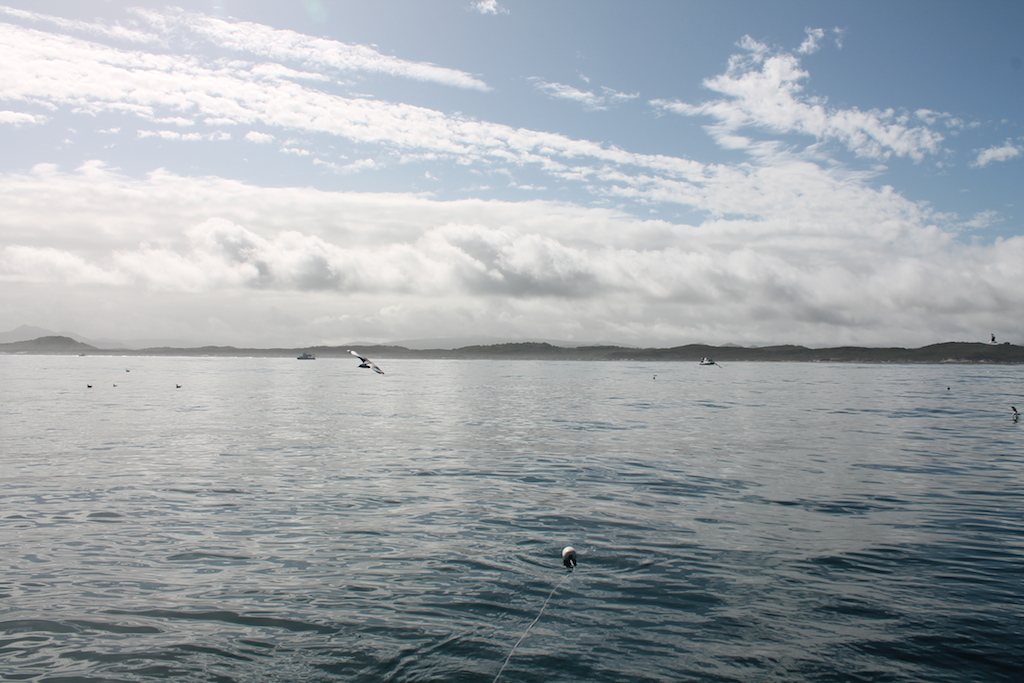 The first eight people got into wetsuits – complete with a hood, booties, weight-belt and a mask – and went into the cage one by one. The cage is attached to the side of the boat and has floaters – so the top part is always out of the water. Once in the cage, the shark spotter will shout 'down left' or down, below the bait' – so you know which direction to look for the shark. Then, simply take a big breath, and go down in the cage. There are bars for you to hook your feet under and one higher up for your hands – the ocean currents are surprisingly strong. Then, you stay down for as long as you want, before popping up for air, until the next passing.
Each group stayed info for 20-30 minutes, allowing for equal shark sightings. There was also the opportunity to go more than once, which Luke took advantage of.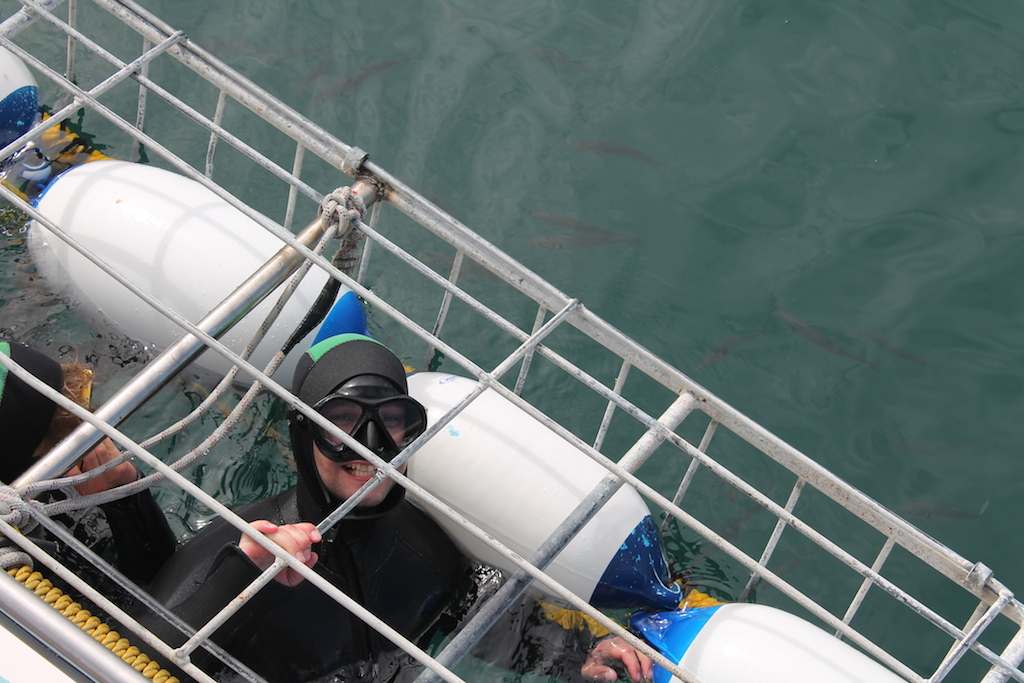 My personal experience was mixed – from an organisation and tour point of view, it was absolutely perfect – the wetsuits were fantastic quality, snacks were great, as was the boat – everything was well explained and executed. Completely independent from this, however, I discovered that I was actually (secretly) claustrophobic. It came as a revelation – and not at the best timing – once I was in the cage, completely kitted out, I felt as though I couldn't breathe. Not ideal.
I calmed myself down – the crew were fantastic – they showed me that I could open the top of the cage any time I wanted to, should I feel I need to get out. I loosened my wetsuit hood and took off my mask while not under water, which helped. I did manage to see the shark and stayed underwater for a few passings – which was my personal mission accomplished. Considering I've never been in the ocean, or been faced with any of the gear before, it wasn't something I could have anticipated. Thankfully, it's something I'm now aware of and can keep in mind for future adventures!
After the dive, we were given warm, dry towels and the opportunity to get dressed, have a snack and enjoy the rest of the trip. An hour or so later, we headed back to shore – where there was coffee and hot chocolate waiting, while watching the video of the day's trip.
It was an amazing experience – one that was so out of character for me, I still can't believe I actually did it. Surprisingly, while in the cage, there was no fear of the shark at all – they were calm and majestic. It was simply an honour to observe them. We spotted four sharks on the day – the largest around 4m long.
Thank you to Great White Shark Tours for truly taking me out of my comfort zone.