A few weeks ago we received an invitation to try the new July menu at Harbour House at the V & A Waterfront. Having eaten at their Kalk Bay sister and often passed their gleaming Waterfront windows, we were keen to try it out.
Harbour House is part of a larger group of restaurants  – we tried out Live Bait in Kalk Bay recently, and fell a little in love with it  – so we were keen to see if we'd love the flagship restaurant as much.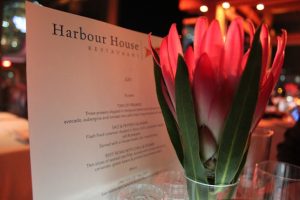 We enjoyed tartare on the deck, before moving downstairs for dinner. The restaurant itself is pretty large, mostly surrounded by glass so the views of the harbour and boats are uninterrupted.
To start, Luke and I both had the beef tataki – as I'd made it myself before, we were keen to see their twist on it. The plate was beautiful – with the addition of finely sliced green beans and a slightly sweeter sauce was a pleasant change. I may take a few tips for when I make it again.
For mains, the lovely man had the beef short rib. Tender, chunky pieces of meat falling off the bone, served on a mound of mash and puddle of sauce. He was a happy man indeed.
My choice was simple – or rather, hardly a choice at all – the shellfish platter. It was something I'd been craving for a good view weeks, ever since watching a particularly delicious episode of Anthony Bourdain. It arrived – separate dishes of mussels, prawns, crayfish and rice. I immediately felt like a glutton – it looked as though it was made to share. But no. I happily polished off everything myself, to the last drop of mussel-sauce mopped up with bread. The rice was completely unnecessary.
As, understandably, rather full by this stage and in no particular mood for dessert. Our ever generous host insisted that we try at least a spoonful of what was on offer – Luke happily ordered (and finished) the cheesecake, while I attempted the panna cotta. I had the mandatory spoonful, and could do no more. Luke was more than pleased with his pudding, and they were both well executed – but neither really grabbed me. Not for lack of them being lovely, they just aren't flavours or dishes I'm particularly drawn to.
A lovely evening, with fantastic views and ridiculously good value for money. You owe it to yourself to pop in next time you walk past. You can view their current and previous specials here.
Note : We were invited to try the July menu at Harbour House by Alison Foat and enjoyed this meal as their guests.