It's difficult writing a blog post when you know, from the outset, that you are going to fail.
At the same time, I don't know when last I have been this excited to share my discovery with you – I hope you'll journey with me while I fail (spectacularly) to tell you exactly how phenomenal Tintswalo Atlantic is.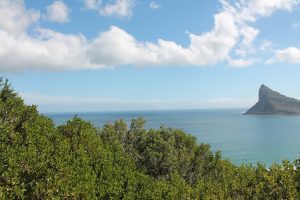 To start, I admit to being the slightest bit jaded. We are blessed to stay and eat at some gorgeous places – which opened our eyes to the world of 'luxury' – we know what's out there and are not easily impressed. Walking into Tintswalo Atlantic, our mouths gaped – for all my thoughts, I was speechless.
Before even seeing our room or sitting down, all expectations were already exceeded. In explaining this on our tour of the lodge, I almost became teary and wanted to hug our guide out of pure gratitude. I was overwhelmed.
I'm getting ahead of myself. Let's start with the basics. Tintswalo Atlantic is part of the Tintswalo Property Group (you can view theother properties here). Located on Chapman's Peak Drive, and forming part of the Table Mountain National Park, the entrance is a few meters away from the Toll Gate on the Hout Bay side of Chapman's Peak.
Not that you would notice the lodge from the road, mind you.  A beautiful gate and parking area is all you see driving in – although, the views are naturally, spectacular even from here.
After being collected from our car by a leather-clad Mercedes mini-van, we started the steep 800m descent to the lodge. We bundled out and walked into the main lounge area of the lodge – after being greeted by a Martini glass of homemade lemonade.
The main lounge and dining area is sophisticated, elegant – and perhaps most importantly – comfortable. I happily curled up on a couch while watching the sun set that evening – cushion over my feet and latte in hand. However, you are still aware that there is damask linen on the tables and original artwork on the walls.
 When we reached our room, we were treated to the same spectacular views – ocean, mountains and a pebble beach. Uninterrupted and simply perfect.  As lovely as the lodge is – with impeccable service and conveniences – it is really all about the views.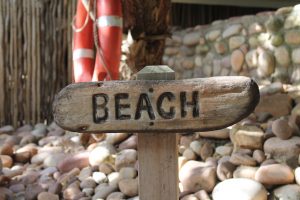 But, being 5*, amenities are important too – a king size bed, twin basins – a night-time decanter of Port? Yes, all available. Along with comfortable armchairs, (for TV or the view), robes, slippers, a comprehensive selection of tea and coffee and a carafe of fresh milk in the fridge (cannot explain how much I loathe those Tetrapaks of long-life milk – milk portions for ants).
While the main lodge area is home to the dining room, communal lounge area and deck, the rooms are situated along a decked pathway – all sea-facing, but private.
After our gasps of delight had softened to simple whispers of awe, we headed to the pool. Heated – but only enough to take away the chill – and with deck chairs and a cooler box of beverages to ensure you are really comfortable – you can easily spend hours taking in the view and counting your lucky stars (my thoughts were along the lines of 'what did I do to deserve being here?'). If the view, beer or white wine gives you the munchies, there is a pool menu available to make sure you don't faint from pure happiness (or hunger).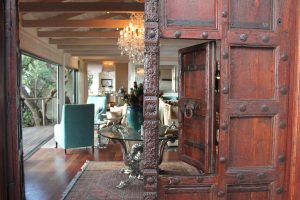 After enjoying sundowners (and the most amazing sunset) in the lounge, the dinner bell went – and it was time for the feasting to begin. We started with canapes on the couch – springbok kebabs, a fishcake and spring roll – before moving to our table.
The dining area is intimate – with no more than 10 tables in total – which also ensures attentive service and cosy dining, especially with the fireplace roaring. As it was a chilly evening and I was woefully under-dressed, I also managed to borrow a blanket from the lodge. For dinner. Luxurious it is, pretentious it is not.
Dinner was three courses, with a palate cleanser. I chose the caramelised onion and smoked goat's cheese tart, while Luke chose the duo of lamb – a mini rack with a shank tart.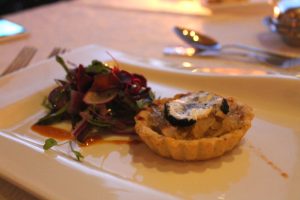 Both were fantastic – the smoked goat's cheese was incredible and something I would love to try and hunt down, or make.
The palate cleanser was a strawberry and goji berry sorbet – tart and perfect. We were both surprised at how well the berry worked with strawberry – it would also make a great dessert option.
The choice of main course was unanimous. Usually, we don't like ordering the same dish – preferring to spread our options, but when faced with a Gorgonzola crusted beef fillet – surely, no other option mattered. Thankfully, we were both proved right with our choice. Meltingly tender, perfectly cooked fillet (medium-rare, thank you) with tangy, creamy, slightly caramelized Gorgonzola. Served with a root vegetable mash, roasted vegetables and a jus, it was perfect fire-side dining – and the best steak I have had in recent memory.
For dessert, we went back to spreading our options – I had a lemon and passion fruit curd tart with blueberry ice cream and macerated strawberries, while the lovely man had a glass of Cape Port with a selection of bite-sized treats. My tart boasted the perfect, wobbly, just-set texture – the tartness working perfectly with the strawberries.
The most glorious setting provided the background to a delicious, decadent dinner. The perfect balance between soul-satisfying food, made special by the most breathtaking setting. All 30 minutes from Cape Town? Ridiculous.
Note : We enjoyed our stay (with deepest gratitude) as guests of Tintswalo Atlantic. All images and views are my own.
tintswalo