As always – a visit to any of the La Colombe restaurants comes with dizzyingly high expectations. And as always, they are always spectacularly exceeded
As the sixth best restaurant in South Africa, it's fair to say there was absolutely nothing wrong with La Petite Colombe at its previous home at Le Quartier Français.
So, when they announced their move to Leeu Estates – which took place last month – it was a case of "oh, ok, is it really necessary"? And, to answer that question, no, it was not necessary. But, goodness me, was it incredible. It's a case of going from great to out-of-this-world-exceptional, and we were privileged to visit them at their new home a few weeks ago.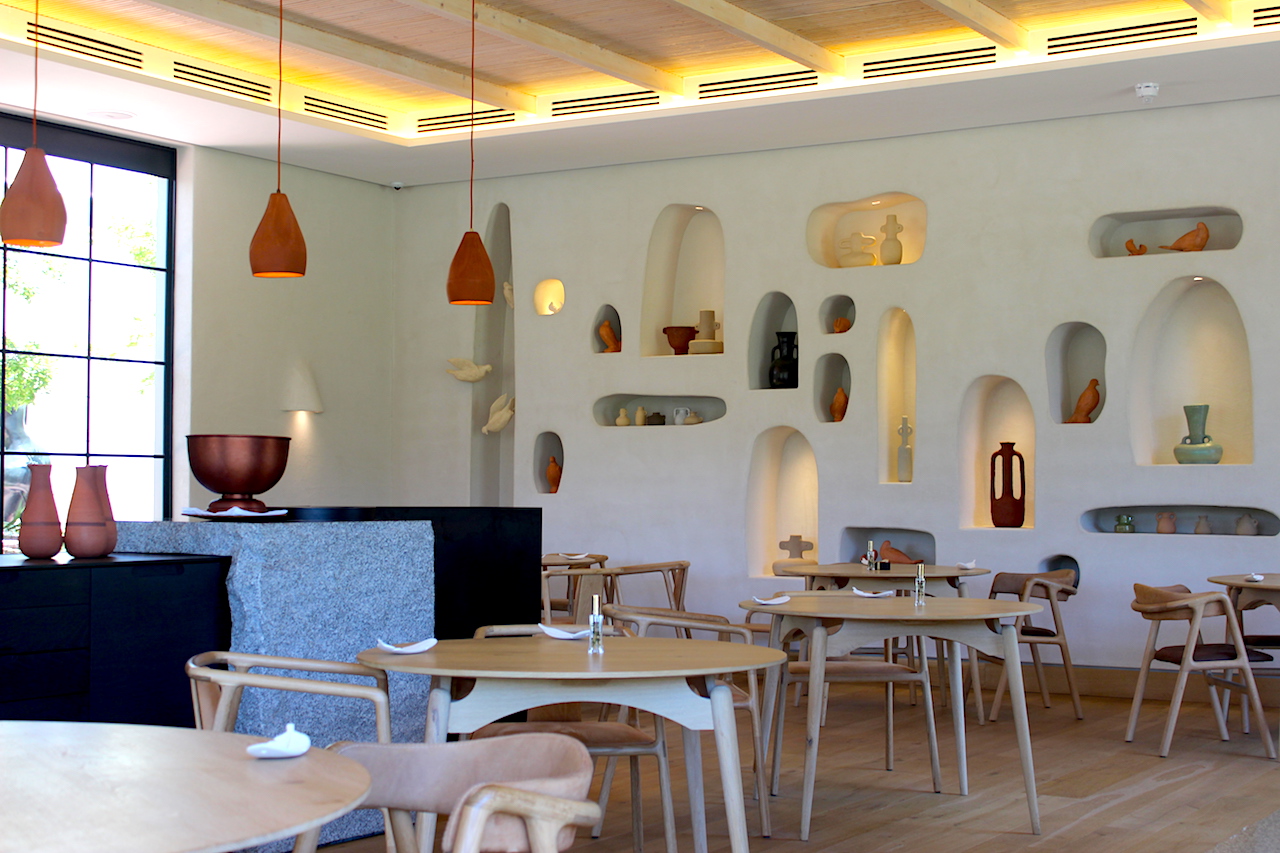 As background to their new home, Leeu Estates is the flagship South African property of the Leeu Collection (we visited briefly last year) – and is a masterclass in design, luxury and elegance. So yes, the perfect home for La Petite Colombe, really. The new restaurant is set among the expansive, manicured gardens, with mountain and vineyard views, punctuated by sculptures every few glances.
The new restaurant is very spacious – with a welcome lounge area and outdoor dining verandah, and a large bar that separates the two main areas. As physical distancing seems to be a way of life for the foreseeable future, the spaciousness of the dining area should offer some comfort for diners, as well as the individual bottles of sanitiser on each table.
It would be unfair of me to give you a blow-by-blow account of our meal – both, because there is no way I could do the experience justice, and because I wouldn't want to ruin it for you. As, it is definitely an experience, and not merely a meal. Here are a few highlights.
The menu starts with a selection of bites – Saldanha bay oyster, apple, kalamansi and soy, yellowfin tuna, chipotle and coriander, and Purdon wagyu, pickled fish, truffle and aubergine. I'm going to add this disclaimer here, so avoid repeating myself constantly – everything, everything  was delicious. But, when your'e at the top of your game – like La Petite Colombe is – you'd really expect nothing less. But, there you have it.
We enjoyed our bites in the lounge area, with MCC of course – but, didn't pay terribly too much attention to the menu description at this stage. It was only later on when reading Purdon wagyu, pickled fish, truffle, aubergine (above, right) that I took a moment to marvel at the skill that must have gone into that dish to balance those flavours so perfectly – that all the diner experienced was a perfect bite of food.
The meal progressed through a lavender-scented cloud of honey brioche, through table-side confit salmon and a seemingly-never-ending selection of incredible wines. It's something that's always stood out to me, from dining at any of the La Colombe Group of restaurants – their emphasis on the holistic dining experience. It's not just about the food. It's the decor. Ambience. Service. Presentation. A touch of theatre. And truly, truly fantastic wine. While the afternoon was filled with excellent discoveries on our part, the Hilton Vineyards Emperor Probus Viognier was an absolute highlight, and  a wine that we'll be looking out for in future.
And, another point to La Petite Colombe's credit – their wine prices are incredibly reasonable. Of course, you have all the rare and special wines you could possibly need for a celebration, but you also have carafes of incredible South African wine at well under R200 each.
We journeyed through Karoo lamb with harissa, salsa verde and chickpea, and dry-aged duck with prawn, Szechuan, peanut and hoisin – upon completion of the latter, I begged the kitchen for any form of bread they had lying around, so I could mop up every last drop of hoisin, which was accompanied by a coriander and buttermilk espuma, if I recall correctly. My endless gratitude to the kitchen who sent out another lavender and honey brioche for this glutton to enjoy, as she enthusiastically tore it apart and wiped her plate clean. I have no regrets.
The meal started to wind down with the cheese course – an imaginative savoury biscuit, filled with smoked Stanford cheddar, rhubarb and sherry – which, if they were sold as separate items, I would have ordered at least six to take away and enjoy in bed later that evening.
After a dessert celebrating all things strawberry – and two incredible wines (Maison's Straw Wine and Bloemendal's Noble Late Harvest) – it was time to face our imminent return to reality, as the last bit of magic arrived at the table – the famous sweet trolley.
With a Tonka bar that will give Willy Wonka a run for his money, and every flavour you could possibly wish to end your meal with – from lemon to raspberry, tiramisu to chocolate and coconut – it's worth ordering a latte to enjoy with this sweet goodbye, just to eek out every last minute of joy from this experience.
The setting, the food, the service, the wine – a flawless, joyful afternoon that left us floating on a cloud of food-induced euphoria.
We enjoyed our meal as guests of La Petite Colombe. All views and images are my own.