The Lovely Man and I have been talking about going to Paternoster for well over a year – he is quite keen on camping in the nature reserve…and I'm quite keen on…well…hot showers, flushing toilets and electricity.
We saw the opportunity of visiting Abalone House as the perfect "post-engagement celebration" and couldn't wait for our seaside retreat.
Abalone House is Paternoster's first 5 star boutique guest house and with 10 luxurious suites, it's the natural choice if you find yourself in this lovely seaside village. Luke quickly made himself at home in our room, and helped himself to a little complimentary sherry, before quickly settling into what would be "his" chair for the next day (he loved everything about it, from the feel of the fabric, to the way the arms hugged you when you sat down). Resistance was futile. My highlight was the underfloor heating throughout the entire suite – it's amazing the difference it makes!
After putting our bags away and taking a little breather in our room, we went for a wander around the guest house – there's a lovely outside area downstairs, next to the swimming pool, which would be perfect for taking your tea in summer (but more on tea time treats a little later). Luke was quickly working out whether it would be possible to jump from our front door into the swimming pool downstairs – thankfully it was deemed too shallow, so we didn't have to worry about that becoming a reality. This time around, at least.
I could best describe the guest house as eclectic – like walking into a well-off aunt's home. Think stuffed cushions in a variety of fabrics, lots of painting and prints, collections of silverware and books on tables and shelves. It's comfortable and luxurious, without being stuffy and pretentious.Although it was raining on and off for most of the weekend (or in Cape Town's case, most of that week) we managed to step outside between cloud bursts to grab a little fresh air, and even sunshine! The outside area is perfect for catching up on a good book and lazily drinking a latte – there are even little fleece blankets if the chill gets too much.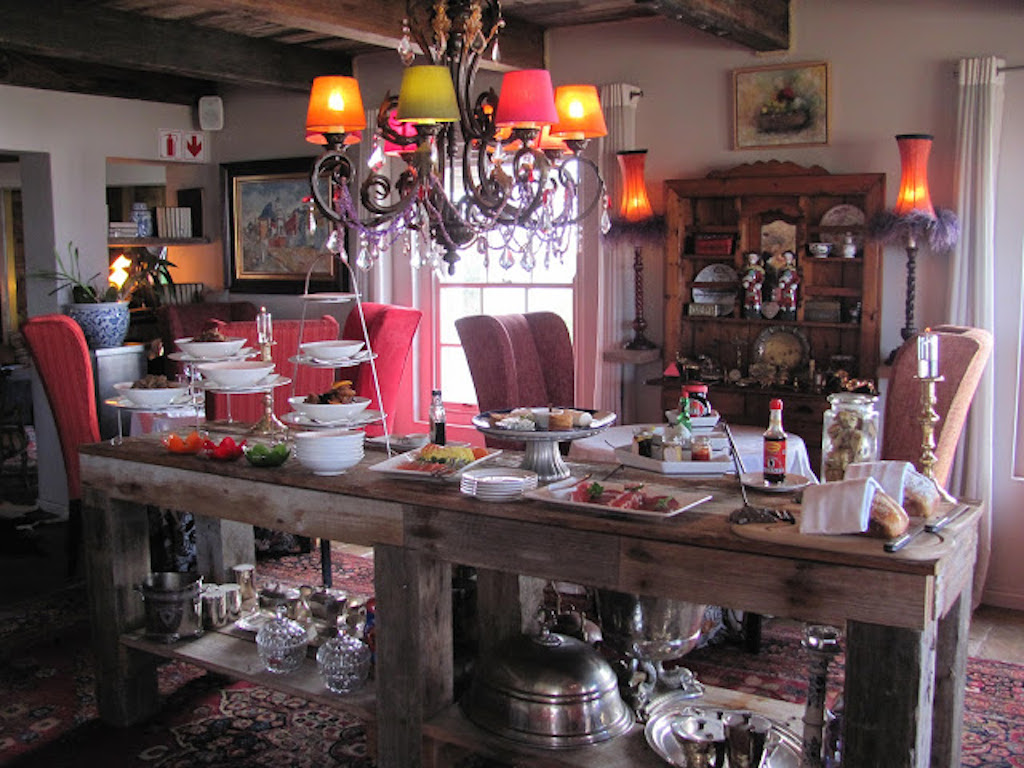 When I confirmed our booking, I was asked whether I'd like the afternoon tea – of course, I'm not one to easily say no, so it was included.  When 15h00 came, Luke and I made our way down to the conservatory where we were greeted by a table set for two, and a chocolate cream cake and some fruit. Lovely, I thought – just a little something sweet to go with my pot of Earl Grey and Luke's latte. We cut ourselves a slice, and the lovely man broke into an orange.
I then saw Luke's jaw drop as he spotted something behind me. Little did I know a three-tiered tea time feast was on its way – we soon regretted starting on the cake and fruit! We enjoyed:
Mini banana and honey smoothies
Beef and onion kebabs
Fish and chips with tartare sauce
Crumbed and deep friend Camembert with sweet chilli
Scones with guava preserve and fresh cream
We rolled back to our rooms (if it is possible to roll up stairs, we accomplished it) and relaxed before dinner time. I found a movie to watch and interspersed that with some much-needed napping. By this stage the rain had also started bucketing down. We huddled under blankets with some more sherry, and listened to the rain pelting against the roof. Blissful.
At 18h55 we armed ourselves with the umbrellas in our room, and headed downstairs for dinner. We sat at the bar, enjoyed their couches and enjoyed a little pre-dinner drink beside the fireplace before moving on to our table (gin and tonic for the lovely man, a glass of pinotage for me).
I enjoyed the steak tartare with quail egg, rocket and melba toast to start, and the yellowtail with bacon and white bean cream ragout, balsamic tomatoes. The lovely man had a hake risotto with pickled carrot and saffron salad to start, smoked snoek and oxtail lasagne with broccoli, crisp phutu pap and gremolata for mains – we both had the chocolate caramel fondant to end.
I had absolutely no expectations for dinner beforehand, and was very pleasantly surprised. Apart from a slightly watery risotto, I had absolutely no complaints or concerns – portions were generous, and the food was generally lovely.
After a lovely night's sleep to the sound of rain, we headed back downstairs for breakfast. I started off with a cranberry and cucumber juice, with a little fruit and Lindt chocolate bread.
The lovely man started with some cold meats, seed loaf and a selection from the cheese plate, before moving on to bigger and better things – chocolate French toast with bacon, banana and maple syrup . This was quite uncharacteristic for him, as he is normally quite a savoury person first thing in the morning.
I ordered a traditional "fry up" under the condition that I would give my leftovers to the lovely man – which worked rather well. With a latte and cup of Earl Grey, it was a lovely start to the day and gave us the energy we needed to face an early morning walk on the beach.
The rain had thankfully stopped and had given us a beautiful indigo sky and ocean to start the day. We took a little wander and embraced the fresh air while we tried to walk off our substantial breakfast – the crisp walk was worth the trip to Paternoster alone.
Abalone House is offering a special winter package of R995 per person sharing which include an overnight stay, breakfast and indulgent afternoon tea. This rate is available 1 May 2012 – end August 2012 and is subject to availability.
For more information and reservations contact Abalone House Boutique Guesthouse at (27) (022) 752 2044; email info@abalonehouse.co.za or visit www.abalonehouse.co.za and quote the reference code WINTER002
Note : Thank you to Manley Communications for inviting Luke and I to stay at Abalone House, and for our wonderful night there. I received no payment or request to write this review, and all opinions expressed are my own.