It's been no secret that I've never been to a game reserve before. Never seeing any of the animals, experienced a safari, nothing.
While chatting to a Johannesburg colleague about my jealousy of them being so close to countless game reserves, she did point out that Capetonians have all the wine estates, mountains and oceans. Fair enough, I thought. But, after discovering Aquila Private Game Reserve, I feel like we do really have it all. Sorry, Gauteng.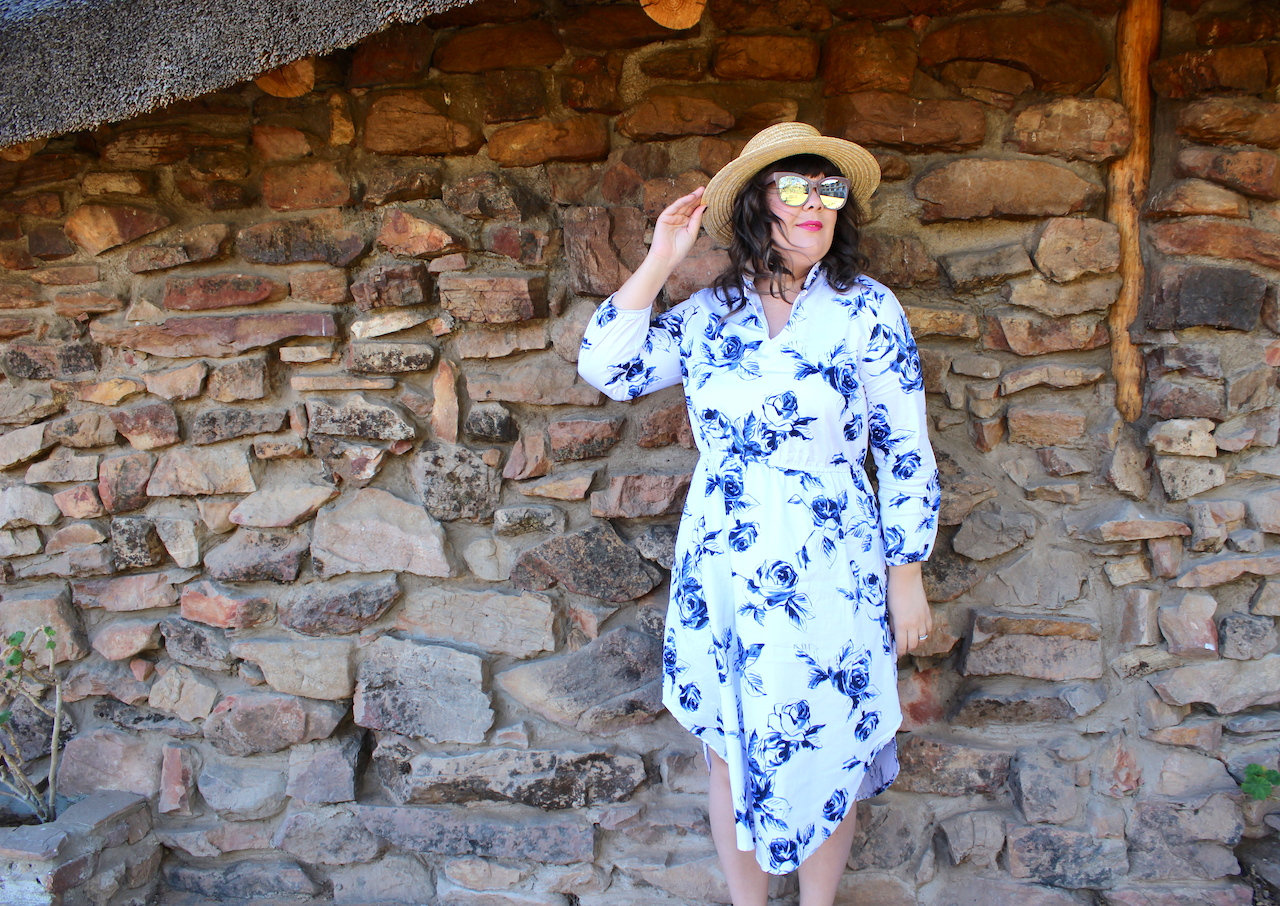 With the purpose of experiencing their new spa, we headed off early one Saturday morning on the two hour journey down the N1. Oh, and there's no reason for you to drive – there is a shuttle that will happily collect you from a hotel close to home – so, the adventure starts as soon as you climb on board.
A sunny journey, which included a stop for Vida coffee at a 1-Stop along the way, we arrived at Aquila just in time for lunch. All meals are served buffet-style from the double-volume restaurant. Expect traditional South African Sunday-lunch style food – potato bake, roast vegetables, beef stews, hot puddings and fridge tarts, along with a selection of bread and cheeses. After lunch, we took a wander around the property, before checking in.
We stayed in a Premier Luxury Cottage – a short walk away from the main building, which houses the restaurant and lodge rooms. Built from wood and rock, it was rustic, but comfortable and well-appointed. The bedroom area had a four-poster bed, fireplace, armchairs and a small mini-bar area. However, it was the bathroom that really left an impression – built into the rock, it had a beautiful sunken bath below a "boulder".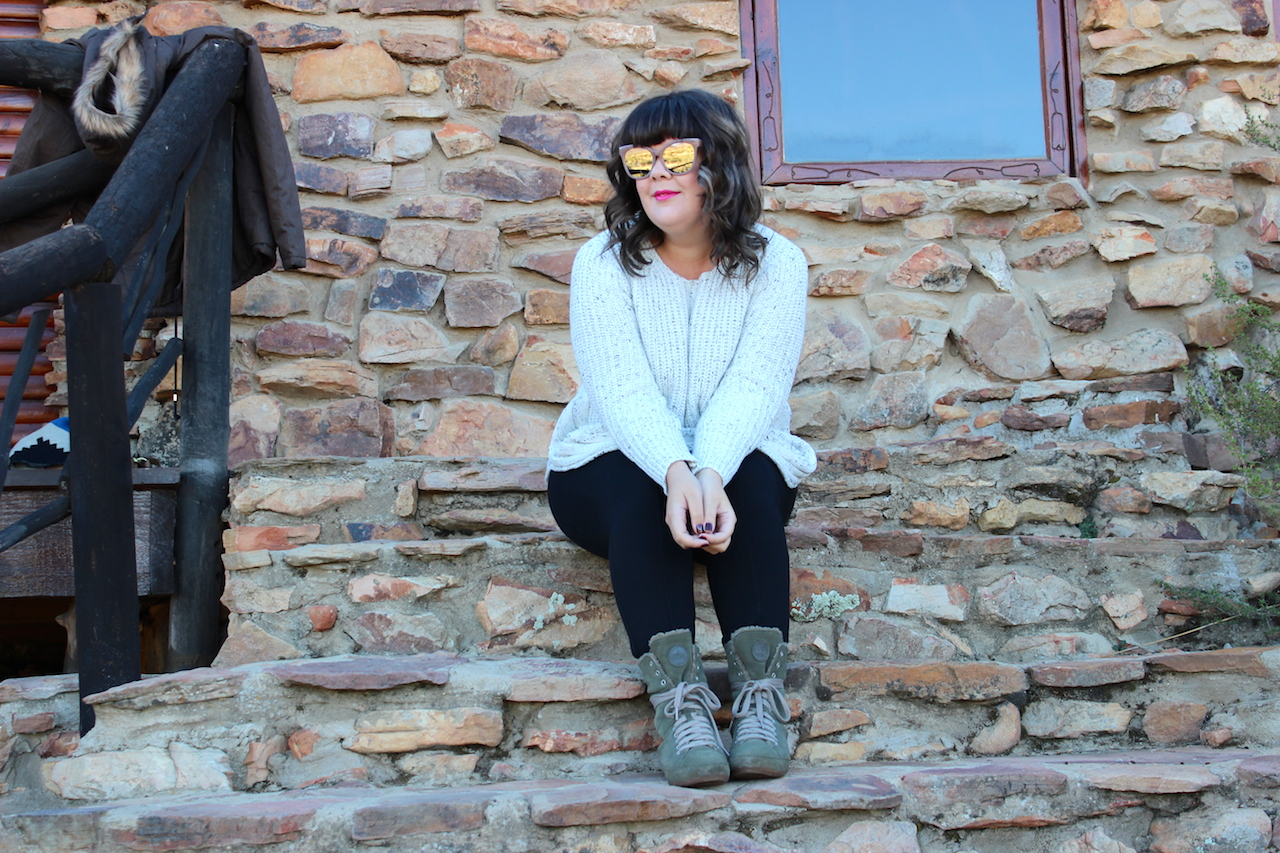 To the left of the bathroom, there was a private outdoor shower, which Luke was too excited to step into. We had some time at leisure before our first game drive at 16h30, so we made the most of whatever sunshine and warmth we could find, alternating between lying on the lounger on our deck, and sitting in front of the roaring fire in the pool bar area.
While the sun was shining, it was weak, and late autumn in the Karoo. I arrived in a dress, but quickly changed into more appropriate gear as soon as we'd checked in. The team warned us that it gets ice cold, and they weren't exaggerating. I'd be keen to come back in summer though, as there is a wet bar area I could happily see myself spending a few hours in.
Soon enough, it was game drive time. There were a few 20-seater vans that departed in quick succession – the lodge was obviously quite full – but, the animals couldn't have been less bothered. Within five minutes of entering the reserve, we had spotted our first two elephants and a dazzle of zebra (yes, that is the collective noun for a group of zebra, and I think it's amazing).
That was quickly followed by a mamma white rhino and her baby, together with wildebeest, springbok and more. The photographs taken below were with my normal camera lens – no special zoom – to give you an idea of how close they were.
The pride of lions is kept in a separate enclosure, as they would decimate the herbivores if let loose at the moment. While they are used to the vehicles, they are still lions, and our guide kept the engine running while we were in their area.
On our way back, we had a little time before dinner, so our guide suggested we go hippo spotting. Without even trying, we saw at least seven heading out for their twilight meal. Enormous and truly terrifying, we understood why they kill more people than any other mammal on the continent.
And, it was with this fun fact that we woke up just after midnight. Having gotten warm and cosy in our four-poster bed, we heard this noise that seemed to be coming from right outside our bedroom door – keeping in mind that the fenced reserve begins no more than 10 mA hippo. I admit that logic was not freely flowing in our half-dazed state, and we were frozen with fear – I was tempted to call the duty ranger. We eventually fell asleep, only to be woken every hour or so by our not-so-friendly hippo. I have since named him Clyde. A younger son, accounting student. Diligent by day, party animal by night.
When we eventually woke the next morning, tired and bleary-eyed, we asked the first ranger we found if this was, well, normal. And, apparently it is – there's a little slipway outside our cottage (number 8) that they hippos particularly enjoy at night. We laughed about it over coffee the next morning, but still couldn't hide how terrified we were. So, heads up – you might need to bring ear plugs with you.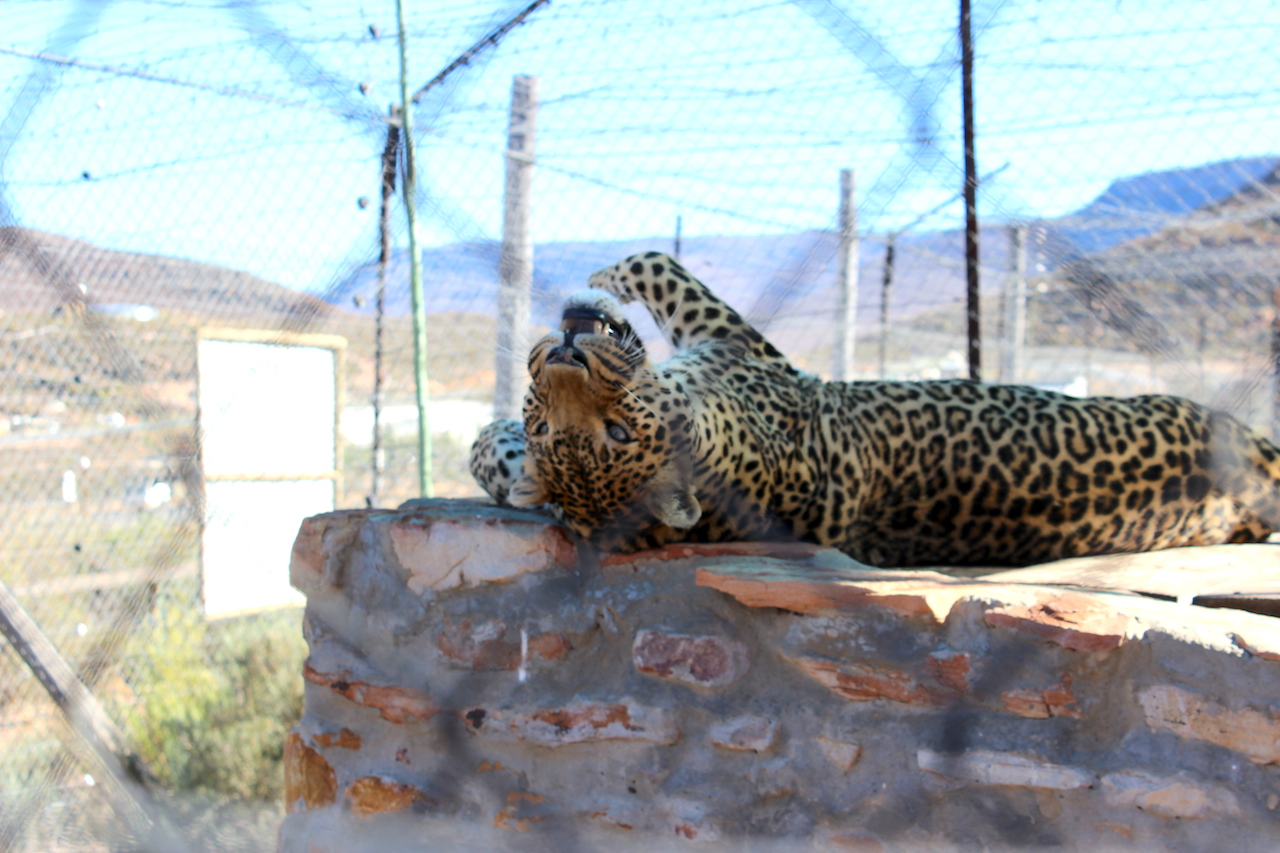 Before we left, we paid a visit to the Aquila Animal Rescue Centre, which homes a number of animals that have been rescued – imagine a crocodile that was rescued from a meat farm, a cheetah that was caged, declawed and fattened for its pelt, caged lions bred to be hunted for trophies. Led by passionate guides, you will walk away with an incredible amount of respect for the great work being done here – and, shaking your head at how cruel humans can be.
We were then back on the shuttle home, where we arrived just after 15h00 – enough time for a shower and much-needed nap before facing Monday.
Aquila offers a variety of day-trip safaris and overnight options, which you can view here.
Note: We enjoyed our stay as guests of Aquila. All views and images are my own.
Leave a comment