Recently I received an invitation to the relaunch of Black Bottle Whisky. Now, I'm a wine girl. I'm also a gin girl and occasionally a vodka girl. A whisky girl, I am not. However, I do have a rather whisky-loving husband, so I accepted this invitation as a good wife.
OK, that's not entirely true – from the outset, I knew this event was going to be special. The invitation was well-worded, clever and exciting. As one who goes to a fair amount of events, most are ok, a few are pretty awful – and the occasional soiree is exceptional. This event was truly exceptional.
We were met by Mr McLeod – the password-keeper who we were told would be wearing a black hat at the entrance. This password was no joke – he wouldn't tell us where to go until we gave it to him. After whispering 'back to black'  we were directed into the depths of the Cape Town Club – finding refuge from the gale winds, down a very steep and narrow staircase. Before I get into the event, I suppose I should tell you a little about the whisky. As my knowledge is pretty limited, I'm relying on the words of Master Distiller, Ian Macmillan, who describes it as :
"Fresh and floral on the nose with whiffs of new-sawn oak and a hint of smoke, it opens onto a silky palate with delicate smoke and peat balanced by sweet oak and honey, to end on a lingering finish of spice. This whisky is very versatile and can be enjoyed neat or with a mixer, which is why aficionados and newcomers alike are responding to it so positively."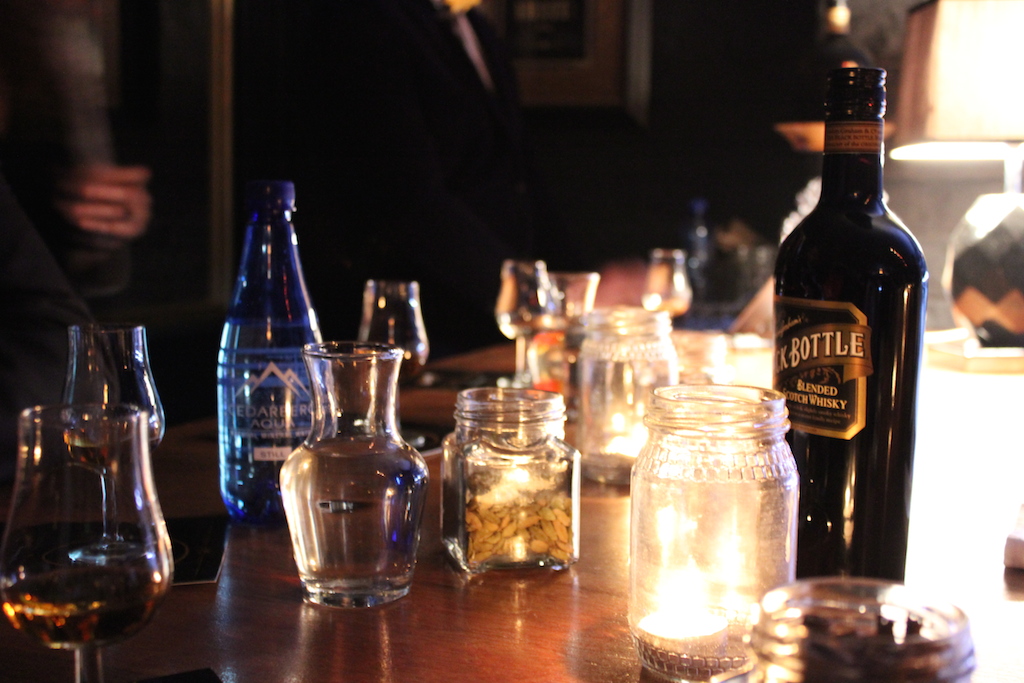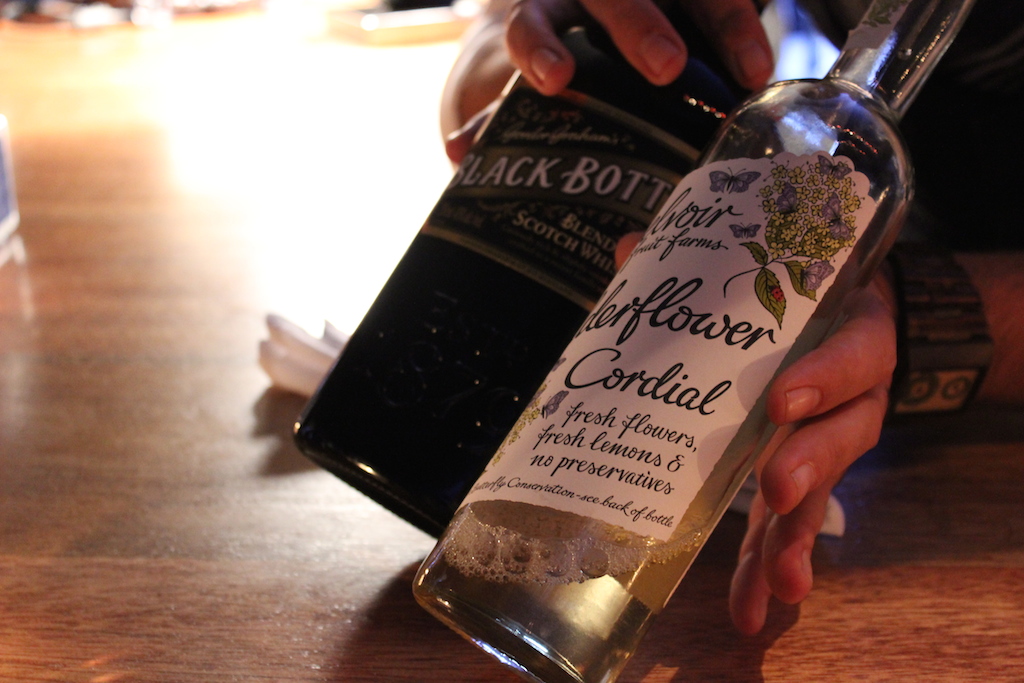 I can personally vouch for it being very enjoyable as a mixer – as I tried it in two (equally delicious) cocktails that evening. After our descent, we were met by Ms Ruby, our host for the evening, in the lounge. We enjoyed perhaps the best lemon sorbet I've ever had, before being escorted into the bar area. The 'new' bottle was unveiled, after the history of the whisky was shared. We were then encouraged to try it neat, with a dash of water, and then in a selection of cocktails. It was much smoother and sweeter than I'd anticipated, but I did prefer it in the Elderflower Collins Cocktail – which you too can enjoy:
Black Bottle Elderflower Collins
1 part Black Bottle whisky
20ml freshly squeezed lemon juice
12.5ml elderflower cordial
1 part soda water
Pour first three ingredients into glass, fill with ice, add soda water, stir, garnish with a lemon zest twist.
After our sojourn at the bar, we were escorted in groups (keeping in mind there were no more than 15 of us at the event) to another room – via a magic show. Yes, this evening was really something to remember.
Our final destination was a jazz club – with a trio playing in the corner, we were treated to another selection of cocktails – the winner was the Black Bottle Sours. With fresh lemon, apple and vanilla with an apple, peach and cardamom foam, I can vouch for the fact that the impressive milk moustache was worth it. We happily nibbled on beef kebabs, mushroom croquettes and blue cheese and radish pastries with our whisky cocktails while enjoying the jazz trio in the background.
At 19h00, one of the musicians was promptly arrested for selling alcohol (we had traveled to prohibition-era USA, naturally). The entire event lasted 17h30 and was flawlessly executed. Special mention must be made of the PR company for Black Bottle Whisky – De Kock Communications – and the events company – 3 Blind Mice – who pulled off this showstopper. For all colloquial terms – they knocked it out of the park.
This experience is also open to you – taking place from 19h30 – 21h00 on Friday nights in October, sign up for an invitation here.
For more information on Black Bottle Whisky, you can head here or here. The new Black Bottle, retailing for between R240 and R260 per 750ml is now available from liquor outlets countrywide.
We enjoyed the evening as guests. All images and views are my own. All images taken with a Canon EOS 600D from Loot.co.za
Leave a comment