Last week I received an invitation to visit one of the restaurants in the Madame Zingara Group – we were fairly spoilt for choice, with our final decision coming down to Bombay Bicycle Club and Cafe Paradiso. As the weekend looked sunny, we decided on a leisurely brunch at the Cafe – and what a spectacular choice it was.
We arrived on Sunday morning, on a real stunner of a day – one of those glorious Cape winters' days that makes the soul sing  – and sat on of of the balconies facing the front of the restaurant. A large, converted house, Cafe Paradiso is warm, eclectic and welcoming. With the outside area already fully booked – it is an obvious favourite with locals – under Table Mountain, surrounded by trees and a water feature, it was heaven on a Sunday.
I ordered a cappuccino (a change from my usual latte) with the lovely man starting with an espresso. I then took a little wander around the maze of rooms – finding another outside seating area at the back on my adventures. When I returned to our table, I was greeted by a fairly perfect cappuccino – I don't normally order them as they're too strong for my liking – but this was the perfect balance of caffeine and milkiness.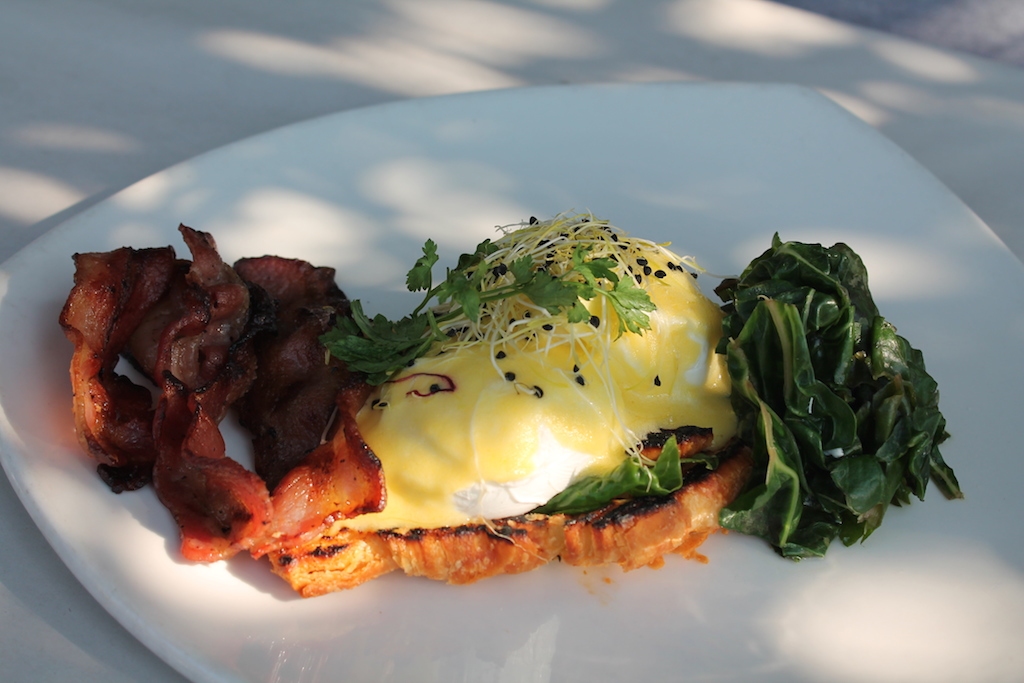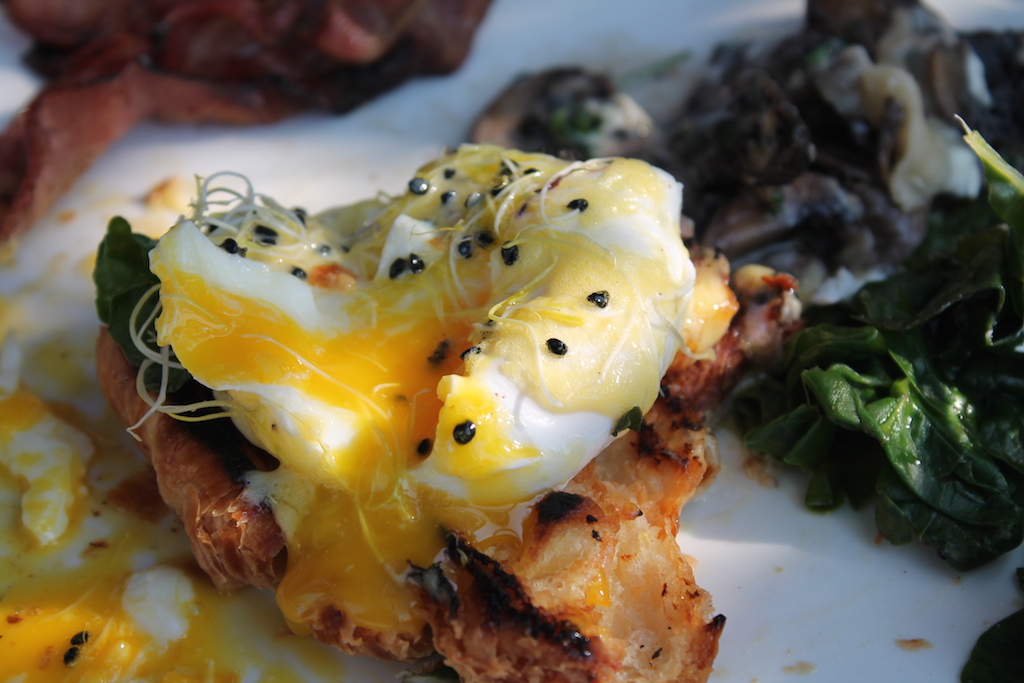 It was then on to food – there were only two real choices in my mind – the Eggs Benedict, with bacon and spinach on a toasted croissant, or the mushrooms on toast. As the lovely man ordered the former, my decision was made for me. My plate arrived – a tall mound of creamy black and button mushrooms, topped with herbed goat's cheese and served with toasted Turkish bread. At least 250g of mushrooms, I couldn't finish them – the excess made a delicious addition to Luke's Eggs Benedict. It was tasty, generous and well thought – thank you for not putting the mushrooms on the bread and making it soggy.
Luke's Benedict was fantastic – perfectly poached eggs, with a generous portion of bacon and not-overcooked spinach – both meals delivered, especially as neither was over R65.
We enjoyed the scenery and the beauty of the day a little while longer, before leaving this oasis. Sadly, we had no space for their 'best living lemon meringue' – but perhaps that's incentive to return sooner?
Note : We enjoyed our meal as guests of Madame Zingara. All images and views are my own.