I'll be honest, I don't normally make a point of eating in shopping centres, but when I received an invitation to try Coco Safar's new summer menu, it happened to coincide with the last of my Christmas shopping – making it an easy excuse for something delicious in the midst of the chaos.
An international endeavour, Coco Safar was conceptualised in New York and designed in Toronto, before making its debut in Cape Town. Walking past, you'll notice the stylish baristas tempting you with coffee and pastries to go – if your shopping schedule doesn't allow for you to take a break. Upon walking into the store, you'll be welcomed by dark chocolate tones, beautiful light fittings, plush velvet – and a whole lot of luxe. Make no mistake – Coco Safar is fancy, but, still manages to be warm and welcoming.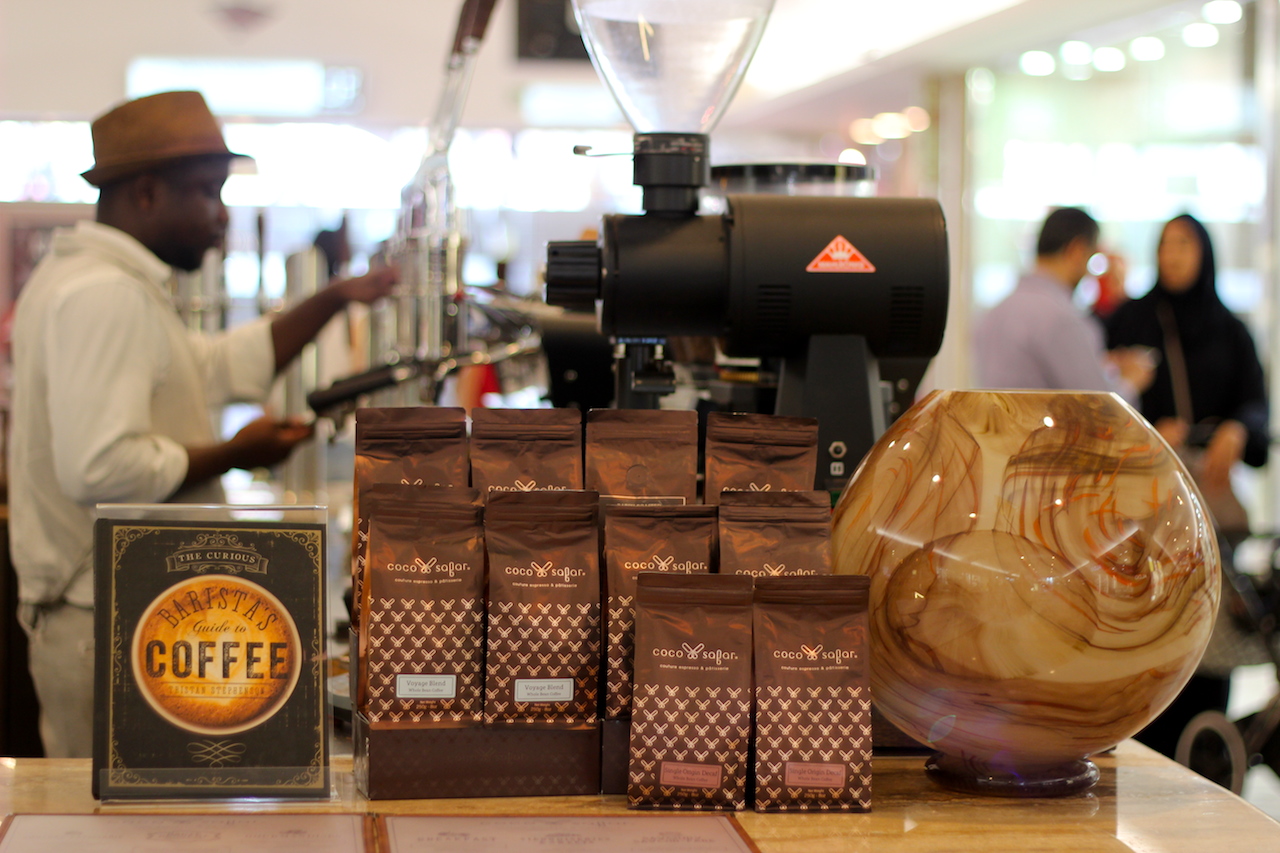 Walking past the expansive selection of beautiful pastries, we sat towards the back of the cafe, before perusing the menu. The summer menu features items such as the lamb bobotie croissant, baked falafel and roasted salmon trout. My dining partner had make the mistake of already having lunch, so ordered a menu standard of a sweet-and-savoury scone combo. I couldn't ignore the freshly-made falafel, and was pleasantly surprised to learn that it was served with a small portion of soup of the day – I went for the option of gazpacho.
The scones arrived each with their own dip, with the savoury option proving to be most popular – with goat's cheese and a salsa verde and mascarpone dip, it was the clear winner of the pair.
My falafel arrived, beautifully plated, also with a variety of spreads. Together with the incredibly delicious gazpacho – one of the best I've had – the salad on the plate went uneaten, as the portion was larger than it seemed.
My friend ordered a "cup of excellence" coffee to go with her meal – Coco Safar's premier blend – and I'm ashamed to admit that I completely forgot to order coffee during our visit. I blame it on the delirious sugar-high we were on when we left. I feel particularly guilty as I've subsequently discovered that the café is home to the world's first Spirit espresso machine with lever technology. I suppose it just means I have a legitimate excuse to return. I do have it on good authority that their coffee is worth a visit alone.
Now, onto that sugar-high. Dessert is an overwhelming choice at Coco Safar, so we relied on the recommendation of the friendly team when it came to choosing our sweet treats. An assortment of miniature gateaux, eclairs, tarts and alfajores arrived at our table – a dizzying array for only two of us.
We braved the sugar mountain and made a decent attempt at demolishing everything in front of us – with the salted caramel gateau and lime tart firm favourites. I am absolutely going to stop by to try the coffee for myself, and likely grab a treat or three.
Note: We enjoyed our meal as gusts of Coco Safar. All views and images are my own.