If you're looking for a spectacular vegan (or vegetarian) main course – or, simply a showstopper to include in your next picnic, then muffuletta is just what you need.
What I assumed to be an Italian dish, was only partly true. The bread itself – the mufuletta – is Sicilian, but the tradition of stuffing and filling it was one that started in New Orleans. The fillings can include cold meats and cheeses, and is generally characterised by a strong flavour of olives. As I'm a tricky olive-eater, I replaced this with pesto, also paying homage to the Italian routes of the loaf.
A note on the size of the loaf – this is a deceptively filling dish. A wedge served with salad makes for a very filling meal. I used a fairly modest round loaf – approximately 20cm in diameter – and realised that it seriously overcatered for the four people I had intended to feed.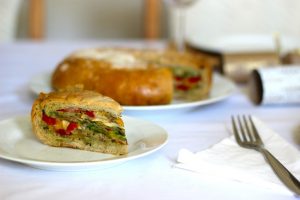 Ingredients:
1 round bread
1/4 cup olive oil
2 aubergines
3 baby marrows
2 peppers
1 large onion
3 cloves garlic
2 tbsp pesto
2 tbsp aubergine dip or spread (I used Mediterranean Delicacies' Melitzanosalata)
salt and pepper to taste
Method:
Slice the peppers into long, thin strips, discarding the seeds and white spines. Slice the onions into strips and the garlic into thin slices. Place the olive oil into a pot and place on a medium-low heat. Add the peppers, garlic and onions and allow to simmer very gently, until the peppers are soft, but not disintegrating. Do not colour the peppers or onions.
While the peppers are simmering, cut the tops off the aubergines and cut into long slices, approximately 5mm thick. I used this grill to cook the aubergines and baby marrows, but you can fry or grill until tender.
To assemble, cut a large circle out the top of the loaf of bread, and carefully separate it from the loaf to remove it. Using your hands, scoop out most of the bread, leaving approximately 1cm attached to the crust. Place 1 tbsp of the aubergine dip at the bottom of the loaf, and spread until evenly distributed. Top with a single layer of aubergine slices, spread with a thin layer of pesto and season. Top with a layer of peppers and onions, the courgettes, and repeat the process until you reach the top of the loaf. As the muffuletta will be compressed overnight, rather err on the side of overstuffing than leaving a gap at the top.
Once filled, wrap tightly with clingfilm and refrigerate overnight, with a heavy weight on top – I used my Le Creuset cocotte, but you can use a plate or tray topped with tins. Slice into wedges to serve at room temperature or slightly warm.
Note: This post is sponsored by Food Lover's Market. All views and images are my own.