It's no secret that I adore Constantia – and Constantia Uitsig was one of the first estates in the valley that we explored. It quickly became quite a special place for us – lazy weekend brunches at the River Café, lunch at Constantia Uitsig Restaurant, and our first experience of La Colombe – we even had our engagement party here.
I took it quite hard when the estate was sold – and with it, all our memories – so it was with some trepidation that I returned for lunch at the new Open Door Restaurant as part of our most recent adventure in the Constantia Winelands.
After a brief chat with their new winemaker, Jacques, and a perfect display of sabrage, we took our MCC for a little wander to the new bike park and discussed the future of the property. You would have already noticed that there's quite a bit of new happening around Uitsig – with only more to come. With talks of a deli, eco-friendly cellar, renewed wetland area, Babylonstoren-style gardens and community vineyard project – there are many plans in place for this property. While I initially hated the new owners on principle, hearing about their vision for the estate has made me more of a fan. I'll be watching this space.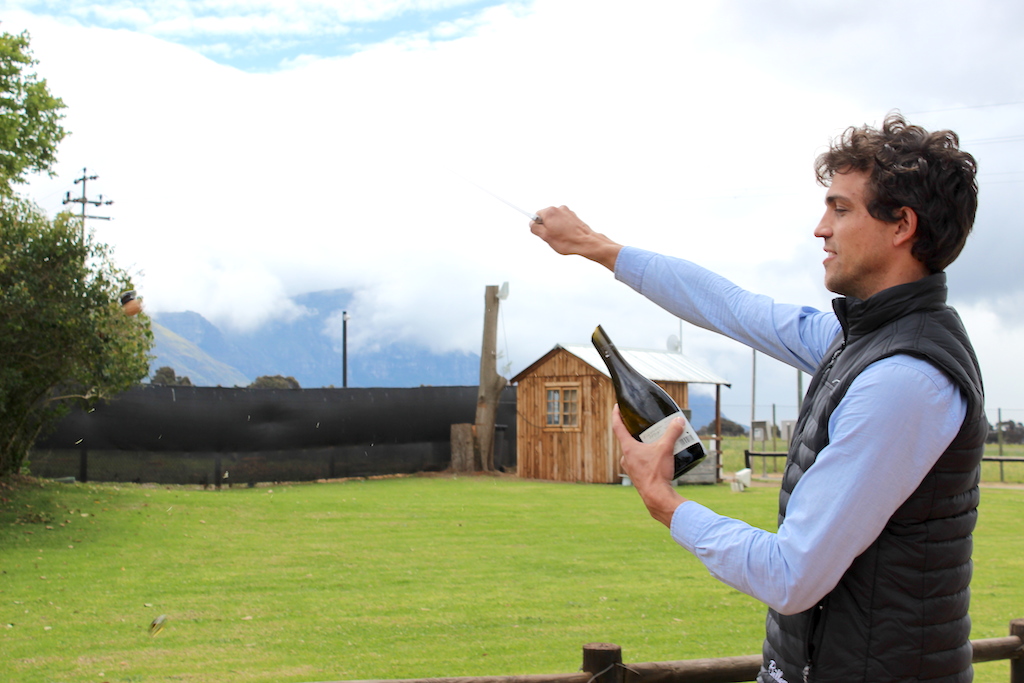 On to the restaurant itself. Run by Neil Grant – of Burrata and Bocca fame – I was keen to see what had become of our beloved River Café. The changes are vast. A modern colour scheme, a beautiful bar and light breakfast area are the main changes. While the restaurant has extensive seating, it will never be 'at capacity', as not all areas are designed to be used concurrently. The breakfast area, for example, will never be used for dinner – so there is always a feeling of space. I personally adore the dark charcoal walls and somewhat minimalist decor. Outside, fairy lights are strung under the eaves, for Constantia evenings under the stars.
Now, onto the food. When you 'order' more bread for the table, you know the meal is off to a good start. It quickly became one of those 'happy to have bread as lunch' scenarios. We ordered a la carte – I chose the beetroot, plum and goat's cheese salad to start, with the wild mushroom open lasagne with vichyssoise for mains. Throughout lunch we also had an informal tasting of the estate's wines (you can view them all here). Let me cut to the chase – the Reserve Chardonnay is the one you want. Sadly we were in a bit of a rush after lunch, so I didn't get the chance to buy a bottle (or try one of their tempting desserts), but I'm definitely making a plan to add it to our wine rack at home.
Perfectly wooded, deep golden in colour, I simply adored it. I've taken the below from their website:
"The light straw colour indicates maturation character. The nose is complex with butterscotch, vanilla and fresh pineapple. The palate is very elegant and leans more to an old world style with a great balance of minerality, fruit and texture. Fermentation is done in mostly 500L French oak of which 50% is new barrels."
And now, the food. Both my dishes were fantastic. The salad was well-balanced, tossed and thoroughly dressed, with a generous topping-to-leaves ratio. If anything, it was quite a large portion to start with, but that's hardly a fault.
My main course was spectacular. I don't think I've ever ordered a more perfect version of elegant comfort food. From the rich vichyssoise to the meaty mushrooms, strong cheese and fresh gremolata, it was a complete winner of a dish. Sadly not one the weather or my thighs would like me to have again soon, but one that will be fondly remembered. Around the table there didn't seem to be any complaining about any of the dishes – although the comment was passed that portions are quite large – take that as you will.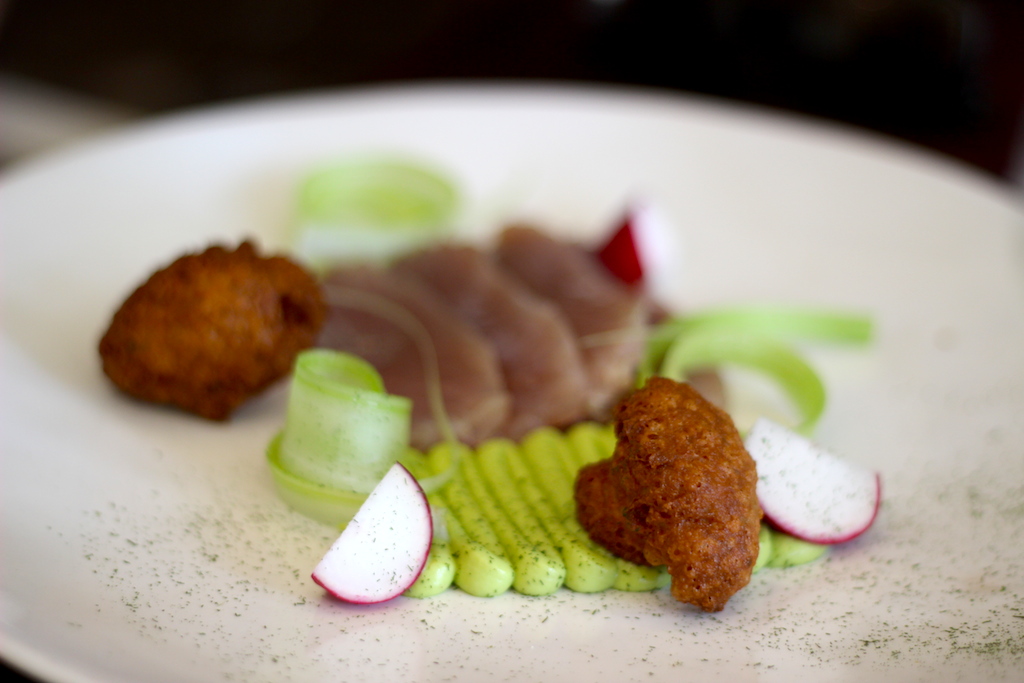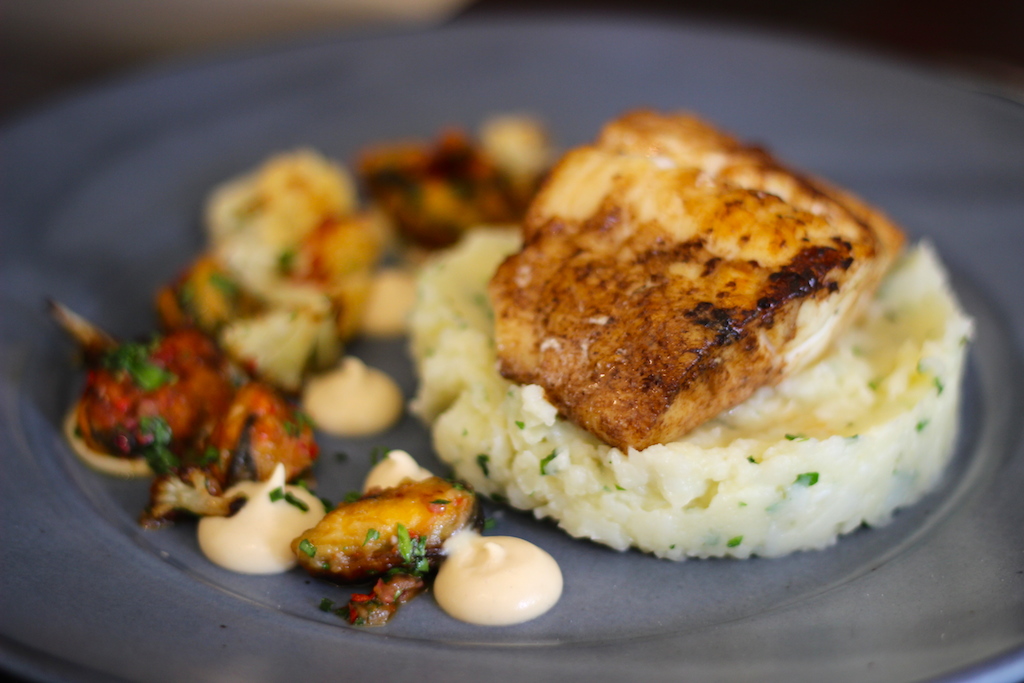 My only regrets? Not having dessert and buying a bottle of that Chardonnay. I have no reservations about the future of Constantia  Uitsig – I trust it's in good hands, and am excited to see where this journey leads. At least now I'm assured it will still include fantastic food and wine. The essentials.
Note: I enjoyed this meal as a guest of Constantia Uitsig and the Constantia Wine Route. All views and images are my own.