Any visit to Grootbos is bound to be a special occasion, but when that visit happens to be coincide with the SAWI Awards, you know you're going to be in for a treat. Leaving Cape Town on a Friday afternoon, I arrived at Grootbos just in time for the welcome dinner – hosted by Bouchard Finlayson, the winners of the SAWI Awards 'Winery of the Year' for 2013.
The weekend could not have had a better start – an intimate fireside dinner and a truly special vertical tasting of some of Bouchard Finlayson's Pinot Noirs – which were paired with five courses from Grootbos' kitchen.
It was my first vertical tasting – tasting a single vintage through several years – and what a phenomenal experience. We were treated to some absolute gems from Bouchard Finlayson, including the 1995, 2003, 2007, 2012 Pinot Noir and 2010 and 2012 Tete de Cuvee. The Tete de Cuvee was a particularly special treat as it is not made every year – only when Peter Finlayson finds the grapes to be truly exceptional, are they awarded this title. My personal favourite was the 2003 Pinot Noir, deemed by our table to be the most 'true to varietal' Pinot Noir on offer – if you are a fan, this is the year for you.
Naturally, the wines were accompanied by the standard, exceptional fare from Grootbos – highlights included the goat's cheese nougat and perfectly cooked lamb – both of which I would have happily forgone for a bucket of the smoked bacon and field mushroom soup. The best of winter, deliciously captured in a bowl.
I drifted soundly off to sleep, before waking for a day of more feasting. Breakfast was always a simple case of trying to eat everything – culminating in the Farm Benedict, with home cured bacon, naturally.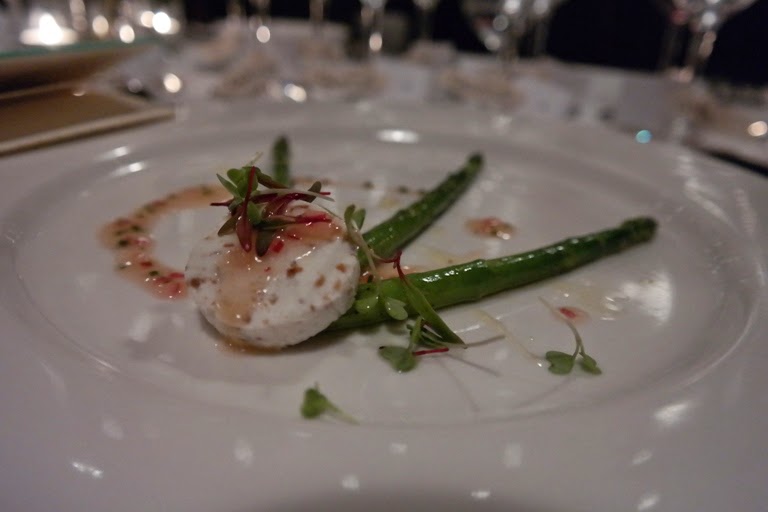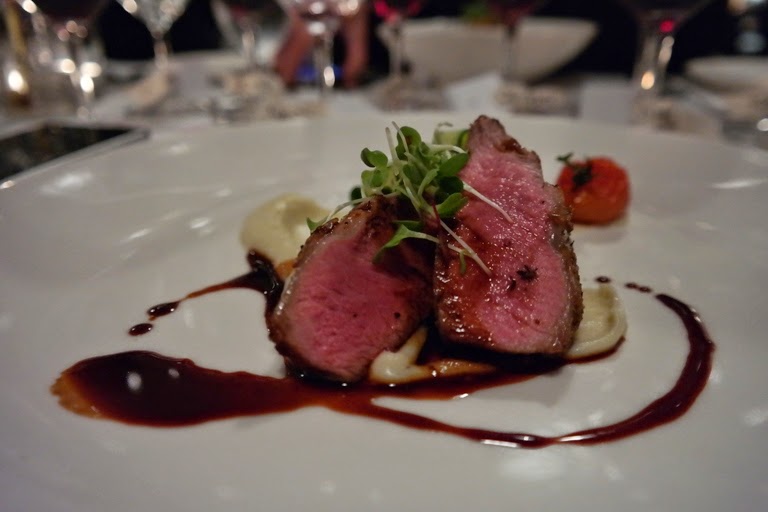 We headed out into the reserve – with gorgeous sunshine streaming through on the winter solstice – for a venture to Green Futures and Growing the Future, reminding us that Grootbos is so much more than simply a 'pretty face'. As it was a weekend of indulgence, we headed back to Forest Lodge for lunch and a selection of wines that would later be on offer that evening.  We started with a naturally delicious seared beef salad – a member at our table commented that 'the defining feature of Grootbos' food was that you could actually taste every ingredient'. A main course of pasta cabonara or calamari steaks satiated the hunger brought on by a day in the open air – followed by a little gingerbread and blueberry preserve to end the lunch time feasting.
After a few hours of relaxing and recovering, we headed off to Garden Lodge for the main event – the awards. Wines were grouped on tables according to varietal – so Chardonnay lovers knew exactly where to head (well away from the Shiraz crowd). The evening was spent sipping, browsing and nibbling – the highlight of the entire evening was the opportunity to taste the various wines, chat to the winemakers and then actually hear where the wines placed in the awards. My standout wine discoveries for the evening included the Rustenberg Chardonnay, Wildekrans Pinotage – and almost everything from Creation Wines. When asking Brett, one of the founders of SAWI on any tips  for the evening ahead, the advice I received was to 'pace myself' – with so many wines on offer, it was truly a wine-lovers' paradise and very easy to go overboard. Thankfully, armed with that sound advice, carafes of water and Grootbos' selection of 'roaming plates' throughout the evening, we were in good hands.
A bit about SAWI and the awards process:
"SAWi was the brainchild of wine enthusiast Izak Smit, who wanted to create a credible and objective algorithm with which the best South African wines could be identified amongst a plethora of wine competition results. From this list people could use a reliable source to choose outstanding wines. This particular wine index is unique because it has eliminated the act of personally tasting each wine to decide on the quality. Instead it relies on a particular algorithm that has been designed by SAWi. Wine accolades and reviews are collected from 84 multinational wine panels with each award weighted according to the compilation of wine panels and the number of accolades on offer, which will then affect the points score assigned to the particular wine.
A nominal point is also added for a wine having received a trophy or top 10 position. The points will also vary according to how many years the wine has been awarded to measure consistency. Each wine is rated out of 100 based on multi-year performances. Since the subjectivity of the person tasting the wine has been eased and given that SAWi is not a competition, it is an incredibly reliable source to measure quality wine."
From a selection of canapés to start, to plates ranging from gruyere soup, poached crayfish and confit lamb croquettes spread throughout the evening – all wine and culinary needs were thoughtfully taken care of for the night. The awards themselves highlighted some truly exceptional wines – with Hamilton Russell Vineyards Chardonnay, Saronsberg Cellar Full Circle, Rijks Private Cellar Pinotage and Kanonkop Estate Paul Sauer all scoring 99 points out of a possible 100. When Constantia Glen was awarded Best Wine Producer for the evening, it was hardly the end of the celebrations : with wine producers, wine lovers and culinary enthusiasts in the same room, it was only the beginning.
The results : 
De Morgenzon received the 2014 SAWi Trophy for White Wine Producer of the Year. The Trophy for the 2014 SAWi Red Wine Producer of the Year went to Kanonkop Estate, also from Stellenbosch.
The inaugural Trophy for Best South African Brandy Producer was awarded to KWV.Chardonnay dominated, with 17 accolades, followed by Shiraz wines with 12, Sauvignon Blanc and Bordeaux Blends with 10 each, Pinotage 8, Pinot Noir 6 and Red Blends 5.
Hemel and Aarde Valley had 14 wine accolades, followed by Constantia with 10 and Tulbach with 7,whilst Elgin, Franshhoek, Paarl, Stellenbosch Kloof, Blaauwklippen and Idas Valley had 5 each. Wines from Stellenbosch West, , Blaauwklippen, Cederberg, Somerset West, Franshhoek and Durbanville made up the rest.
Wined, dined and safely to bed – it was a stellar evening of great wine and good food. Can't wait for next year.
All images are my own. I enjoyed the stay as a guest of Grootbos.