As a born-and-bred Capetonian, I know how strong the urge is to hibernate through the months of May to August. But, we recently brave a cold, wet evening to attend Blanko's Supper Club with L'Avenir Wines – and, it was absolutely worth giving up an evening of pjs and Netflix.
The Supper Club concept is simple: take one fantastic local wine estate, pair it with three-courses in a beautiful Constantia setting, bring a wine-maker to dinner – and, you have a great evening for R395 pp.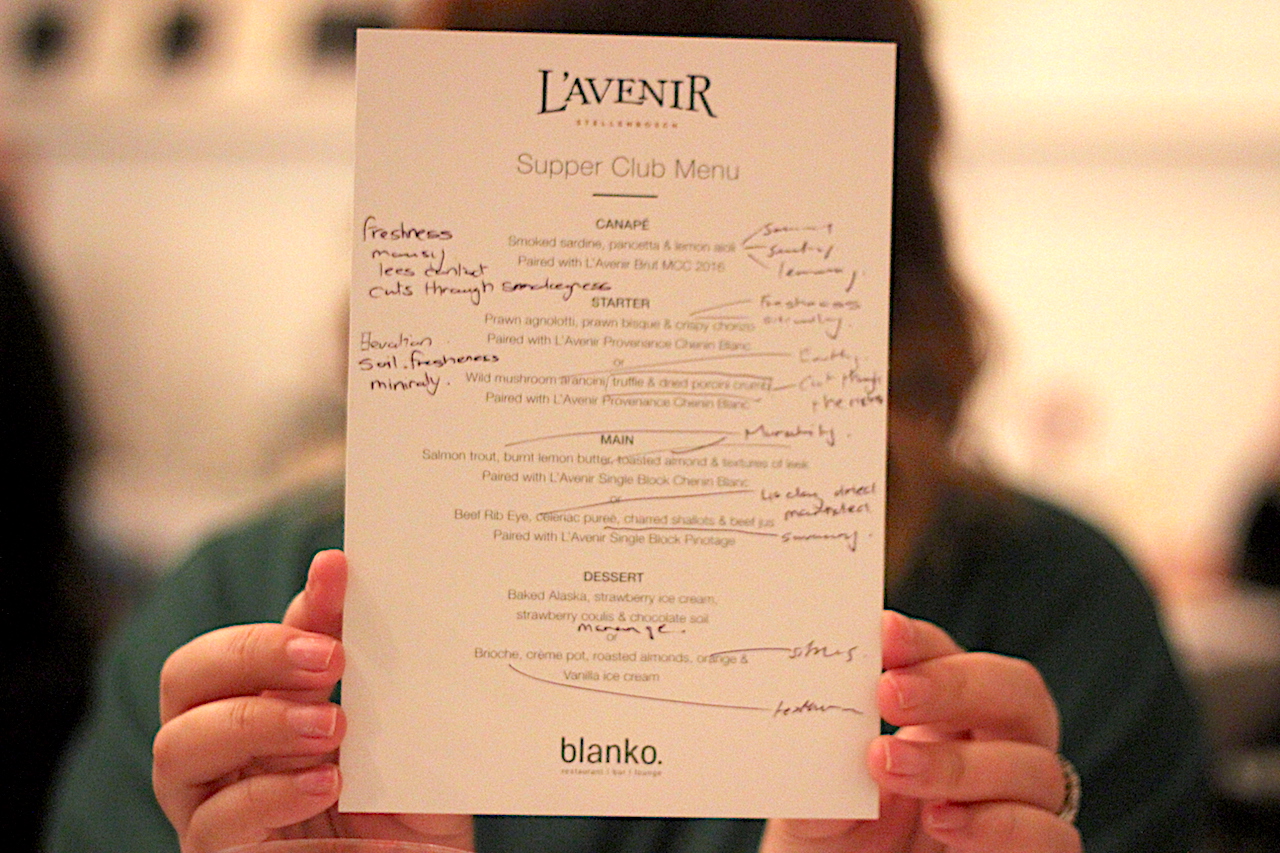 It was a full-house on the evening we joined, with just under 40 guests in one of Blanko's rooms, ready for a meal of great food and wine. We were a little late – note, it starts at 18h30, not 19h00 – but, that did mean that we managed to sit with the winemaker himself, which was quite a bonus – as he allowed us to pick his brain throughout the meal.
The menu and wine estate changes with each evening, but, there will be a choice of dishes per course – our night included prawn agnolotti and arancini to start, salmon trout or rib-eye for mains, and a brioche creme pot or Baked Alaska for dessert, each paired with a wine from L'Avenir.
I was sure I'd had L'Avenir Wines before, but couldn't quite pinpoint where – although, I'm sure their Single Block made an appearance on the La Colombe menu at some stage. So, a somewhat tutored tasting of their wines was such a treat – we enjoyed their Provenance Chenin Blanc, Single Block Chenin Blanc, Single Block Pinotage and luxury Glenrosé – quite the line-up.
And, well, I'm not sure if we were meant to pick a favourite, but the Provenance Chenin Blanc was a standout both in terms of exceptional wine – but, also price, at a very reasonable R130 a bottle. A wine I'll absolutely keep an eye out for in future – and, I suppose – the benefit of having the wine estate represented at a dinner. New friends, new wines.
The Supper Club takes place at Blanko Restaurant at the Alphen Hotel in Constantia on the last Thursday of every month. If you're keen to make a night of it, they're also offering an overnight stay in a Deluxe Suite, inclusive of the Supper Club Dinner and Breakfast for R2 650 per couple.
Book your table for the next supper club here.
We enjoyed our meal as guests of Blanko. All views and images are my own.
alpine hotel
Constantia