We recently received an invitation to spend a weekend at the newly-opened Franschhoek Boutique Hotel. Not one to turn down a few days in our favourite winelands town, we packed our bags and set off for two nights of autumn bliss.
We found the hotel easily, parked and made our way to reception to check in. Modern and eclectic, without being overly complicated or fussy, I immediately approved of their decor scheme – with geometric patterns, bright colours and an assortment of plants as main features. We were offered something to drink, opting to refresh with ice cold sparkling water.
We were expecting autumn bliss, but were instead greeted with the height of summer – with the weather hovering around 34 degrees C on all three days. The rooms are all upstairs, situated above the reception / breakfast area, affording beautiful views across the mountains for all suites. All rooms have their own theme – we stayed in Aztec, which is characterized by geometric influences and monochrome tones. Having a peek at the other rooms, I also wouldn't mind a visit to Palm (and, perhaps, to take those light fittings home with me too).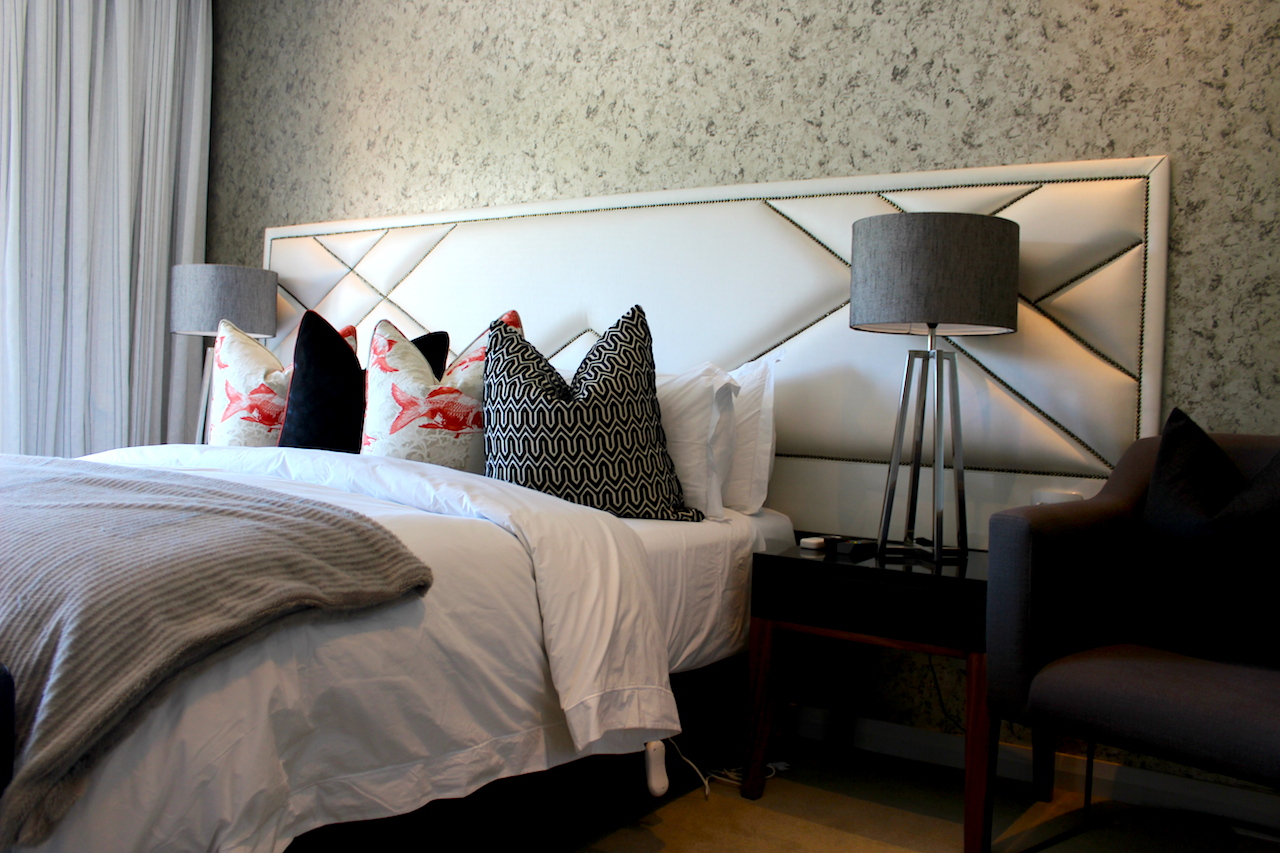 As the hotel is one of the newer accommodation offerings in town, we had no expectations on arrival – but, were very pleasantly surprised. Decent-sized rooms, beautiful bathrooms, quirky decor touches and a few extras that were completely unexpected – including underfloor heating, a heated towel rail, a private fireplace, electric blankets, full range of DSTV channels and inclusive minibar, filled with local wines (not available during Secret Season). After we'd unpacked and explored our little home for the weekend, we ventured out to see our surroundings. What I initially thought was another part of the hotel, turned out to be the back of a courtyard spilling out onto Main Road. The hotel doesn't use the word central lightly. We popped into Sacred Ground for a snack to enjoy in our blissful, air-conditioned room, where we whiled away the rest of the afternoon. We had dinner reservations at La Motte, a short drive down Main Road. However, if you'd prefer to dine in, Allora delivers room service to the hotel – just phone and let them know which room you're in.
We slept soundly, before heading downstairs for breakfast. There is a full continental offering, including home-made preserves and jams, and a hot breakfast menu, to order. I let the team know I was vegan, so was thrilled to have the option of soy milk with my morning cappuccino. I was more than happy with my selection of spinach, mushrooms, tomatoes and pesto – which I enjoyed with toasted English muffins and rye, on both mornings. Luke had the French toast with blistered tomatoes, basil and brie on the first morning, and the Eggs Benedict with bacon on the second. The latter came with perfectly poached eggs and what he claims is one of the best Hollandaise sauces he's ever tasted. We headed out to Mont Rochelle for long, lazy lunch (at 1.6km down the road from the hotel, I'd highly recommend it) before heading back 'home' for the rest of the afternoon. Air conditioning on full blast,  we were simply able to relax, read, bathe and take in the spectacular views of the pink-tinged sunset across the mountains.
 I admit, that sometimes you want to get away from it all and stay in a cottage surrounded by vineyards – but, if you're looking to explore your surroundings and live like a local, I can't recommend the Franschhoek Boutique Hotel highly enough. If you fancy a winelands weekend away, the hotel is running a Secret Season special until 1 July.
Note: We enjoyed our stay as guests of the Franschhoek Boutique Hotel. All views and images are my own.
franschhoek