Last Friday we ticked a rather important item off our bucket list : eating at Peter Templehoff's The Greenhouse Restaurant at Liz McGrath's The Cellars-Hohenhort.
It has been the top restaurant we've wanted to visit for years – so we bit the bullet, saved and made the reservation. Well, rather the lovely Mr surprised me with the booking, and printed out their vegetarian menu as a hint of what was to come. After having met Peter at a few food and wine festivals over the years, we genuinely liked him (as much as you can get to know a man when he serves you fish tacos and cheese) and wanted to support his flagship restaurant. On this note, we were encouraged by the three-week waiting period before we could get a table – thrilled that others were also supporting him.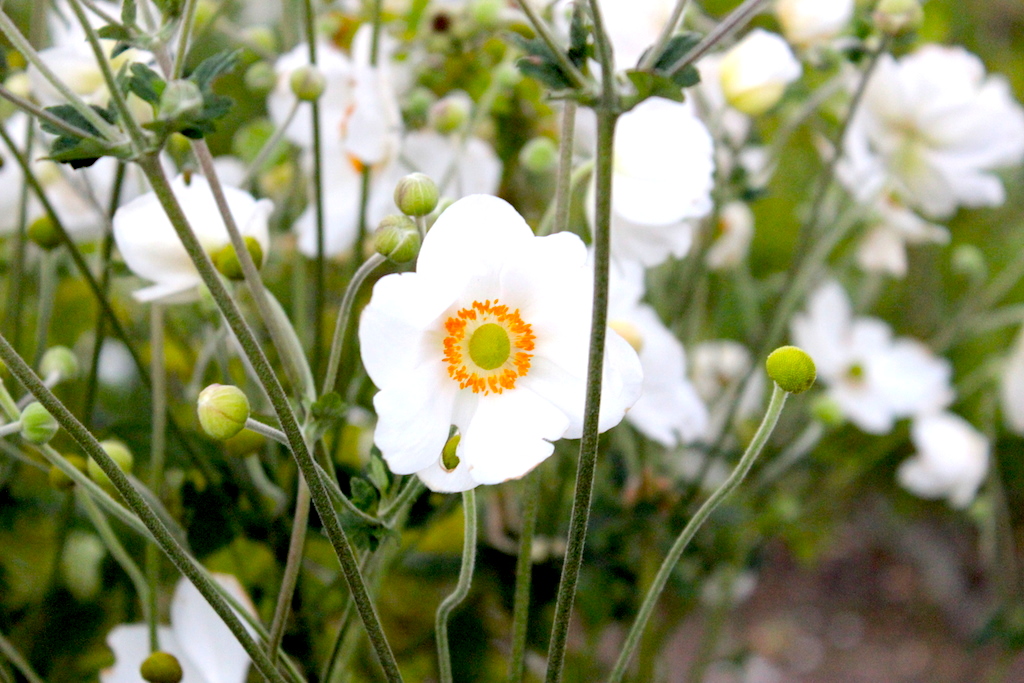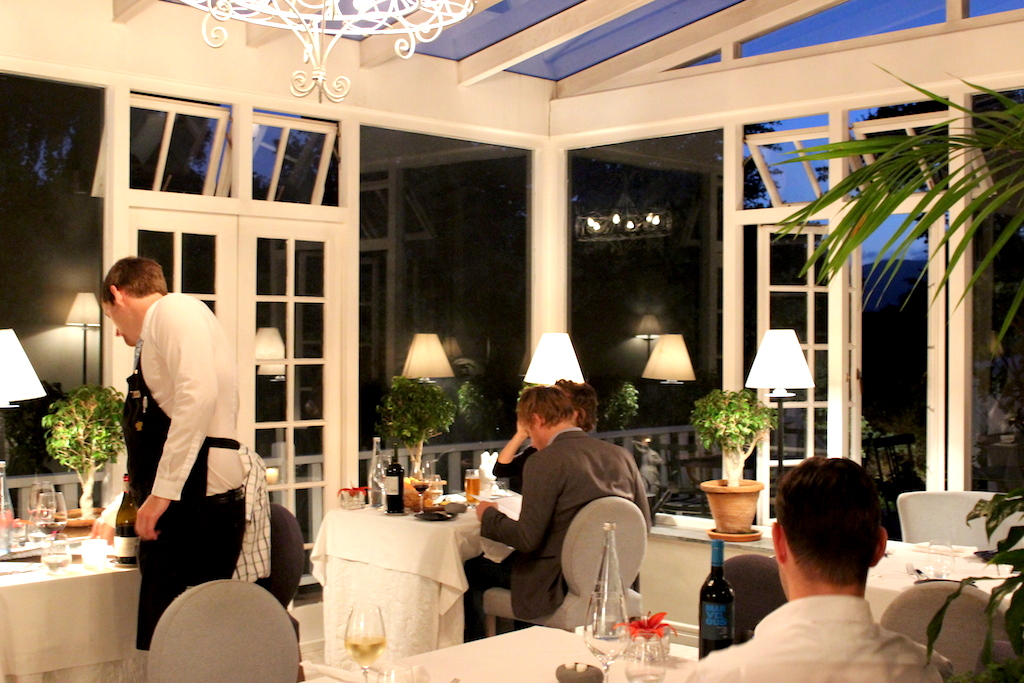 I'm actually quite happy it took us this long to visit – while Luke had the 'normal' summer menu, I chose the vegetarian option – which perhaps even made me appreciate the experience even more – as I'm learning that most Cape Town restaurants' version of vegetarian food is pretty, well, awful.
We were given pretty wonderful table – thanks Greenhouse team – and started the evening with a selection of bread, including lavash, ciabatta and then two ham, bacon, corn and cheddar brioches. Served with farm butter and smoked sundered tomato butter, the evening was off to a rather fantastic start. The lavash stood out as a surprising favourite, but nothing beats ciabatta as a vessel for all the butter.
We browsed through the wine list – which genuinely surprised me. Apart from their 'Vin de Constance Collection', and champagne and MCC by the glass, they have an astounding selection of wines per glass. Not only this, but affordable – which was unexpected. When restaurants seem to feel they can get away with charging exorbitant prices, the Greenhouse decided not to take advantage of that. We paid R45 for a glass of Mulderbosch Chenin Blanc and R60 for a glass of Marvelous 'Blue' Red Blend. Both great wines at great prices.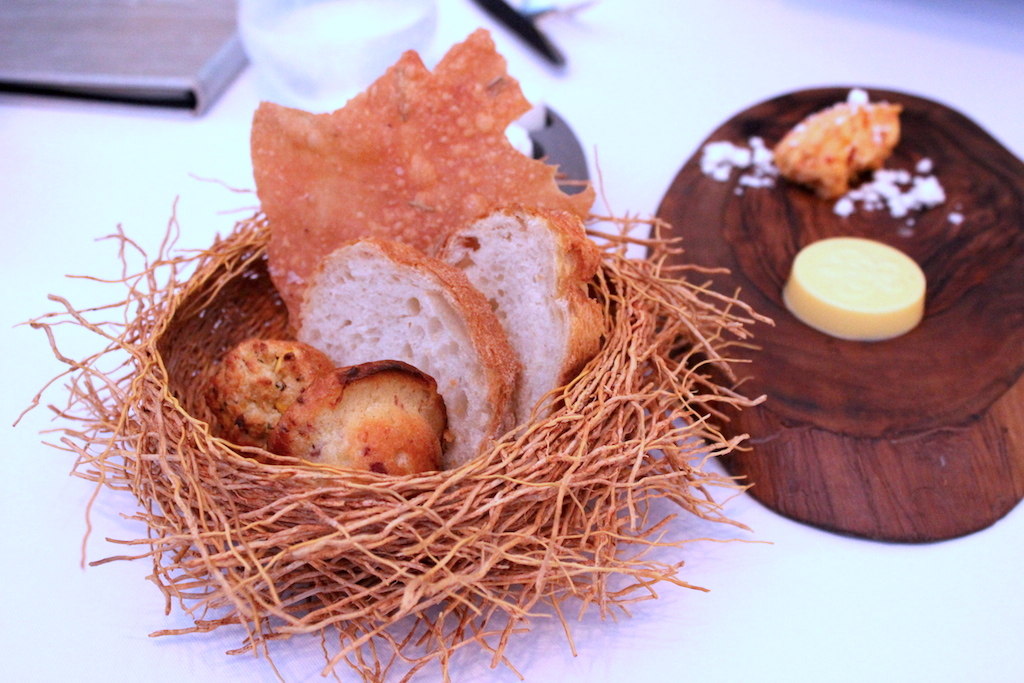 Then, the food began. Upon hearing I'd be having the vegetarian menu, the kitchen tried to alter the amuse bouche as much as could be allowed, in order for me to enjoy them. While the butternut and pecan macarons were absolute winners, the beetroot crisp and blue cheese (meat omitted) was also appreciated. Luke enjoyed a game fish and seared prawn skewer and a beef bite – both of which he declared delicious.
Next was the official first course – Goat's cheese mousse, summer tomato, fried courgette flower, peppadew, infused basil seeds. As I mentioned, Peter is a man who loves cheese – making him a man after my own heart. The goat's cheese mousse was light, still significanty flavoured, but slightly less intense than unadulterated cheese would be. The tomato espuma melted as soon as you put it in your mouth – leaving nothing but the most intense tomato flavour behind. Together with the crunchy courgette flower and fresh tomatoes – it was a deliciously light and fragrant start to the meal.
Second course caught me by surprise – as it was different from the online menu. Our waiter explained that elements of the menu change weekly, gradually changing towards the next season, so it's impossible for the website to stay updated. The 'koeksuster' was light, chewy and crispy but not as sweet as the name would suggest. With earthy, slightly sweet beets and crunchy tuilles, it was an unusual, but enjoyable second course.
 Third course – brown rice risotto, fennel root, young turnips & carrots, garden herb salad – was honestly the one I was least looking forward to. I'm not the greatest risotto fan, let alone when made with brown rice, but I tried to keep my faith in Pete's abilities (we're totally on first name terms in my head) and keep an open mind.  It arrived, and looked absolutely beautiful – a good start. It was summer on a plate, and simply gorgeous. The onion velouté brought a subtle sweetness which elevated every element of the dish. It was the surprise dish of the evening.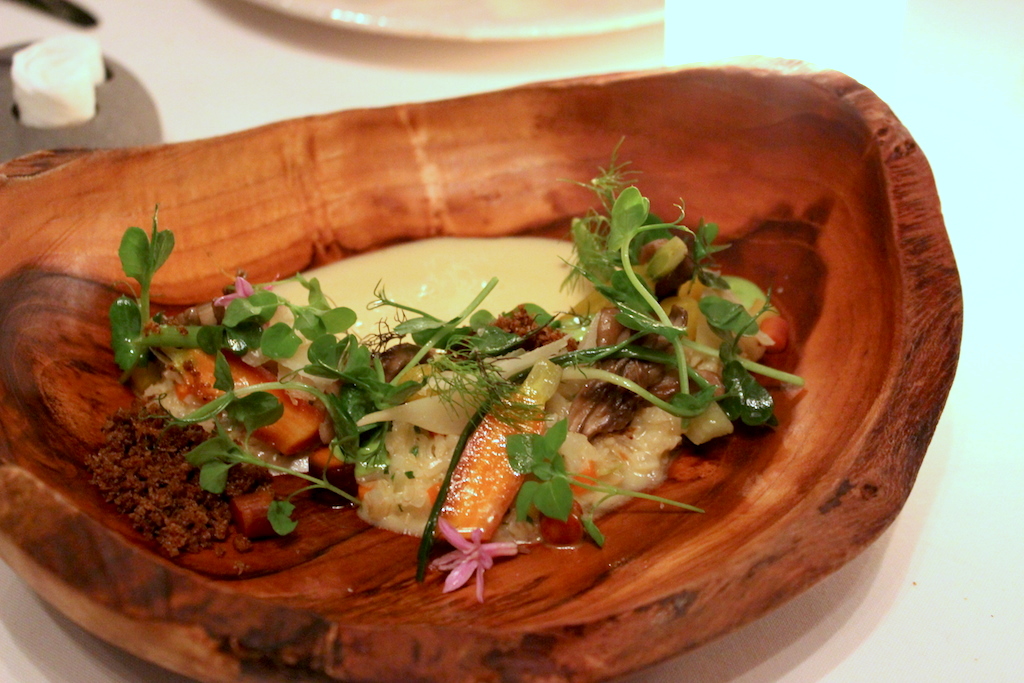 The Mr had the same flavours as mine in his dish – except instead of risotto, he had medium rare fillet – which seemed to go down just as well.
Instead of palate cleaners, the menu included pre-desserts – with two options, we had one of each. I chose beer, potato crisps and pretzels, while the Mr had grapefruit and mixed fruit. While I didn't have any of Luke's, he had some of mine, and firmly decided I won this round. My ice cream was creamy, slightly tangy and just wonderful with the slightly sour and chewy pretzel crumbs. I made the right choice.
Our meal ended all-too-soon with dessert – raspberry mousse, Madagascan chocolate cremeaux, chocolate soil, red wine butter ice-cream. A complex, not-too-sweet dessert, the care and skill that went into it was evident. With so many elements, it was natural that the Mr and I would have different favourites – he chose the red wine butter ice cream, while I chose the Madagascan chocolate cremeaux.
With dessert finished, we weren't quite ready to end the evening just yet. While we did the five course menu this time, we will definitely return for the seven course. After looking forward to visiting for years, I wanted it to last longer. In an attempt to stretch it out a little longer, we ordered espressos, which came with canelles and then salted caramel chocolate bites. Dinner lasted two hours – but I wanted more.
After waiting at least three years to visit, did The Greenhouse live up to expectations? Absolutely, yes. I do believe that it was made even better by my new-found appreciation of vegetarian cuisine. Elegant, refined food, served in a setting befitting Peter's creations. Rumour has it there are winter specials coming up – so maybe you don't have to wait as long as we did to visit.
Note : We paid for our meal in full. A review as not expected or requested.
Images taken with a Canon EOS 600D from Loot.co.za
Leave a comment