We've already established that I'm a planner. So, when we booked our trip to Zanzibar, I was already weeks into researching the very best activities to include in our time on the island.
I spent weeks poring through TripAdvisor reviews, Instagram geo-tags, online reviews and comments – and quickly released that The Safari Blue was a must-do.
We booked in October for our trip in February, and there were already a few dates that were fully-booked, so I do recommend booking as far in advance as you are able to. It costs $70 per person (currently around R970) and includes:
A day exploring the Menai Bay Conservation area in a traditional wooden dhow
Swimming & guided snorkeling in the beautiful clear waters – quality equipment provided
A visit to a sandbank, with the opportunity to swim and tan
Feasting on a delicious Swahili seafood barbecue followed by a tropical fruit tasting
Drinks and snacks throughout the day
A visit to a hidden mangrove lagoon, with the opportunity to swim
It's very important to note that there is only one The Safari Blue. Unfortunately, "Safari Blue" has become a generic term for almost anyone in Zanzibar that offers you a snorkelling and lunch experience – but, I've heard from a number of people – none of them compare to the original. Their team stands out with their yellow and blue branding, with the boats and crew all wearing The Safari Blue logos. To be sure you're booking with the correct company, please use their website.
I had high hopes for the day – and, they were absolutely exceeded. The Safari Blue leaves from Fumba, which is about a 30 minute drive south from Stone Town – we paid for transfers to be included, so we didn't have to worry about getting lost or being late. You arrive at the beach in Fumba, are fitted with flippers and then walk out to the small boat, which then takes you to the dhows – which are your home for the day.
A note about this day trip, and oceans in Zanzibar in general – there's quite a lot of coral around and the tides fluctuate quite wildly – so, you absolutely need sandals or shoes that you can wear in the water. And no, slip slops or Havaianas aren't good enough – you need something with a strap so they won't get washed off your feet by waves. It may sound silly, but it will really make your time in the water and on the island so much more comfortable.
Tip: As Fumba and Safari Blue is just south of Stone Town on the West Coast, I'd recommend planning the day trip close to when you land or leave the island, as it is quite a distance – approximately an hour and a half each way – if you're travelling from the north or east of the island.
Back to the trip – it was about a 30 minute boat ride to our first snorkelling spot, where Luke was of course the first one in the water (he's a keen diver with a commercial diving licence behind him) – and I am the polar opposite: I've never swum in the ocean and am frankly pretty terrified of it. However, our captain and crew were incredibly patient and kind with all on board: two of the 12 on board couldn't swim, so they were kitted out with lifejackets, before we were told how to use our snorkelling masks. We got into the water – already a big step for me – all put our hands on a life preserver, heads in the water – and were guided around the area, being happily dragged along by the incredible crew until we found our confidence in the water.
Of course, the area is beautiful and teeming with ocean life, perfect for those who are comfortable in the water – but, if like me, and you're a newbie – know that you will be very well looked after and still have the most magical experience.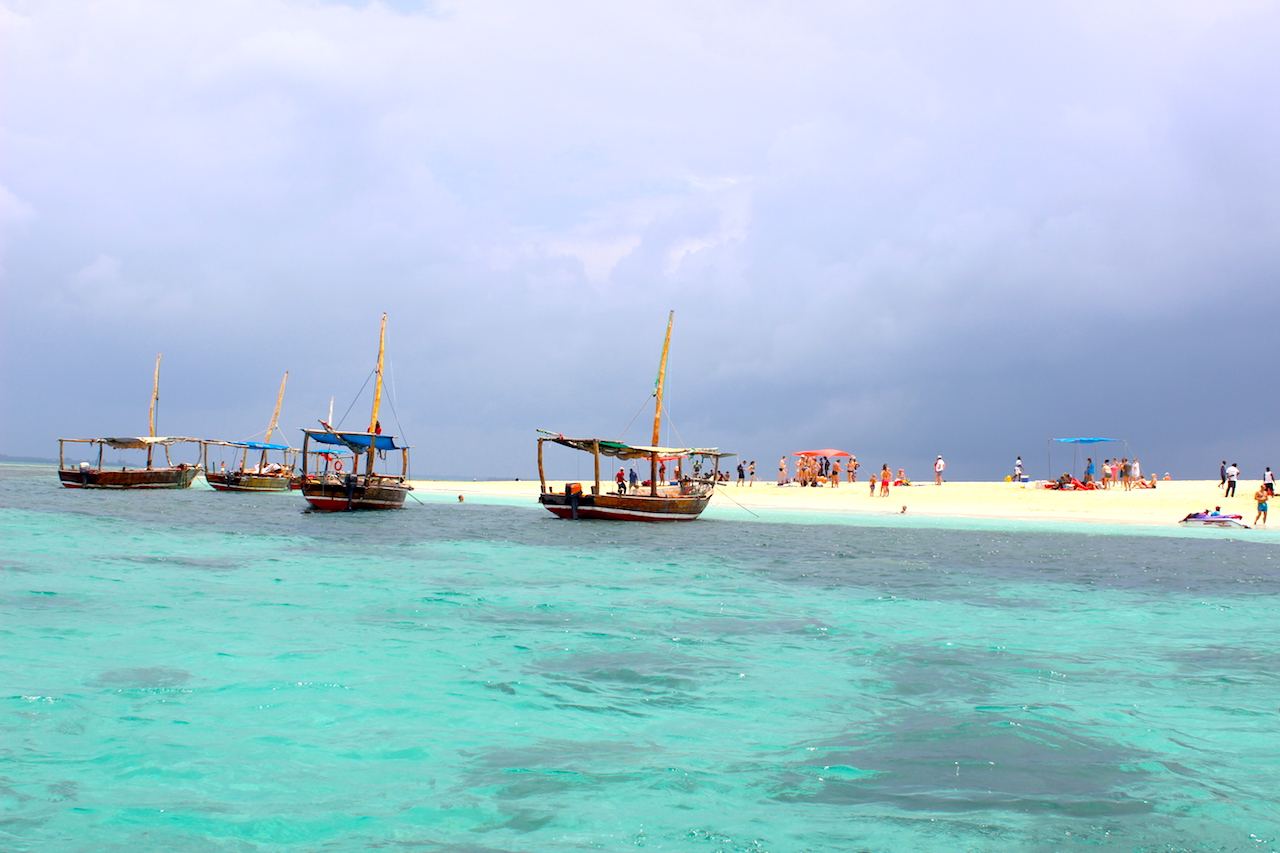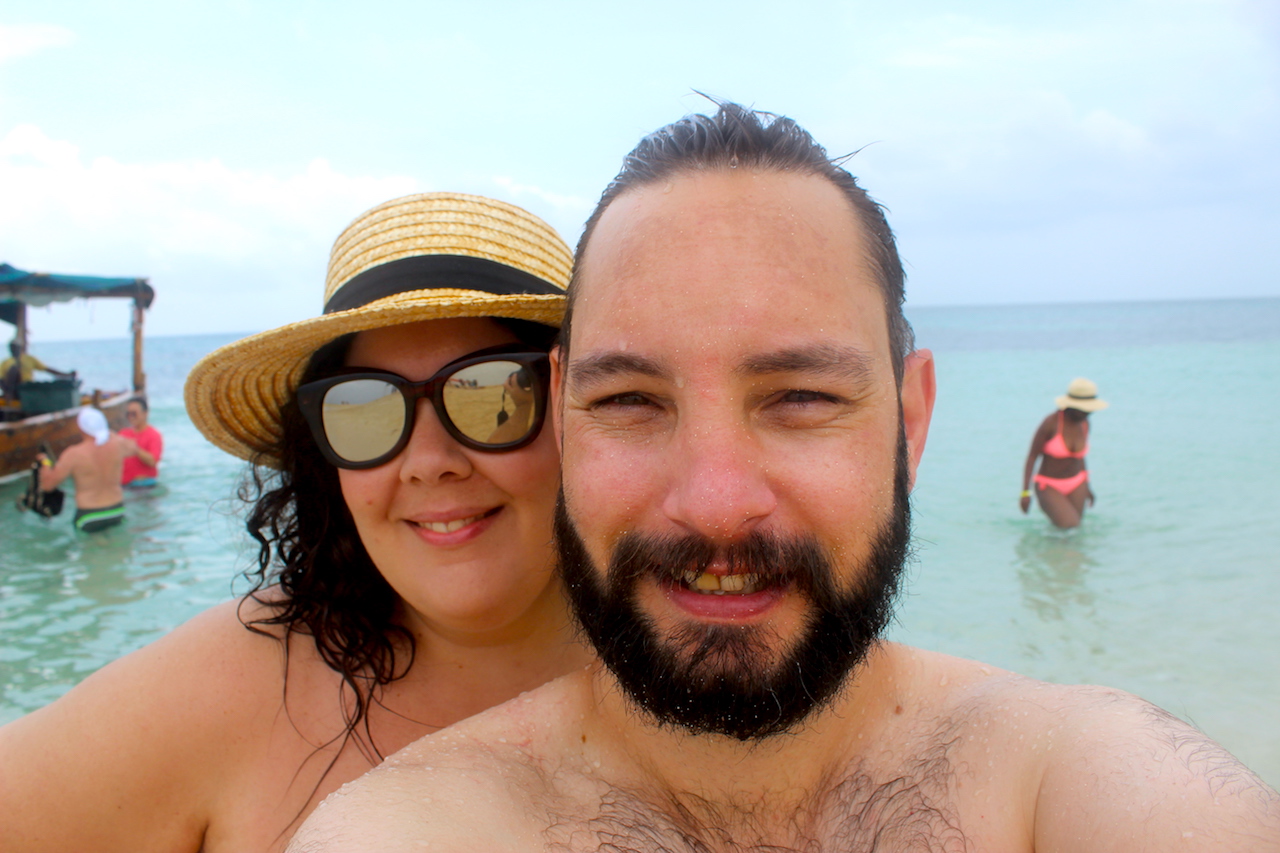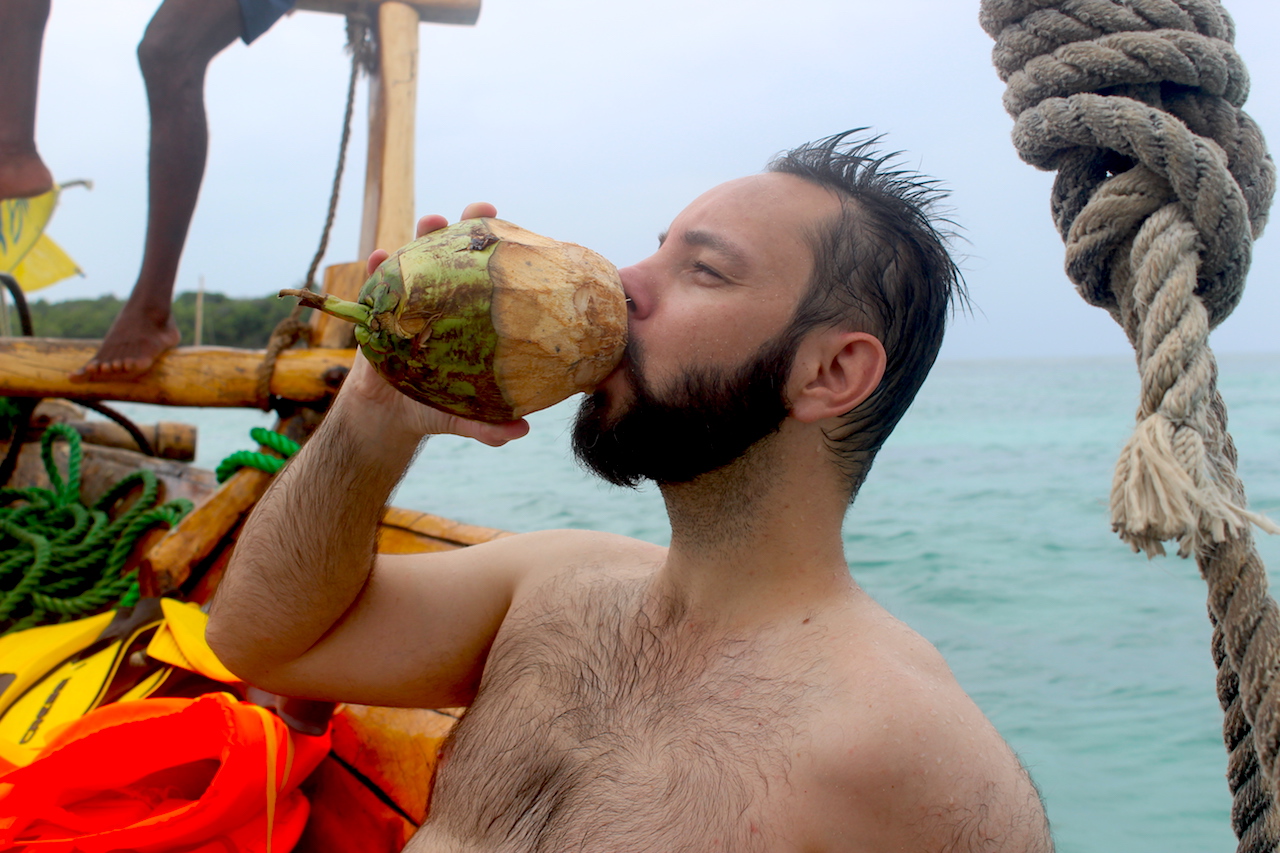 Between snorkelling, swimming and tanning, we enjoyed fresh fruit, coconut water, soft drinks and local sweets on board, before heading to another little island for a seafood buffet, featuring local delicacies, beer and fruit. It was a generous spread, served under a large stretch tent, where you could return for as many sand lobster and king fish as you'd like.
Afterwards, there's any opportunity to visit the mangrove on the island, or, if like us, the beer and fresh air proved a little too much, time to nap on a deckchair under the trees.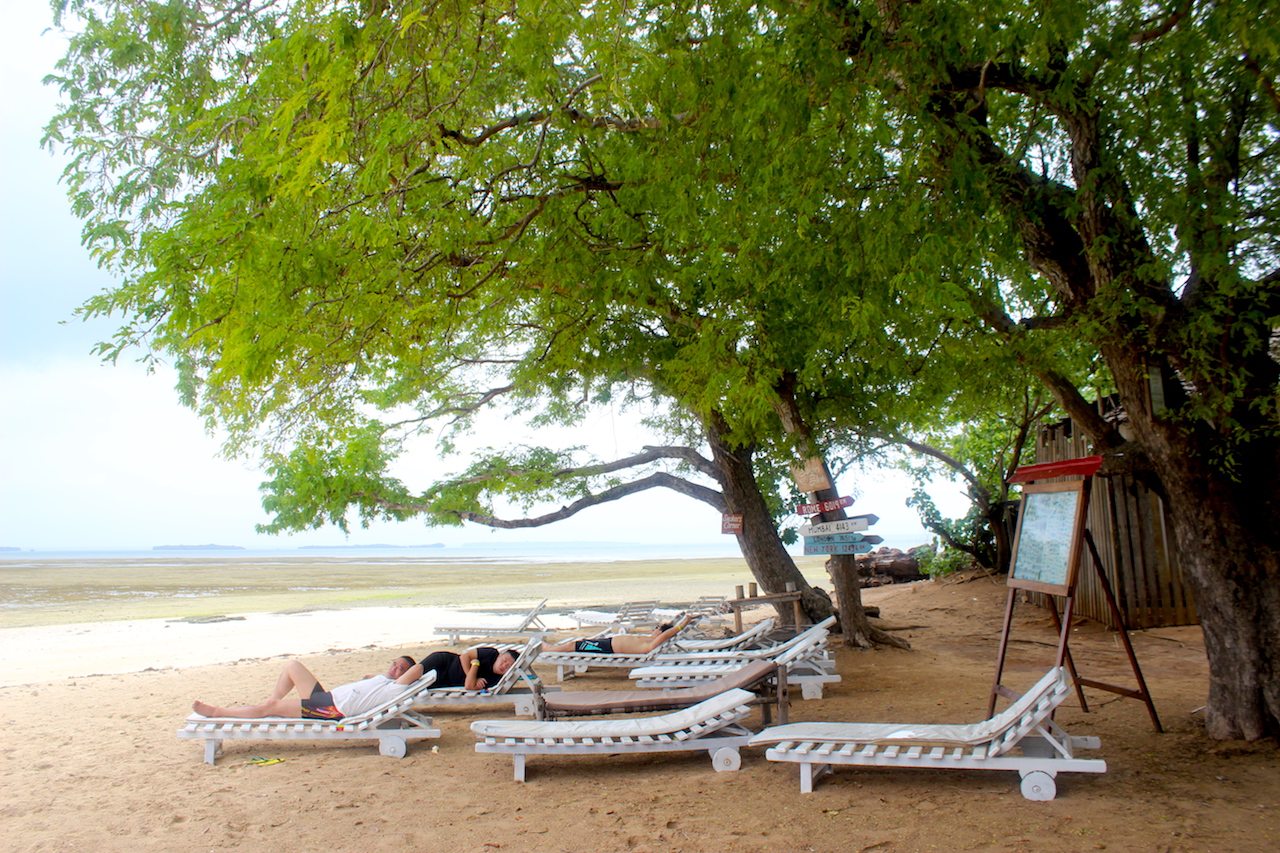 Lunch was followed by a local fruit tasting – from passion fruit to litchis, sugarcane to mango and tamarind, before raising the sails and beginning the slow journey back to coast, skimming the turquoise waters and searching for dolphins as we went.
Keen to read more about the island? View the rest of my Zanzibar posts here.
Note: We paid for our trip in full. A review was not requested or expected. All views and images are my own.
zanzibar