We had been invited to explore Anthonij Rupert in Franschhoek a few times, but somehow it took us months to eventually get ourselves down the N1 to this beautiful part of the world.
This past Saturday we took the trip with two friends, and were properly spoilt by the team – and walked away with a greater appreciation of not only the wines, but the man behind the name.
Our day would see us exploring almost every offering at both Anthonij Rupert, and L'Ormarins next door. Our adventure started in the Manor House at Anthonij Rupert, where we met their Hospitality Manager, Gidi, who would be our amazing host of the day. While enjoying a glass of their L'Ormarins Brut Classique, we learned more about the history of the Ruperts, the estate and manor house, and the bubbly we were sipping on. I'll admit from the start – I regretted wearing jeans. Thinking this would be just another wine farm experience, I was wrong. The elegant drawing room and sophisticated manor house is just the place for you to whip out your summer dress and pretty earrings. Don't make the same mistake I did.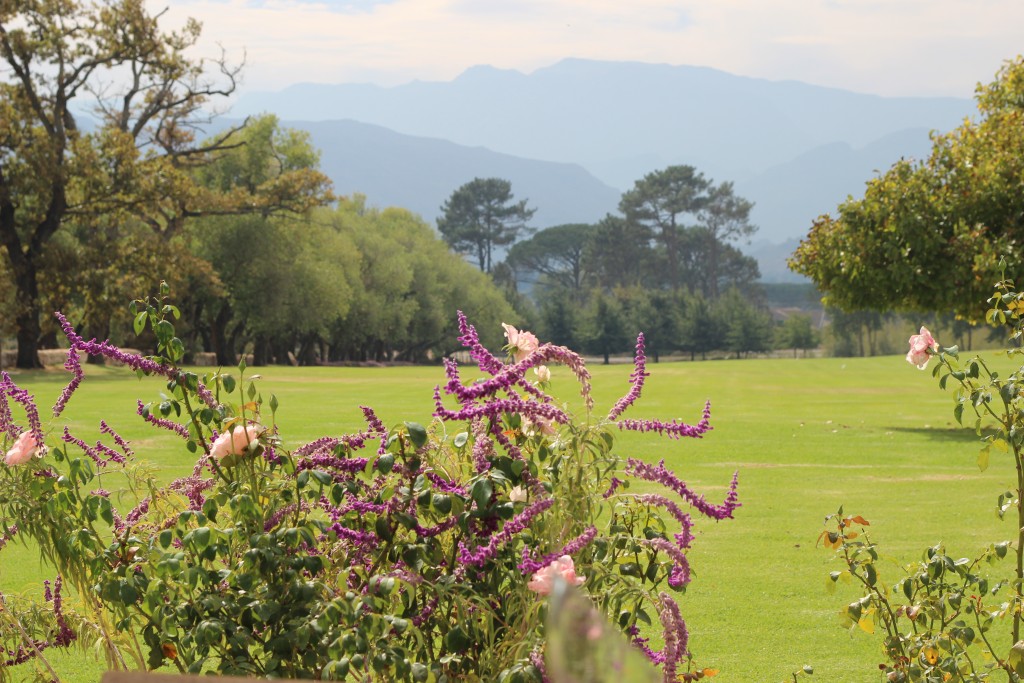 While the Brut Classique has only been on offer for the past 3 years, the Manor House we enjoyed it in was built in 1833 – we know this thanks to a little diamond inspired graffiti on one of the window panes. The Manor House is also home to one of the tasting rooms – which was buzzing at 11h30 on a Saturday morning. Walking through, we were shown various artworks – historic pieces of famous racehorses that were sold, old sketches of the area and Cape Town – and taken into two of the opulent bedrooms. With bathrooms larger than most lounges, life in this house would have been different to most.
After our bubbly, we moved outside – for a tour through their large herb garden, and rose garden. We sniffed and smelled our way around both – discovering a few herbs I'd never heard of, including artemesia, calamint and the pungent Vietnamese coriander, we also saw the lemon verbena that we would later be enjoying in a semolina cake with high tea. The rose garden was simply heavenly – with roses that give off a scent we've mostly forgotten, thanks to the supermarket hybrids we now find. With the most glorious hues, smelling like everything from Turkish delight to peach and lavender, it was a nostalgic wander.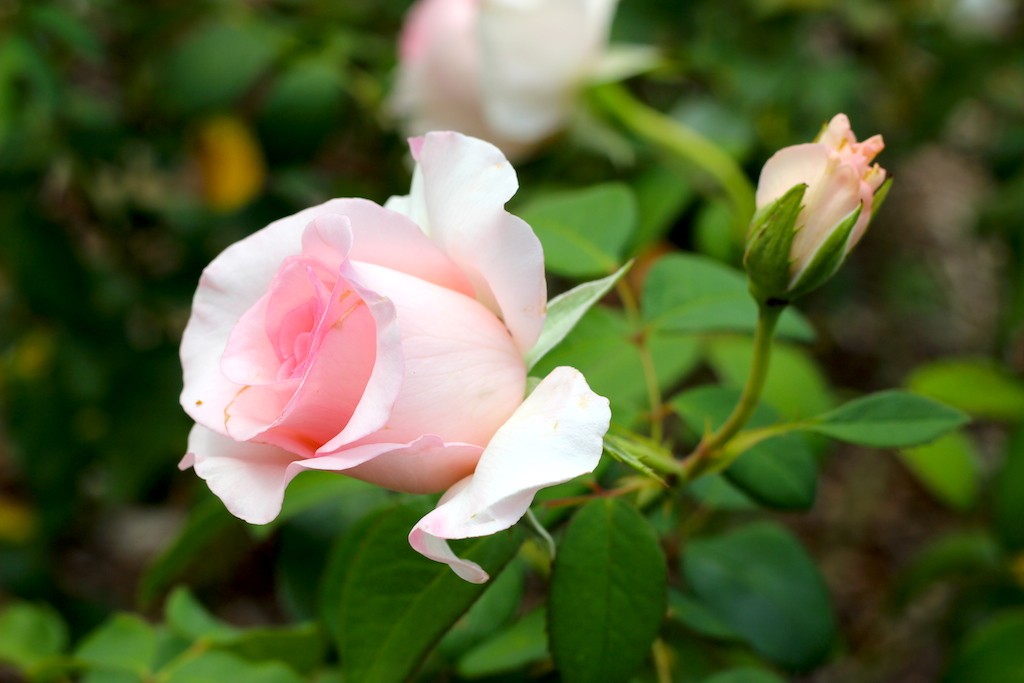 After our strenuous walk, it was time for coffee – they have their own blend from Terbadore – and a selection of high tea treats, which included brandy snaps with passionfruit mousse, macarons, chocolate ganache cakelets and lemon verbena and semolina squares – all gluten-free, if you worry about that.
We chatted a little more about the property, wine and what further adventures awaited us. Gidi asked what wines we generally like (the short answer is 'almost all of them'), and from this, she decided that we could do with a little white wine tasting and educational.
By now, the overcast morning had given way to the most beautiful autumn day – and we moved out onto the patio to enjoy four Cape of Good Hope white wines. These included Serruria Chardonnay | Van Lill & Visser Chenin Blanc | Laing Semillon  | Altima Sauvignon Blanc
While we each had our favourite(s), all the wines were wonderfully balanced – with wood used sparingly, the freshness of each still came through. While I enjoyed all of them, the Chardonnay was my pick of the bunch.
The official tasting notes: "Peach and citrus leaf aromas underpinned by a toasty oak note. Bold, rich peach and lime flavours which vie with a tangy passionfruit and citrus zest element. Lovely breadth of flavour with a judicious dollop of oak adding structure and creaminess. Lovely balanced acidty. Nice mineral touch too. A wine with power but which is light on its feet, showing delicacy and finess. Layered and long on the finish."
The Chardonnay is R155 a bottle, and can be purchased online here.
After the tasting, it was time to hop onto the local tram and take a trip to the neighbouring L'Ormarins, for a visit to the Franschhoek Motor Museum. Going past lakes, paddocks of horses and cows, and beautiful views down the valley, we made our way through the four warehouses homing some pretty spectacular cars. Much like the wines, we each had our favourite – but the Mercedes Gull Wing and a mint-green Aston Martin seemed to be popular choices. If you're looking to visit, entrance is only R60 pp – with another R60 getting you a ride around the estate in one of 50 classic cars. Father's Day is a particularly special day to visit – with quite a few surprises for dads – it's worth putting in your calendar.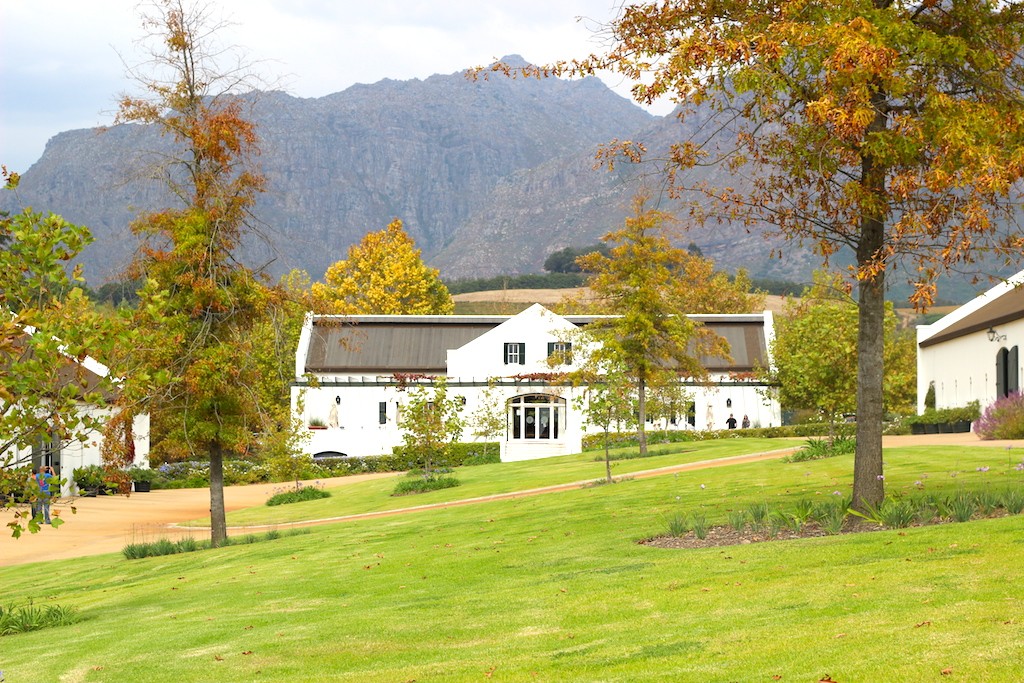 We then took the train back to Anthonij Rupert, where we headed to the Terra del Capo tasting room, to explore the Protea range of wines, focusing on the reds. We tasted:
Protea Rosé
Protea Merlot
Protea Shiraz
Protea Cabernet Sauvignon
Anthonij Rupert Optima
What became quite apparent in this tasting is the absolute care and attention to detail that is displayed throughout every aspect of the estate – whether it is in the design of the tasting room and decor elements, right through to the packaging of the wines. We have two bottles of the L'Ormarins MCC at home (the Brut Classique and the Rosé) and haven't opened either, simply because the packaging is too beautiful. While much of the same can be said for the Protea range, with their beautiful embossed bottles, it is a range we've tried – and loved – before. The latest edition is their rosé, which is the most incredible pink hue, and made to show that this can be a 'serious' wine.  The official tasting notes:
"The appeal of the blush pink hue extends to the gentle berry/cherry bright fruitiness on the nose. A tangy succulence is immediately apparent in the mouth. Tasty plum- and red fruit flavours are lifted and freshened with a vibrant acidity and even an edge of grapefruit zest. Delicious and refreshing with a clearly defined tail."
It was definitely a popular choice, with a case going home in the boot. We also tried the Optima – from the Anthonij Rupert range – a blend of Cabernet Sauvignon, Merlot and Cabernet Franc, it was in a different league entirely, but still only R140 a bottle.
Two wine tastings later, we were ready for lunch – naturally, accompanied by more wine. We sat at the Terra del Capo restaurant, which in the summer months, opens onto the lawns for picnics and children-friendly activities. We were introduced to the Terra del Capo wines – namely the Pinot Grigio, Sangiovese and Arné which we were encouraged to enjoy with our tapas style lunch. Apart from mentioning that I was vegetarian, we held little control over what the kitchen sent us – personally, the best way to dine, I feel.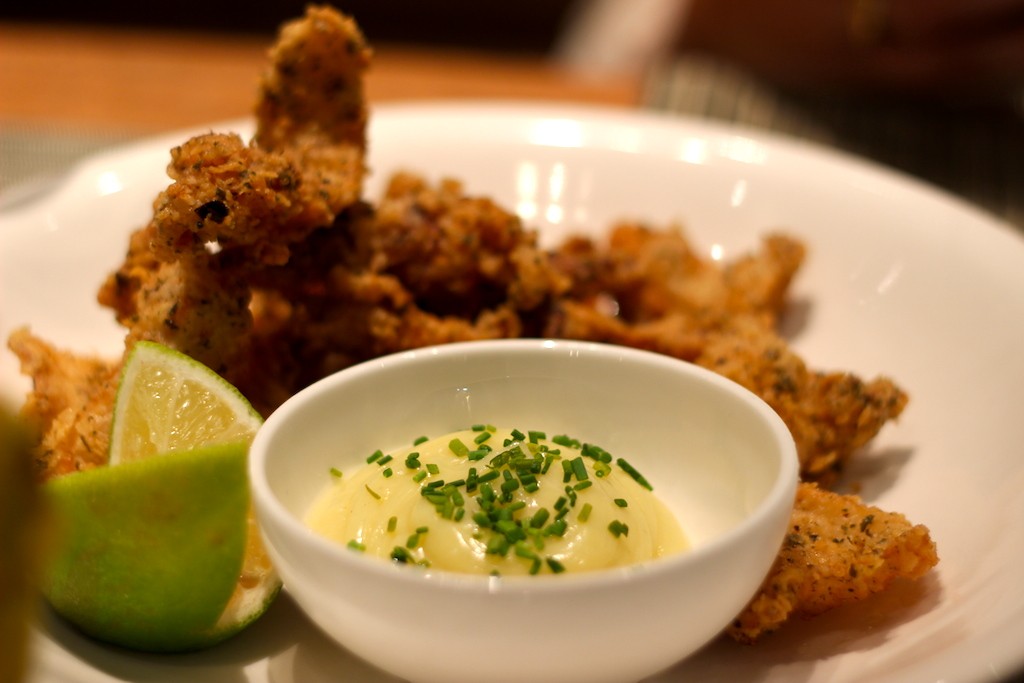 We started with a selection of fresh breads and the estate's Extra Virgin Olive Oil, before the feasting began in earnest – although, I could happily make a meal of good bread, Balsamic vinegar and olive oil. From olives and stuffed Peppadews, to artichokes and picked beetroot, onions and carrots, to ragù filled arancini and my highlight – smoked mozzarella, porcini and truffle filled arancini, it was a feast indeed. Not to mention a charcuterie platter that impressed all at the table, as well as a cheese board (with authentic smoked mozzarella), calamari and aioli and zucchini fries we couldn't get enough of.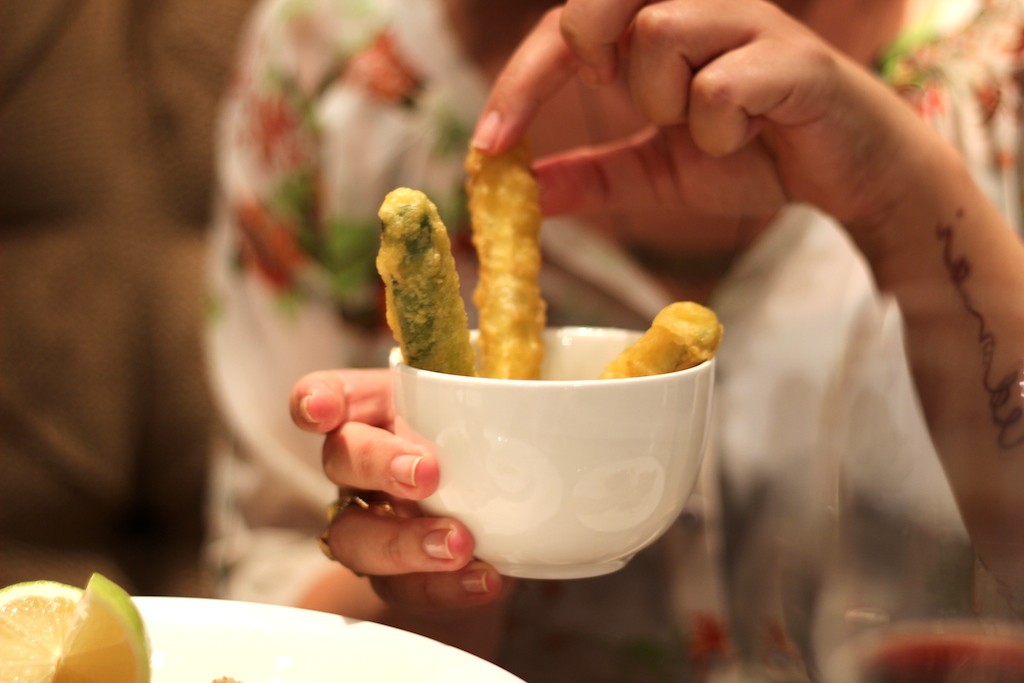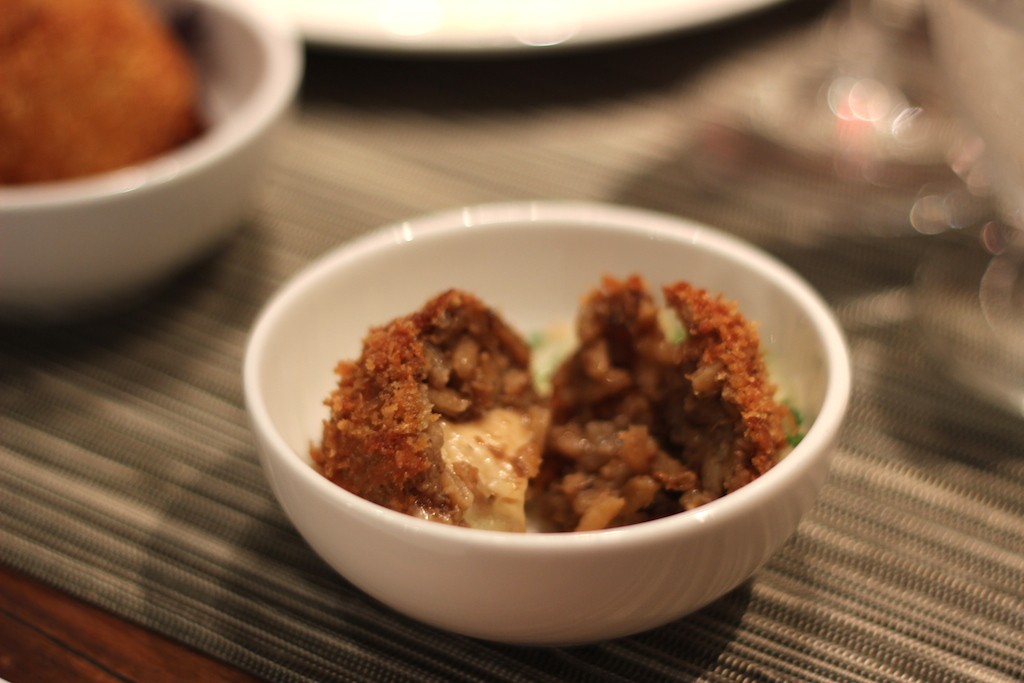 We sat, ate, enjoyed the wine – and repeated. By this time we were almost 3 hours over schedule, and felt we couldn't take advantage of the estate's generous hospitality any longer. After paying for our wine and items from the gift store, we hopped on a golf cart and headed back towards our car. There are not many estates that can keep you occupied for an entire day – but Anthonij Rupert did so effortlessly. If you are looking for a 'destination' wine estate in Franschhoek, with sublime hospitality and fantastic, affordable wines – I can't recommend visiting them highly enough.
Note : We enjoyed our day as guests of Anthonij Rupert Wyne. All images and views are my own. Images taken with a Canon EOS 600D from Loot.co.za
Leave a comment