If you follow me on Instagram, you might have seen a few snaps of this drinks trolley over the months. After spending endless hours searching for the perfect drinks trolley, I eventually found what I was looking for on Gumtree.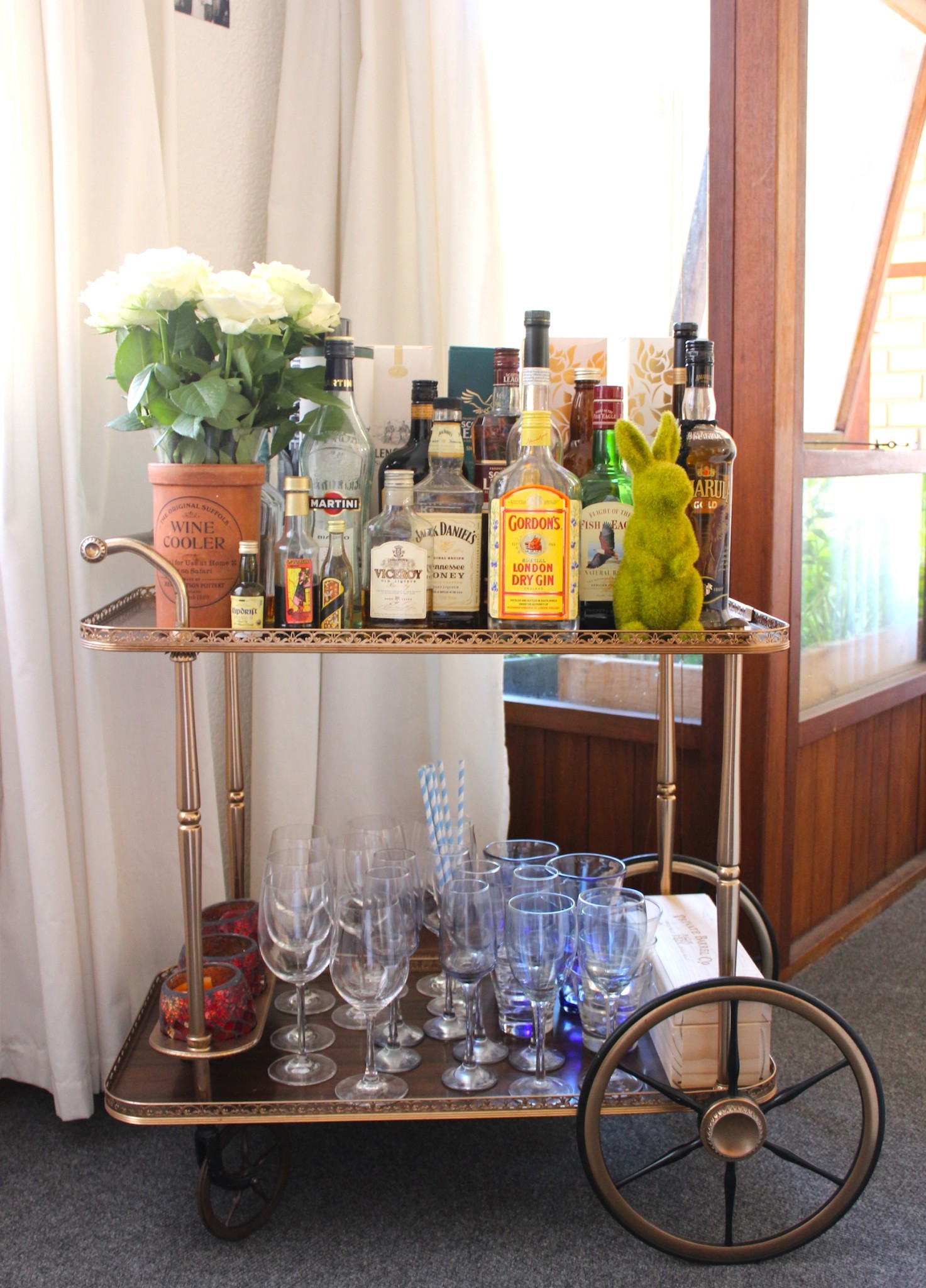 After a little help from everyone's favourite concierge, the perfect trolley found its way from its previous owner in Strand, to our little home in Kenilworth.
The 'need' for a drinks trolley arose after realising that while our wine rack was great for well, wine, we had nowhere to put everything else – gin, port, whiskey – with the temporary solution of putting everything on the piano proving to be less than ideal. An unexpected bonus of getting a drinks trolley? Somewhere to put all our glasses – champagne, wine, tumblers, whiskey – that we seem to have accumulated without much thought.
So, if you are also looking to introduce a drinks trolley to your life – or perhaps even just have a cabinet you want to stock – here are a few tips to help you ensure you have a few favourites for any visitor.
Your favourites
Let's begin with the obvious – it's your drinks trolley, in your home – it better be stocked with what you like to drink! Whether you're into vodka, whiskey, brandy or tequila. Buy what you like to drink. It's that simple.
Popular favourites
Even if you aren't into vodka or rum, there are a few 'expected' drinks trolley standards that will come in handy when entertaining and when the evening progresses to cocktails. Just a few 'standards' include:
Vodka
Tequila
Whiskey
Rum
Gin
Experimental bottles
This is a great opportunity to buy a smaller bottles and play around with flavoured liqueurs or brands you're not quite willing to commit to. As most are only 25ml, it's an easy way to play around, without having to commit too a large, possibly expensive, bottle.
Optional extras
This includes anything from possible cocktail mixers, such as dry vermouth, Cointreau and bitters, as well as an ice bucket, tongs, straws and a cocktail shaker. In my case, this also includes a vase of roses and a green-grass bunny. Obviously.
My best advice? See your drinks trolley as a work in progress. It's unlikely that in one day, you're going to come home with 8 matching wine glasses, whiskey glasses and tumblers along with possibly five full-size bottles of alcohol. Your taste will also change with time, you will discover new brands that you love – we have a select few 'standards', and mostly bottles that change with the season. It's alcohol. It's meant to be fun. Go with it.
Images taken with a Canon EOS 600D from Loot.co.za