After a hiatus of over a month – I'm back. I hope you like the new design – a little step forward and a sign of the 'new and improved' A Gorgeous Life. I hope you feel the same way!
Speaking of new and improved – we were invited to visit the new Volare at Peddlars and Co – most of you might know it as Peddlars on the Bend, the Constantia institution. Having driven past it often, but never gone inside -it was an education. Firstly – there is no 'Peddlars' restaurant – it's simply the name of the building – which houses Volare (contemporary Italian), The Oak Terrance (informal dining) and The Local (a gourmet food bar) -with another addition coming later this year.
The reason for this long-overdue visit? To visit Chef Brad Ball at his new home. After many delicious years at Steenberg's BistroSixteen82, he has now moved over to Peddlars and Co (and specifically Volare) to bring his own special brand of 'gourmet' deeper into Constantia. Now, it is known that we will happily follow Brad anywhere – it was such a treat visiting a restaurant for the first time, just knowing that the food is going to be exceptional.
Simply and elegantly decorated – with neutral colours and statement lights – it was smarter than I expected, but not 'stuffy'. We were seated along a comfortable booth  – I immediately starting the evening with Steenberg's Chardonnay MCC, while Luke went for an Italian Chianti, keeping to the theme of the evening.
Starters were surprisingly simple to order – Luke chose the antipasti platter (covering all of his bases), while I chose the tuna carpaccio – I'm a sucker for anything raw or seared. The platter came with a selection of cold meats, pickled peppers, caponata and tomatoes, fior di latte mozzarella, bread and butter – and was appropriately devoured. Once you have mozzarella like this, you can never go back to eating supermarket plastic.
My carpaccio was served with capers, lemon and a basil and shallot dressing. Light, delicate and fragrant – the lemon and basil were amazing additions. The perfect summer dish and wonderful start to the evening.
2nd course is pasta – a little different to how we tend to perceive it locally – with pasta forming part of the meal, and not the entire meal. Portions were just big enough – a good few forkfulls, but without feeling stuffed before mains. Cooked perfectly al dente, I ordered the vegetarian option of farfelle with peas, leeks, zucchini, parsley oil and pea shoots, served in a cream sauce. The perfect balance between delicate and indulgent, the pasta was an actual ingredient -and not a mere vessel for sauce.
The lovely man went with the meaty option of braised beef tongue with shallots, tomatoes and gnudi – ricotta dumplings. Absolutely delicious, in a sauce that totally stole the show – topped with rosemary pangritata. A little more wintery, but entirely delicious.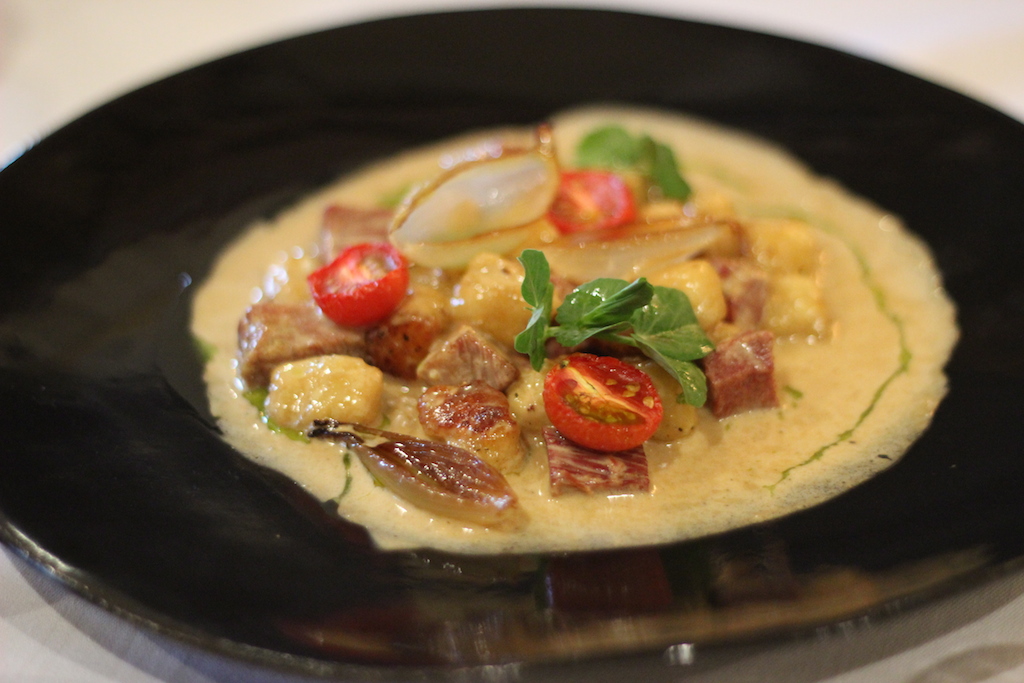 With mains soon on the way, our waitress commented that we were the first people she'd seen have all four courses. We felt like greedy gluttons – but only for a brief while – until Brad came to say hi and had a chat. He explained his vision for Peddlars – which includes a vegetable garden, another restaurant and a very personal approach to dining – eventually to allow diners to feel like they're going to Brad's for dinner, rather than a restaurant.
Part of the philosophy going forward is to show diners that the dishes are planned as four courses -and to change the perception of pasta in a menu.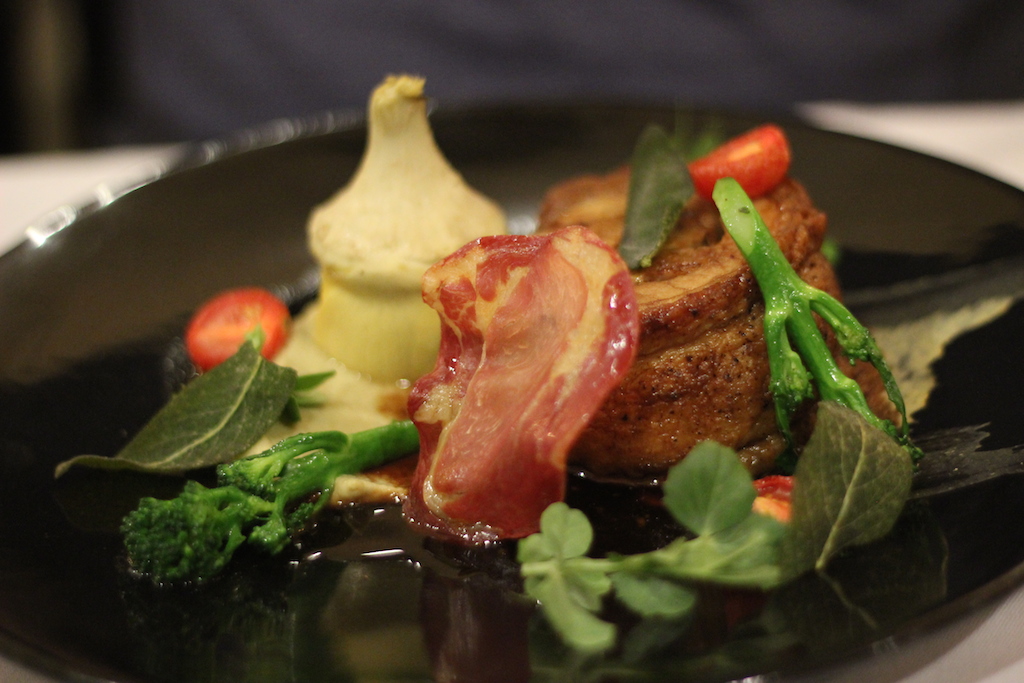 For mains, I chose from the daily special – seared tuna with a seafood bisque and fresh asparagus, while the lovely man went for pork. If you've ever dined with Brad, you will know he is a man who loves his pork – there was simply no choice. Oak Valley pork belly, artichokes (imported from Italy), sage, Parma ham, crackling  and brocollini. Delicious and tender – Brad was on top form.
Through some miracle, we had space for dessert. Or rather, we saw the options and decided we would make space for dessert. This time Luke chose from the daily special – the affogato with dark chocolate shards, while I chose the chocolate tart with espresso ice cream.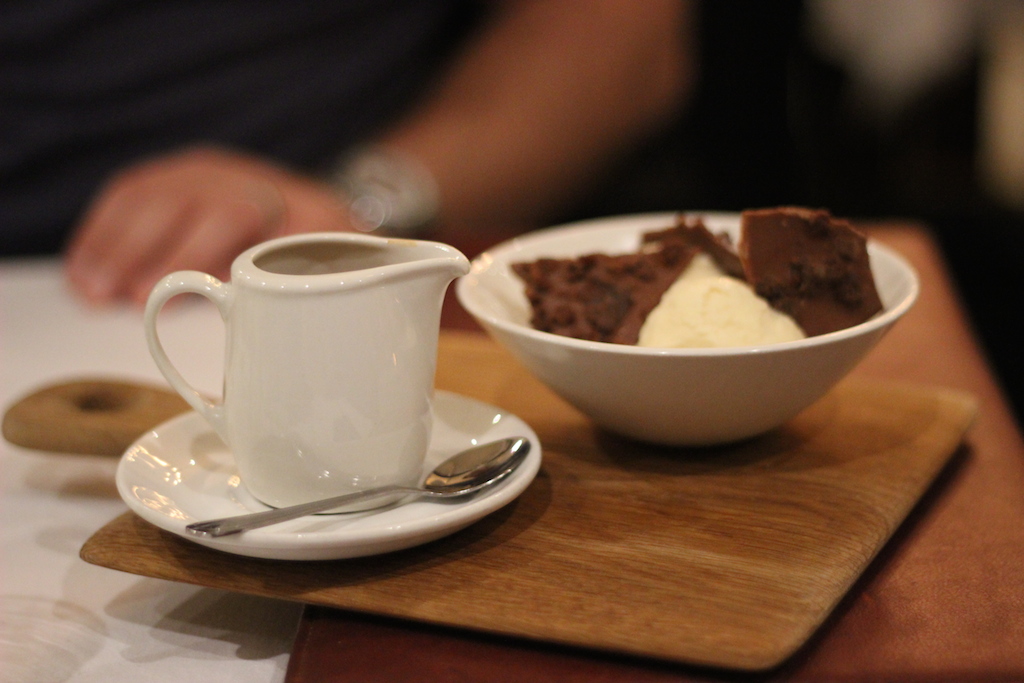 The affogato was perfect – not too sweet, creamy ice cream, bitter espresso, with hints of dark chocolate – it was a thoroughly grown up and delicious dessert.
My tart was as indulgent as it sounds – a ganache-like center, with the most glorious espresso ice cream – both dishes achieved wonderful balance between bitter and sweet, especially tricky in a dessert.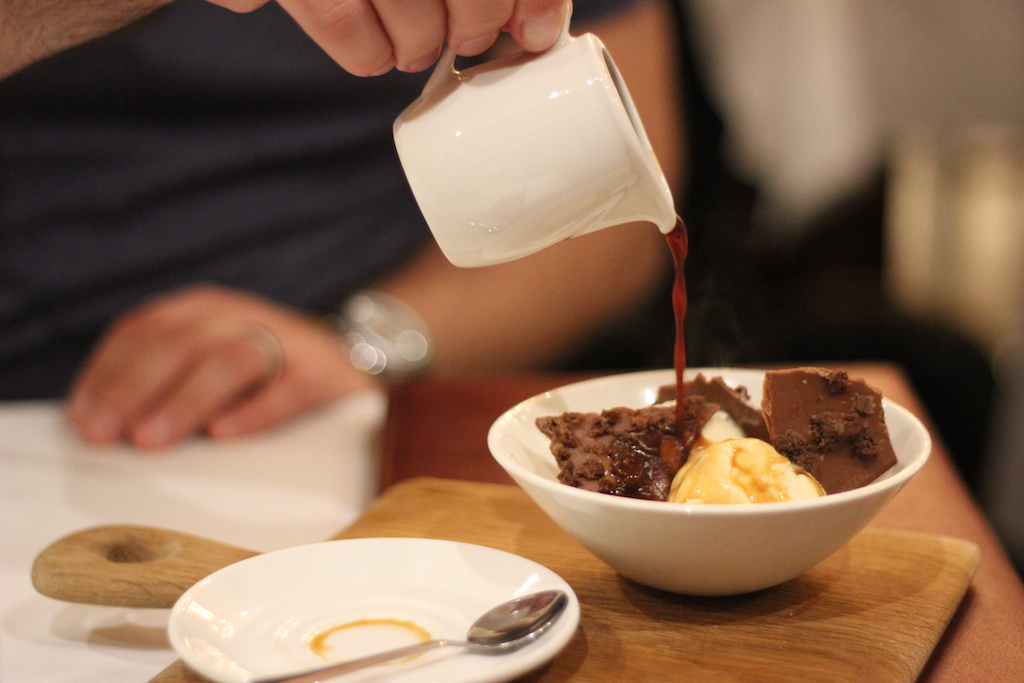 After a few weeks of mourning when Brad left the Bistro, we are thrilled he has found a new, delicious home. We can't wait to come back – an elegant, welcoming environment to enjoy Brad's fantastic take on Italian cuisine. Hats off to you, sir.
Note : We enjoyed our meal as guests of Volare. All images and views are my own. Images taken with a Canon EOS 600D from Loot.co.za
Leave a comment