One night, two flights and 24 hours of magic in the Magaliesburg.
When the opportunity arose to spend a night at De Hoek Country Hotel in the Magaliesburg, my decision to fly up was made as soon as I opened their website. I mean, honestly – who wouldn't want to experience that for themselves? So, just over a week ago, I headed towards Lanseria to begin my experience at De Hoek.
The property
Flying to Lanseria, you'll spend just under and hour in the car, driving through the Cradle of Humankind and the Magaliesburg, before you arrive at De Hoek. Spotting a monkey as we arrived, before driving over a bridge that looked as though it led to a magical world…it was quite the first impression. This, added to the fact that there was a private helicopter parked outside the suites, gives you some idea of the luxury that we'd stepped into.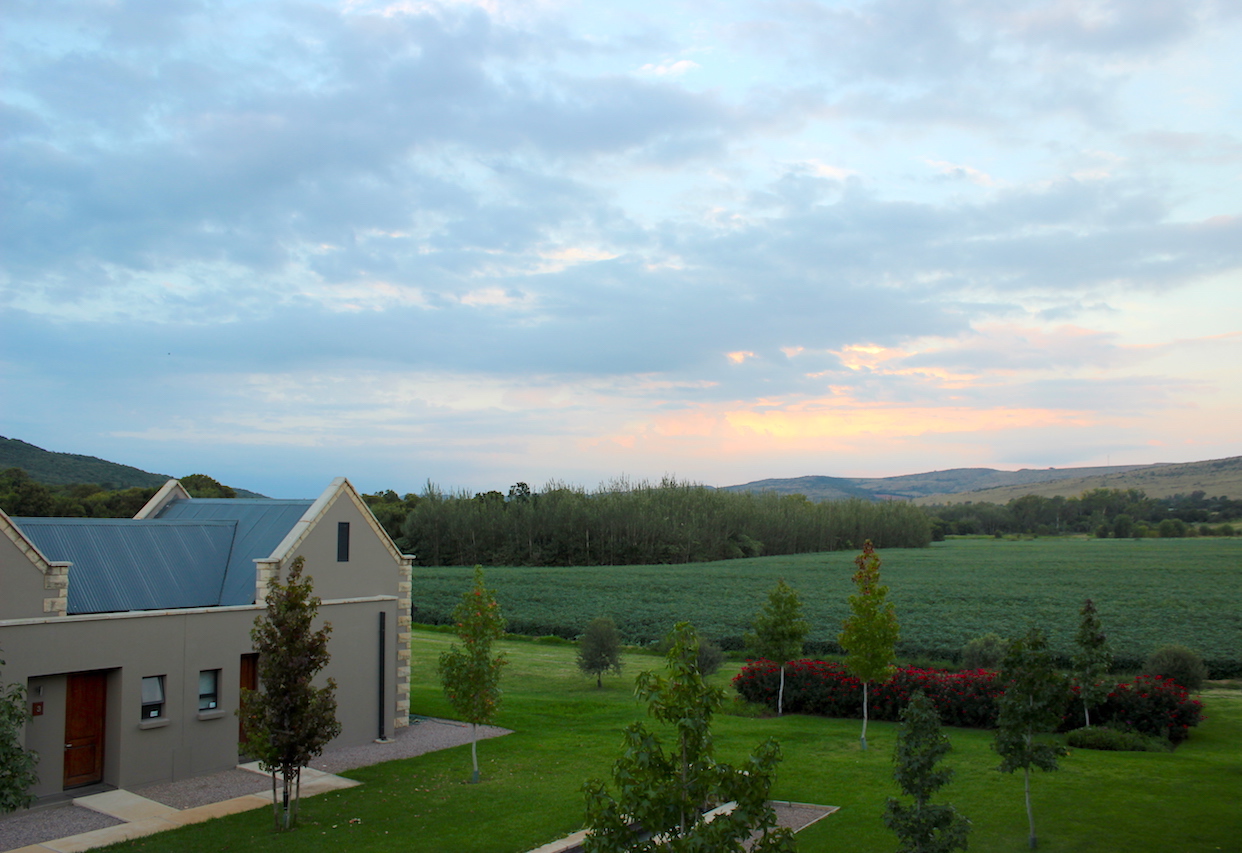 After freshening up with a warm hand towel and a glass of bubbly, I headed to reception, from where I was led to my suite for the night. Walking through this lush wonderland, you wander through tree-lined pathways, a sparkling pool under a green canopy of leaves and outdoor dining that comes complete with friendly ducks splashing in a water feature. For this drought-stricken Cape Town girl, the sheer abundance of life, water and greenery was astounding.
Watch the video of my trip here.




The suites
I stayed in a Deluxe Suite, one of the more modern options, which came with its own balcony and outdoor seating, and featured high, exposed wooden beams and a beautiful bay window and bench. Of course, all the 5* features you'd expect were there – heated towel rails, extra-length king size bed, Nespresso machine and Egyptian cotton bedding.


Soon after unpacking, I kicked off my shoes and explored the garden in front of my suite, bare feet sinking into the lush grass. After putting my feet up and snuggling up with a blanket and a few biscuits, it was time for some more serious pampering, thanks to the team at Just Haven.
After pampering and Afternoon Tea, there was just enough time for me to indulge in that most Capetonian of dreams – a bath. And yes, I flew up with a Lush bath bomb, just for this occasion – and, it was absolutely worth it. I may or may not have had another bath after dinner, complete with candles and rose petals. Because, the team at De Hoek is just that good.
I didn't spent as much time as I would have liked to in their amazing bed, but goodness me – I think I audibly sighed when I climbed into it after dinner. It was the perfect, Goldilocks experience. Just the right amount of firm mattress, soft snuggly linen and pillows that coax you to sleep.



During our day together, we spoke about what makes a 5* property special or memorable, and the little touches from the staff came up as a major component of a luxury experience – and, one I enjoyed first hand during my short stay. With a real fear of snakes and creepy crawlies, I was nervous to walk back to my room – along the dark pathway – alone, after dinner – especially after one of our group spotted a (harmless) snake during the day. A kind porter escorted me to my room, by torchlight – and, when I had to check out at 4am the next morning, he remembered – and came to escort me back to reception from my room, trusty torch in hand.
The pampering
Admittedly, it was a tough afternoon of relaxation and indulgence – helped along by the team of Just Haven, who set up an al fresco pamper station for us. A beautiful draped gazebo dotted with comfortable armchairs, we were treated to shoulder and foot massages, while sipping on some local MCC. If those chairs reclined any further, I have a feeling we would have all tried our best to fit in an outdoor nap.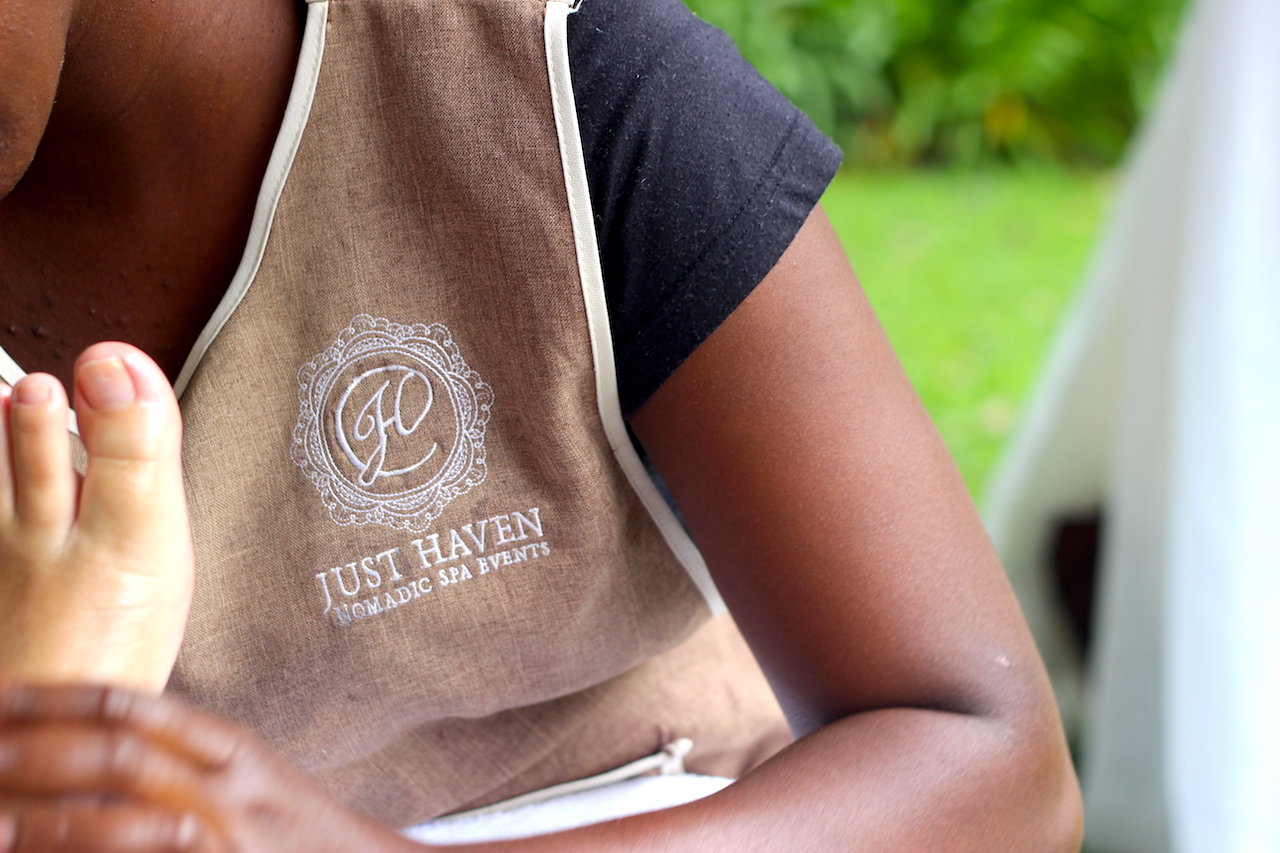 The food
But, no time for napping – when Afternoon Tea awaits. Our first taste of De Hoek dining, the table was laid with a proper teatime feast. From doughnuts to cheesecake, cucumber sandwiches to quiches – and, a dedicated gin station, we were warned not to indulge too much before dinner, but, easier said than done. Side note: The red velvet cupcakes deserve special mention, as do the monkeys who played in the treetops while we feasted.




At the helm of De Hoek's kitchen is Chef Jacques Swart, who joined the team in November 2017, having come from The Michelangelo Hotel, and more recently the Four-Seasons Westcliff. We quickly realised that he is particularly skilled at flavour combinations – think octopus with coconut, chocolate with liquorice and duck liver with almond.
We feasted – yet, again – on a multi-course dinner, skilfully paired with local Cape wines, with silence often falling over the table as we immersed ourselves in the meal. While every course was absolutely fantastic, it was dessert that most impressed me, perhaps because it was the dish I was most skeptical about on the menu – chocolate and liquorice tart with passionfruit. But, the liquorice was subtle, well-balanced and served to simply make the chocolate even richer and more well-rounded. An unexpected triumph of a dish.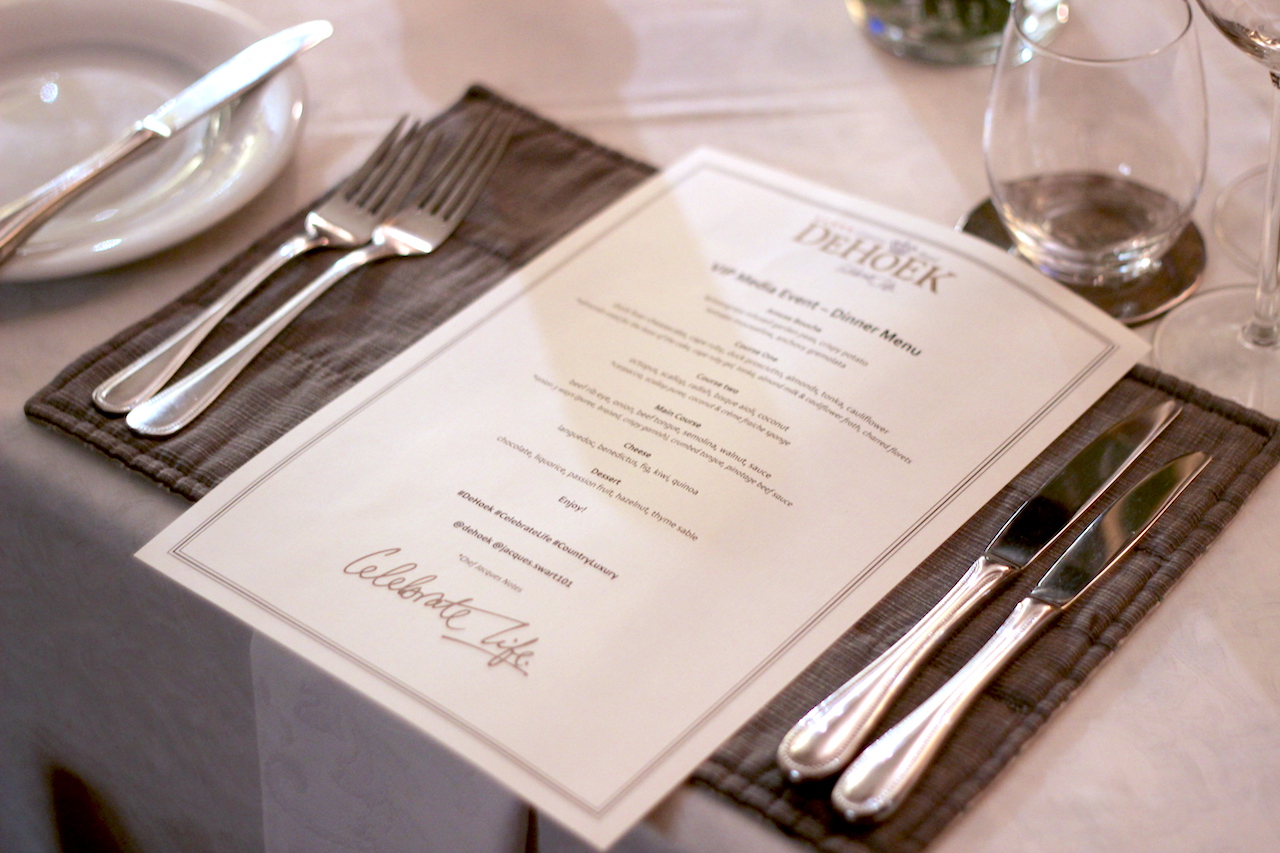 If you're looking for a luxury escape in the countryside, I honestly don't think you could do better than De Hoek. Apart from an indulgent night – or two – their restaurant also seems to be very popular in its own right, having been included in the top 100 in the country over more than one year. And, arriving on a Sunday, I can personally attest to the popularity of their Sunday lunch. Find out more and make your reservation here.
I enjoyed my stay as a guest of De Hoek. All views and images are my own.