Graaff Reinet. Considering I've only just learned how to spell the town without the help of Google, you can guess how much I knew about it before we received an invitation to spend a weekend at the Drostdy Hotel.
Set in the heart of the Karoo and about three hours away from Port Elizabeth,  the area also includes the towns of Aberdeen and Nieu Bethesda. While a weekend was the perfect amount of time to explore the town, I'm already wanting to go back and use the Drostdy as a base to explore the greater region.
The hotel is managed by Newmark Hotels, but owned by the SA College for Tourism, which is chaired by Mrs Rupert. I mention this,  as the 'Rupert touch' is so evident throughout the property. While it is the only 5* property in the town, it  features touches that wouldn't be out of place in a larger city. State-of-the-art TVs, beautiful decor, a modern spa and naturally, an exceptional wine list – the Drostdy is truly a Karoo oasis.
While we're on the subject of 'oasis', there is no easy way to get to Graaff Reinet. You're looking at about 6 hours of travelling – but, at least three of them are guaranteed to be beautiful. You can drive straight from Cape Town, or like we did, fly to PE and then spend three hours driving through the fantastic landscape of the Eastern Cape, spotting buck and monkeys along the way. So, while the journey is not short, it is lovely
Our room had two TVs – one in our little lounge, and one in the bedroom – a gorgeous bathroom (with bath) a private patio overlooking the lawns, and a feature that is quite small, but so thoughtful – a plug point close to a mirror. As someone who cannot leave the house in morning without the help of my GHD, it's amazing how seldom there is a mirror-plug point combination to facilitate this. High-five to the Drostdy for facilitating my vanity.
The hotel itself is a sprawling array of multi-coloured cottages, divided into smaller 'courts'. The private patios are a standard feature, with the smaller 'courts' set around one of three swimming pools. While we were treated to beautifully warm days, the water was still a little too chilly to tempt us. However, in a few weeks, I can only imagine the absolute bliss.
Intimate, with 48 rooms in total, we stayed in Stretch's Court, which incorporates 31 rooms. The Ferreira precinct houses 7 rooms, with Kromm's Court hosting  10 rooms. Rates currently start from R1125 per room, which is more than reasonable.
The outer, street-facing areas of the hotel have kept the traditional green and white facade, with the inner suites showcasing vibrant hues of pink, yellow, orange and turquoise. A little Bo-Kaap inspiration in the Karoo, making for postcard-perfect photography opportunities.
There is a newer section of the hotel, where De Camdeboo Restaurant is now situated. This is where we enjoyed all of our meals, and then some. The older part of the hotel (where the restaurant used to be) has now been turned into a selection of smaller lounge-style rooms – perfect for informal meetings, drinks or even a spot for local residents to spend an afternoon curled up with a book.
De Camdeboo Restaurant kept us well-fed and watered during our stay. We arrived close to lunch time and enjoyed our first meal on the patio with a bottle or two of La Motte's Chardonnay. The menu isn't extensive, but offers options for all tastes. The standout vegetarian lunch dish was a fantastic focaccia, topped with hummus, pesto, marinated peppers, and marrows, with pickled carrot ribbons and rocket, drizzled with Balsamic vineyard. So delicious, that I had it for lunch both days and have recreated it twice since I've been home.
The rest of our party – there were eight of us – ordered burgers (a selection of lamb and beef). No complaints, they were quickly devoured with a pile of perfect skinny fries on the side.
We went straight for lunch to the onsite Africology Spa, before enjoying the afternoon 'at leisure'. And, by leisure, I mean a power shower, fluffy bath robe and a nap.
We convened again before dinner at the wine shop that is attached to the hotel. You might have realised that this is more than a simple place to rest your head – the property offers a spa, art gallery, wine shop, restaurant, bar, gym, conference room and enviable wine cellar. The evening started with homemade glühwein. The word itself is enough to make me run in the opposite direction, but I had a feeling that the Drostdy knew what they were doing here. With the philosophy that 'you can't make anything from bad wine', I realised that's where many might have gone wrong. Armed with a fantastic Shiraz, that had allowed to gently simmer with orange, spices and honey, it was quite close to liqueur from the gods. I might have had three glasses.
If you find yourself in Graaff Reinet, and for some reason not staying at the Drostdy, I'd recommend making a visit to the wine shop as part of your itenerary. Selling an incredible selection of Cape wine, mostly at cellar door prices, if we hadn't come with hand luggage only, we would have been a few bottles heavier landing in the Cape.
We headed through to dinner, where we were treated to more fantastic wine – the Anthonij Rupert Optima (you can read about our visit to Anthonij Rupert here) and De Morgenzon Reserve Chenin Blanc in particular. There were hearty options on the dinner menu, including pork belly, springbok and naturally, Karoo lamb – as well as tasty vegetarian options of Gorgonzola and pear tart and double-baked cheese soufflé. After a starter and main course, I was conquered by the meal and couldn't find space for dessert on either night – although the peanut butter ice cream with pineapple fritters and caramel popcorn drew my eye fairly often.
We slept warmly and soundly – upon arriving home to Cape Town on the Sunday we were shocked that it was colder back home during the day, than on a Karoo night.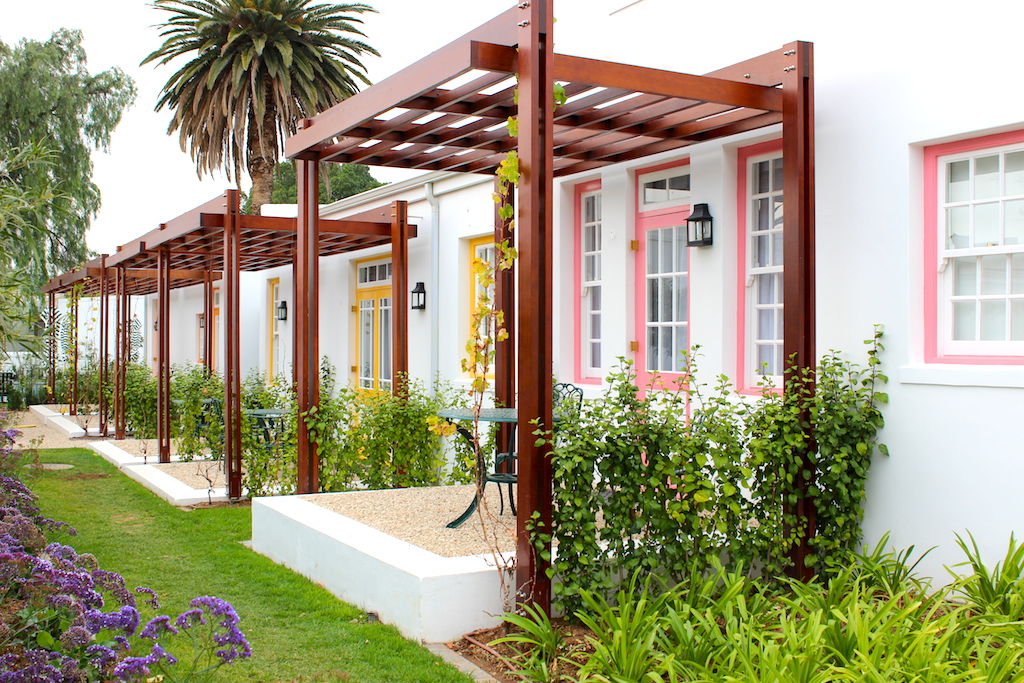 The Drostdy Hotel is simply perfect. Charming and personal, it is a perfect base for a romantic, secluded escape – as well as a base from which to explore the surrounding areas. With so much to explore within 20 minutes – including neighbouring Nieu Bethesda – I'm already wanting to return closer to summer to use those swimming pools!
Note: We enjoyed our stay as guests of The Drostdy Hotel. All images and views are my own.