The stars recently aligned in the most spectacular fashion, giving us the opportunity to spend the better part of a day at the Cape Grace over my birthday weekend.
And yes, as I'm now 33, I have no shame in claiming a full birthday weekend.
I've been slowly getting to know the Cape Grace, and work through my intimidation of its uber-luxurious, exclusive facade – which, I understand is entirely my own issue and not theirs, as the team has never been anything less than completely friendly and welcoming on all occasions – yes, even if you're a local who's just popping in for a drink or a slice of afternoon cake.
I've been fortunate enough to visit their spa before, so knew that this time I had to come armed with my camera to properly document the experience. Situated around a central wellness and relaxation area – with a spectacular view of the mountain – that houses a steam room, sauna, rain shower and loungers, the treatment rooms extend outwards along quiet, muted corridors. Everything is soft and cocooned, with dim lighting encouraging you to embrace a dreamlike state of relaxation. As someone who's never fallen asleep during a spa treatment, I found myself drifting off during my facial – so, that's quite the accomplishment alone.
Luke and I headed off to the couple's treatment room – by some stroke of luck, he was able to enjoy a hot stone massage while I had my facial – which also meant I was able to barely stifle my giggles as he let out soft groans whenever the therapist hit a particularly stiff muscle.
It was my birthday weekend, which, if we're being honest, had turned into a bit of a "birthday week". And, let's just say the extended celebrations had take their toll on my skin – think more bubbly and gin than actual water. Combined with my period that was due to start any day…I entered the treatment room filled with apologies for my therapist, asking her to forgive the state of my skin.
I chose the QMS Activator treatment, which includes "protective marine collagen and hyaluronic acid to provide revitalization and smoothing to dull, lifeless skin. Gives instant vitality for jet-lagged and tired skins". As if this wasn't enough of a treat, the team kindly offered me the add-on oxygen treatment, which uses 95% pure oxygen to channel active ingredients into the skin.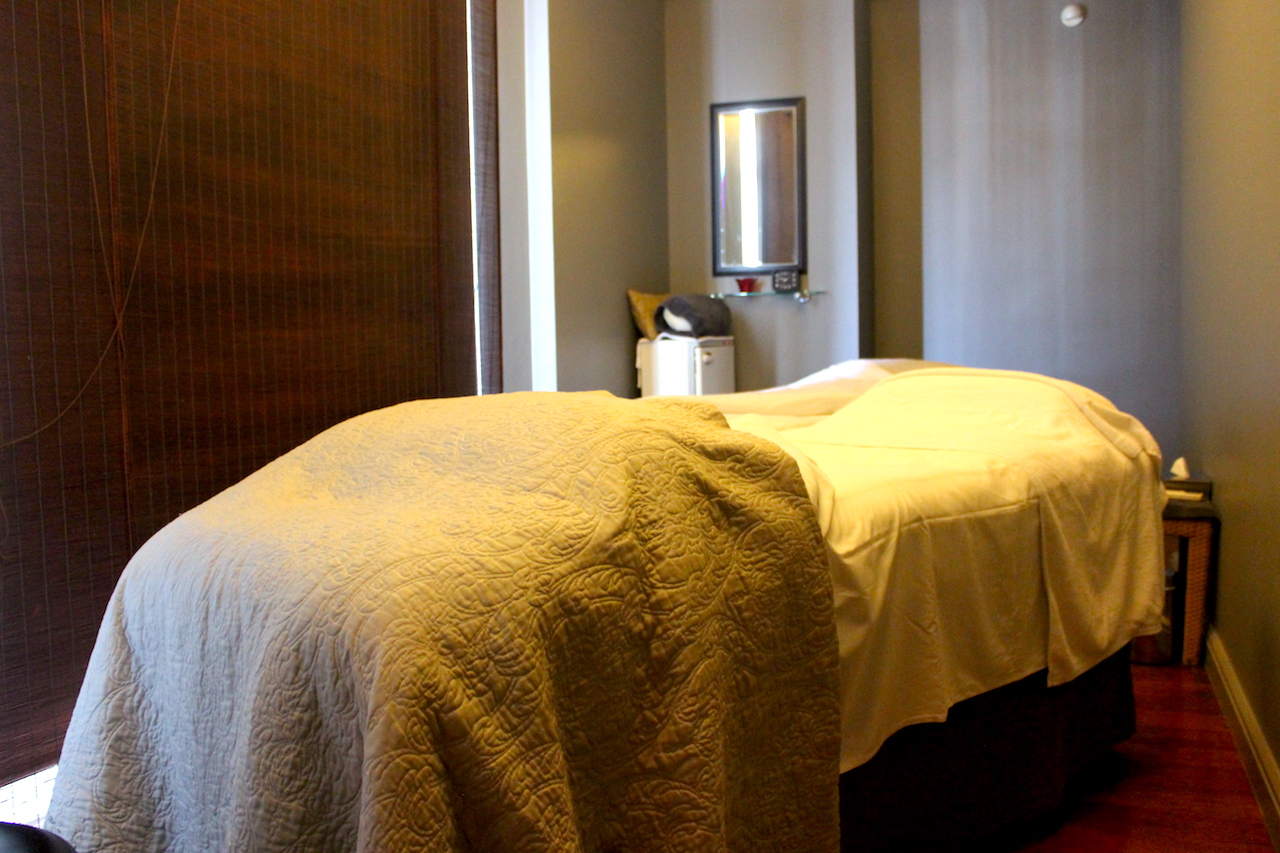 About the QMS Activator treatment
I called it "skin-changing" in the title, and for good reason. The QMS Activator treatment ticks all the boxes you'd expect from a facial – cleanse, enzyme exfoliator, mask, serum etc – but, through a few tweaks of magic, achieves results far beyond what you'd expect.
As my skin is both sensitive and reactive – yay, me – I love that I can trust the QMS range to deliver results, with no fears of any adverse reactions. So, when the exfoliant fluid was applied, the fruit acids and enzymes tingled a bit (particularly where my skin is especially oily), but I knew it was just a sign of it working, and no cause for panic.
This facial consisted of both the somewhat famous QMS algae mask, and the treatment-specific Activator mask, which is filled with hyaluronic acid and marine collagen and applied to the skin via a fleece sheet mask.
True to my warning of my bad, dehydrated skin week, my face soaked up the Day Collagen, so my therapist upped the ante and sent me home with a layer of the more intense Night Collagen on my skin, for an added touch of much-needed TLC.
I think the below make-up-free-filter-free photographs of my skin immediately afterwards speak for themselves – no redness, no irritation – just phenomenally glowing skin. You wouldn't guess that I'd spent the majority of the previous week living off dumplings, cake and bubbly, would you?
We enjoyed our spa treatments as a gift from the Cape Grace. All views and images are my own.
cape grace
featured