As part of our Overberg anniversary celebrations, a stop at Creation Wines was arranged. Embarrassingly, this was our first venture into the Hemel en Aarde Valley – and goodness, how we quickly learned the error of our ways.
Normally sticking straight to the Main Road on our way to Grootbos (there's a life lesson in here somewhere), we ventured into the mountain for a new adventure.
After a drive along the most gorgeous road – Jeremy Loops playing in the car, as always – we reached Creation Wines.
The Hermanus Wine Route is made up of 15 wine farms along the gorgeous Hemel en Aarde Road – driving along we spotted Bouchard Finlayson (known for their phenomenal Hannibal) and Sumaridge, which looked like like something out of an oil painting – a stone cottage reflecting on a still lake – both are on our 'must visit' list. Yes, we are already planning a return trip.
Image from here
Creation Wines itself, is unsurprisingly, gorgeous. With mountains, crops and trees surrounding the estate on every side – including a trout dam – it does feel like heaven. Wandering along the path to the tasting room, through dense, colourful bush, the tasting room itself is light, bright and clad in glass – ensuring you have uninterrupted views while feasting and drinking.
Taking inspiration from nature, the tasting room (and restaurant) feature elements of wood, decorated with white, glass and local foliage and flowers. Elegant and beautiful, they allow their wines and food to be the talking point.
The menu has been so carefully thought out, you effectively have two options – the wine and canape pairing – where eight of their wines have been carefully paired with beautiful, colourful, delicious canapes for you. All you have to do is listen to the expert advice of your dedicated waiter, and enjoy.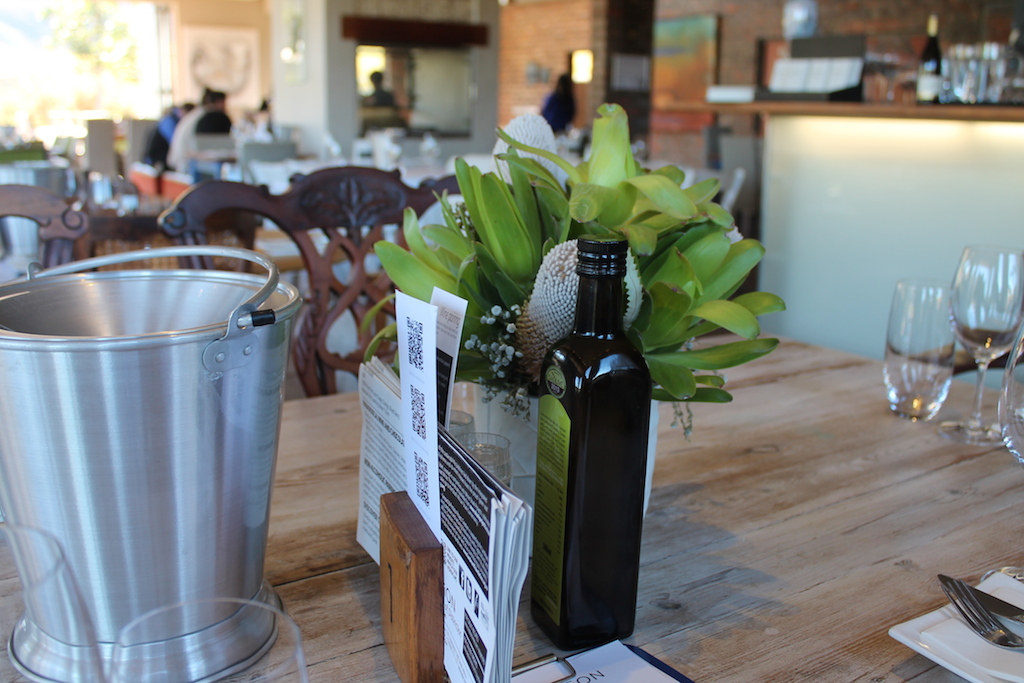 If you'd like something a little more substantial (take note – I could not face lunch after the canapes) each wine has been paired with a dish – be it a starter, main or dessert, you can choose your meal based on the wine you wish to enjoy. Creation Wines have really done all the hard work for you.
Our aim for the day? The wine and canape pairing. Specifically for me, the LCHF (low carb, high fat) pairing – yes, this is a standard inclusion on their menu, at the same cost of R125. Told you, they've thought of everything.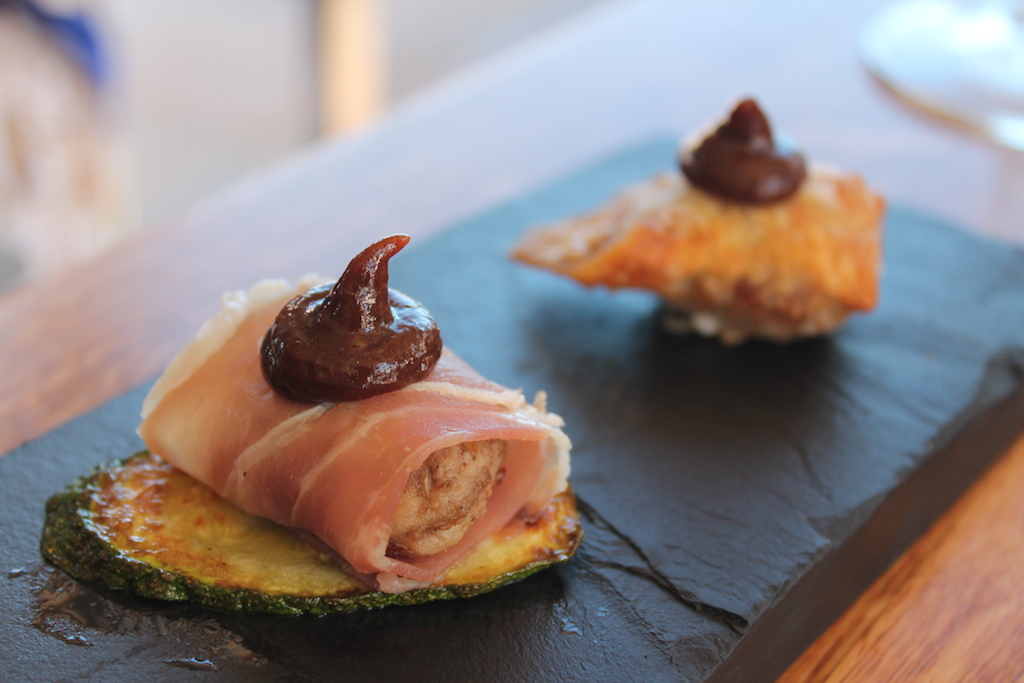 I've included the complete canape menu below, along with my thoughts and tips – but as a summary – it is amazing. Generous, delicious and truly eye-opening – the flavours you experience are unexpected – a small addition of watermelon, or simply the glass you drink your wine from has such great impact on the flavour, it is more a 'lesson in drinking wine' (with delicious food on the side) than a simple 'pairing'.
Watermelon and tomato gazpacho with scallops | Whale Pod Rose 2014
A serious rose, similar to those made in the South of France. Unapologetically dry, with gentle acidity – soft and rounded. The watermelon gazpacho brings out the fruitiness, while the acidity from the tomato brings out the sweetness in the wine.
Parmesan shortbread with pesto bocconcini and sundried tomato | Creation Sauvignon Semillon 2013
A great wine to pair with 'problem' foods – a blend of 60% Sauvignon Blanc and 40% semillion, a rare wine that works well with sulphur-based foods – think basil pesto, eggs and asparagus. Boasts quite a strong umami component – a rarity in white wines.
Avocado and prawn with citrus and vanilla mayonnaise | Creation Chardonnay 2013
Subtly oaked, smooth and fresh – has depth, but not overpowering. A true horizontal pairing, with each element in the canape echoing one in the wine.
Beetroot, goat's milk cheese panna cotta and lentil salsa | Creation Pinot Noir 2013
An ambassador for the Hemel en Aarde valley – think forest berries, vanilla and woodspice – quite young still – the older vintages become quite earthy. The 'male ballerina' of the tasting – elegant, but strong.
Cauliflower and gorgonzola soup with sourdough herbed croutes | Creation Merlot 2012
The warm soup softens the tanins in the wine – the colder the wine and your mouth, the more you perceive the tanins. Perfect with gourmet pizzas and burgers.
Rare roast Springbok, greens and valley mushrooms | Creation Merlot, Cabernet Sauvignon, Petit Verdot 2012
A wine to keep. Will happily age for 10 years at home. While a normal Bordeaux blend will have 3-5% Petit Verdot, this has 10% – softer, gentler. Great with springbok and mushroom. Nothing to say here. Truly wonderful. Could make a meal of it – keep bringing me the pulled pork.
Asian five spice pulled pork wonton with prune and Darjeeling puree | Creation Syrah 2012
A deep wine that will happily stand up to tomato and spicy dishes – a perfect match for the winter ahead.
Buchu scented duck confit with Malay aioli | Creation Syrah Grenache 2012
Dark purple in colour, almost black, with flashes of deep crimson. Alluring aromas of ripe black olive beckon from the glass, elegantly complemented by whiffs of pepper. A well-endowed, full-bodied Rhone-style blend rewarding with intense flavours of ripe plum, black pepper and the smokiness characteristic of Syrah. Supple, ripe tannins and well-integrated, natural acidity contribute to the appeal.
R125 pp
Carolyn and JC, the owners of Creation Wines, were so generous with both their time and estate – they enjoyed most of the pairing with us – their input invaluable. Their pairings have also re-introduced me to Merlot – with the warm cauliflower and gorgonzola soup – the combination is going to be a treat for us this coming winter.
After the pairing we had a little tour down to the cellar – the smell of medium toasted, new French Oak barrels is perhaps one of the best there is. Followed by a tasting of the unfiltered Sauvignon Blanc and Viognier, we were invited to stay for lunch. The pairing is quite substantial and I couldn't face the thought of a proper meal – but Luke and his rubber arm could not refuse the offer of perfectly cooked Springbok loin.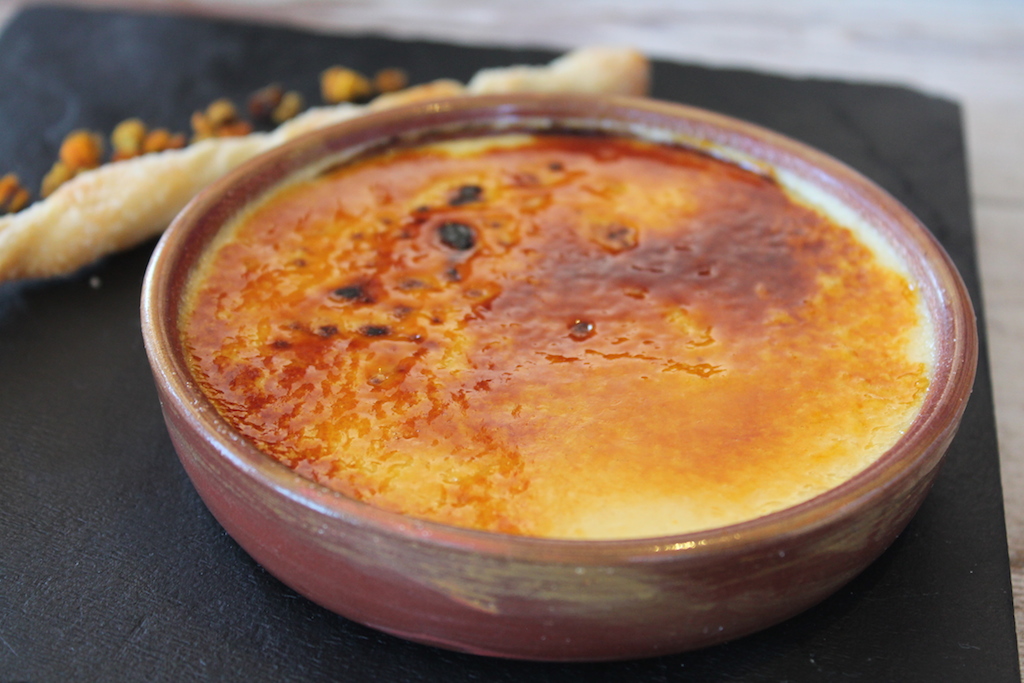 Lunch was a watermelon, feta, and pesto salad with toasted almonds, followed by Luke's Springbok (which was every bit as good as promised). I also snapped a photograph of JC's lamb and mushroom dish – you know you feel comfortable when you actually share food from the owners' plates – before everything was happily devoured. The rosemary and honey creme brulee could not be missed, Carolyn ensured us – and rightfully so. With the serving ramekins especially made for the dish, to ensure a topping of brulee to every mouthful – it further goes to show how much thought and consideration has been put into every detail – just for you.
If you'd like to try some of the Creation Wines recipes at home, you can find them here.
We left full, happy and grateful – grateful that we had found this valley, headed up the hidden pathway (so to speak), and perhaps most of all for JC and Carolyn – in sharing their time and little piece of heaven with us.
We'll be back.
Note : We enjoyed our time at Creation Wines as their guests. All views and images are my own – unless otherwise stated.