On the most glorious summer's day, we set off to Catharina's Restaurant at Steenberg Wine Estate to try their new 5-course vegetarian tasting menu.
With not a breath of wind, we sat outside and marvelled over the beautiful views and enjoyed a delectable, lazy meal.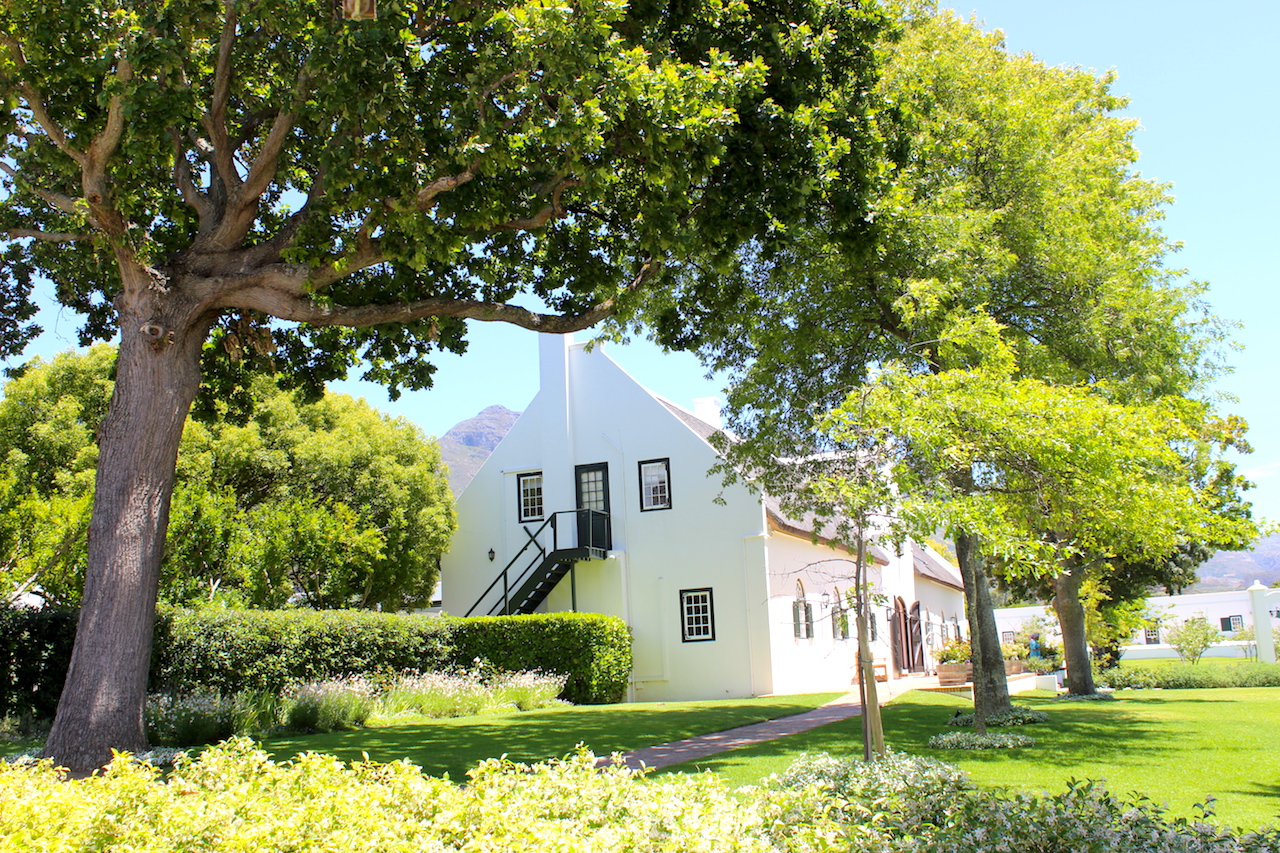 "Being vegetarian should never deprive you of a full dining experience with just a few options to choose from amongst a plethora of meat dishes," says Executive Chef Archie Maclean who has come to realise that we should all think of reducing our meat intake in the interest of sustaining our planet.
"I most certainly love my meat, but animal husbandry does leave a much larger footprint on the environment than vegetables or fruit so we should really all become more conscious of what we consume on a daily basis" he adds.
While chatting to Chef Archie, we also find out that his wife is vegetarian, so we feel he might have a little extra incentive to put together a stellar menu at Catharina's. As vegetarians do sometimes come off second best when it comes to dining options, I'd highly recommend sending this post to any vegetarian friends – as I have a feeling they'll thank you.
Now, let's get onto the food. We started with a truffle and pea risotto, with crunchy pumpkin seeds. I'd admit, that when it arrived we were skeptical as to whether we'd make it through all five courses, but the menu is incredible well thought out – the risotto was the heaviest dish, served first, and took the edge off your hunger, allowing you to fully enjoy the remaining courses, without feeling you'd faint from lack of food. And, I have to add – it was by far one of the best risottos I've ever had. Creamy and perfectly tender rice, with delicately balanced flavours – which can be tricky, especially when truffle is involved. I hope it stays on the menu, and becomes a standalone main course in winter.
Luke chose to indulge in the wine-paired option – while I just order one or two by the glass – but I almost immediately regretted my decision when the Cyclus from Avondale was brought to the table to accompany the risotto. "An invigorating White Blend of Viognier, Roussanne, Chenin Blanc, Chardonnay and Semillon grapes, the softly wooded Cyclus swirls with intense fruits flavours rounded off with smooth, creamy oak" it was exactly my style of white wine, and one I will be keeping an eye out for in store and on menus.
The next course had recently been changed, but after tasting it, we suggested to the chef that it be changed back to the original idea. Cashew and chilli crusted tofu had been updated into a tofu and mushroom terrine, and while the flavours were fantastic, we were both not a fan of the texture. However, the Steenberg Sphynx Chardonnay that accompanied it received two thumbs up from both of us.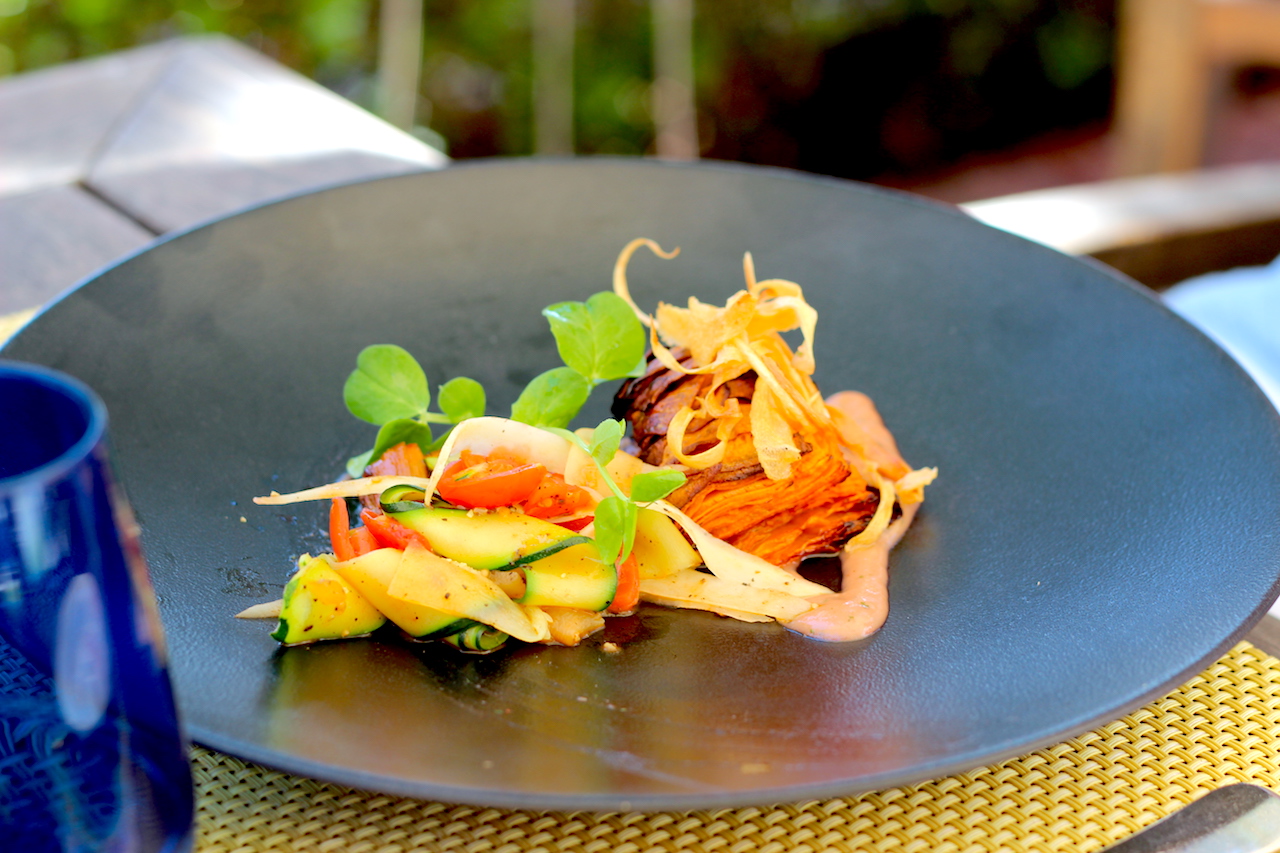 Next, we enjoyed the sweet potato pommes anna with parsnip, courgette and cherry tomato, grape and sultana purée, parsnip chips and thyme cream. It was a tasty dish, that wasn't too heavy – especially given the potential starchiness of the sweet potato and parsnip – nor too sweet. Well balanced and flavourful, it's a dish that would be equally appropriate for a summer lunch, or as a hearty winter dish, as a larger portion. This was served with the Cabernet Sauvignon from Le Riche – the first time – that I'm aware of – having this wine, it was exceptional, and has now piqued my interest as to what other wines the estate has to offer.
We then moved on to a cheese course as pre-dessert, featuring a selection of local goat's cheeses, which were served with beetroot melba, onion soil, black pepper purée and a celery sorbet. The cheeses were delicious, but it might have been the accompaniments that stole the show – the black pepper purée and celery sorbet in particular. Overall, a fantastic and memorable cheese course.
It was then time for dessert itself, course number five – lemon curd, lemon honey sponge, burnt caramel ice cream, honeycomb, raspberry gel and meringue. A gem of a dish, it showed incredible thought and planning – with each element complementing the next. Thick, luscious lemon curd, not-too-sweet ice cream, tangy raspberry gel – it was the perfect way to end the meal, and we polished off every last scrape from the plate.
We thought this was the last of it, but before I had a chance to pack my camera away, our waitress returned with the most beautiful selection of friandises, which Luke wasted no time in enjoying with an espresso. Quite the perfect end to a meal, I'd say.
The 5-course vegetarian tasting menu costs R600, or R850 with wine pairing. You can view the full menu here.
Note: We enjoyed our meal as guests of Catharina's Restaurant. All views and images are my own.
Steenberg