With three days left of 2017, I think it's safe for me to say that this was my meal of the year.
It had taken me over a year to visit, and I'd never regretted waiting so much before. Situated in Gardens, we eventually made our way there on a perfect summer's day, via a leisurely stroll through the Company's Gardens.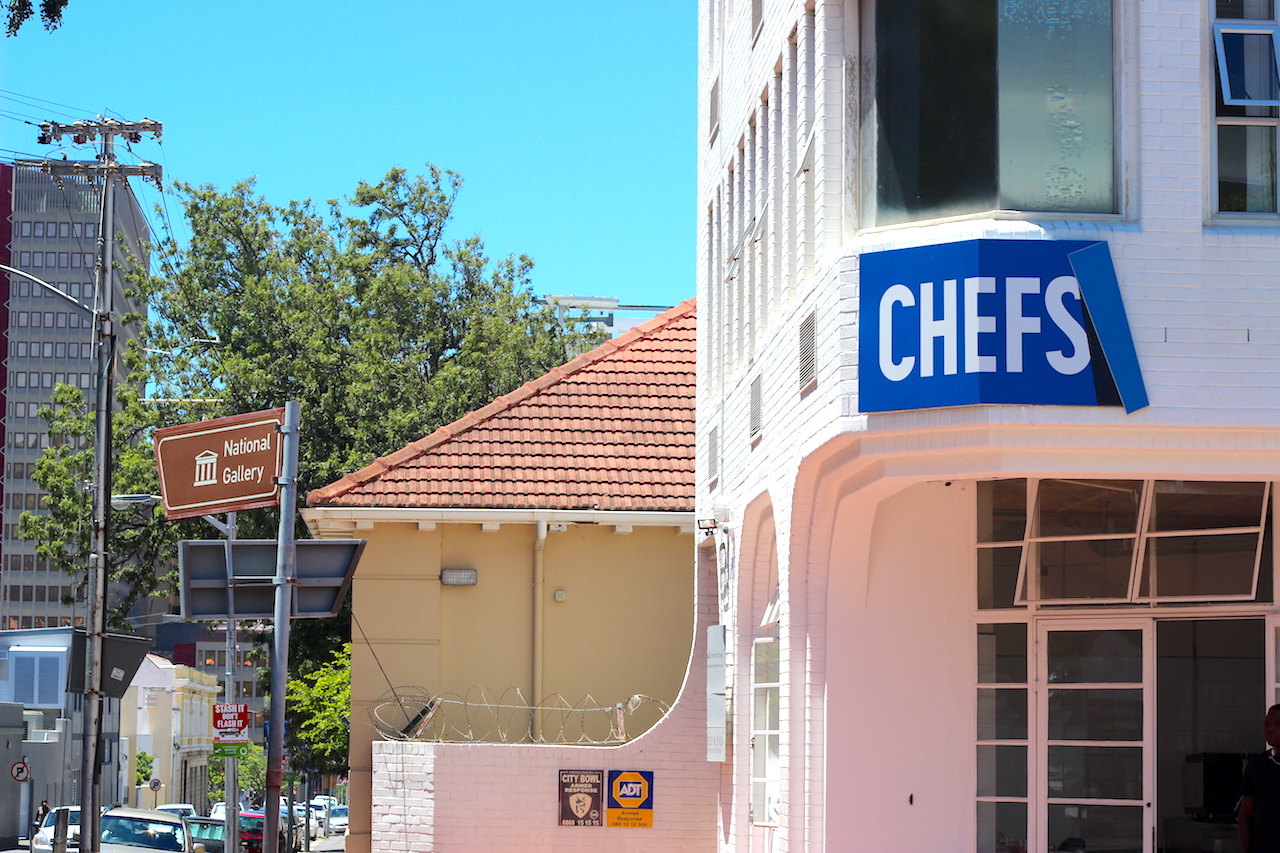 Let's start with the concept – CHEFS is different. A canteen-style restaurant, there are no waiters and no real menus. You are seated and served by the chefs themselves, and the menu consists of three dishes (two meat options and a vegetarian choice) and a dessert, which change daily. In case you haven't checked out the daily options on their website, you can view them on an iPad, which is brought to your table, when a chef will explain the options to you in detail. The restaurant itself is light, bright and minimalist – with a simple row of tables down the middle – allowing the food to really shine.
After making our choice, we enjoyed complimentary water – still and sparkling – and ordered a beer and a glass of wine.
We watched the chefs plate up dishes on the pass, before ours made its way to our table. Served on a tray, the meals are perfect for one filling course  – a generous portion with no fewer than five elements to each meal. We ordered the lamb and yellowtail tartare between us – the lamb was served with triple cooked fries, hummus, tzatziki, pita breads and an incredible aubergine salad, while the yellowtail came with melba toast, avocado, homemade aioli, a fragrant oil and apple and cucumber slaw.
Both were absolutely flawless.
Dipping in and out of the different elements of each dish, we were filled with moments of "taste this", and "try this", until every last bite was finished.
Portion sizes were generous and each dish was so well conceptualised and executed, that we simply couldn't stop smiling. And, I suppose that's truly the mark of an exceptional meal. Price wise, you're looking at around R170 – R190 per meal, which is incredible value and absolutely worth it. We already can't wait to go back.
As our meals were so fantastic, we thought it would be silly not to have dessert – so we shared the dessert of the day – a yoghurt granadilla panna cotta with wood-roasted pineapple and meringue. A dish I never generally order, as I've had so many terrible panna cottas, set with too much gelatine and just awful, however, this was – unsurprisingly, at this stage – perfect. Not too sweet, with smokey pineapple, sweet meringue, we regretted sharing one and wished we'd each ordered our own. But, that was just gluttony speaking.
Our meal of the year. Utter perfection, and highly recommended. They're closed for the festive season until 3 January 2018, so be sure to make a mark in your diary to visit.
Note: We enjoyed our meal as guests of CHEFS. All views and images are my own.