These tartlets were inspired by a Facebook shared by the ever-lovely Sonia Cabano – introducing me to the sweet world of The Sugar Hit. A blog filled with all things sugar and dessert related, the recipe for Butterscotch Pecan & Dark Chocolate Cookie Tarts caught my eye.
I adore anything with chocolate chunks – I make mine by simply smashing a slab of milk chocolate – you can see some a little more chocolate chunk inspiration here, here, and here. Told you, I love it.
Choc chip cookies are always a winner (you can read the science behind your favourite type here) – personally I love them squidgy in the middle. Crisp outsides and soft, chewy centres. This recipe takes that concept to a whole new level. Made into tartlets, the centre is protected and remains gloriously soft – with melted nuggets of milk chocolate, these have to be enjoyed warm.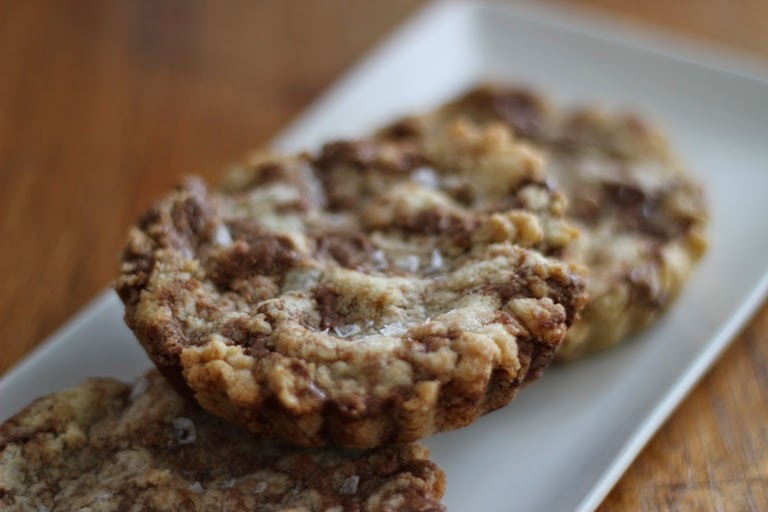 I adapted the recipe – choosing milk chocolate over dark (hello, sweet tooth) and leaving out the nuts – who needs nuts when you can have more chocolate? Topped with a sprinkling of proper salt – I used the Cyprus Salt Flakes – to offset the sweetness and add a little crunch, they make a decadent, comforting dessert.
Recipe adapted from here
Makes 6 x 12cm tartlets
Ingredients:
175g butter
225g brown sugar
1 egg
300g flour
2 tbsp cornflour
1 tsp baking powder
1 tsp salt
200g milk chocolate, chopped
Method:
Preheat the oven to 170C.  Place the butter in a saucepan on a high heat. Allow to melt, bubble and foam until it turns a hazelnut brown. Allow to cool slightly. Place the brown sugar and caster sugar into a mixing bowl, and add the butter. Beat for a minute until well combined, and then add the egg and beat again.
Add the dry ingredients to sugar and butter mixture and mix until the flour is incorporated. Stir in the chocolate chips.
Divide the mixture equally between the tart tins, pressing into each case. Fill till 3/4 of the way up the tin. Bake the tarts for 12 minutes, until just set on top and still quite squidgy.
Serve warm, ideally with ice cream.
All images taken with a Canon EOS 600D from Loot.co.za. Recipe made for Eat.Art.