We spent the majority of our honeymoon in the gorgeous Jonkershoek valley. Waking up on our first day as a married couple, we were (obviously) very excited to get moving and arrive at our destination – so we arrived a little early for check-in and had a few hours to relax.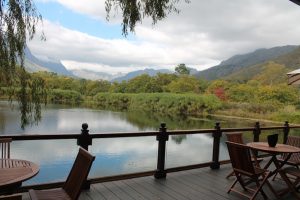 We were advised to visit The Postcard Cafe at Stark-Conde Wines – a few kilometers from where we would be staying.
We headed down the gorgeous road towards the nature reserve, and promptly had our breath stolen. Just off the "main" road to the reserve, hides paradise. Deep mountains and valleys, trees, Weeping Willows, a lake and dramatic skies – our honeymoon was off to a great start.
We sat outside, and as it wasn't-quite-lunch-time we ordered light : carrot cake and a latte for me, ham and cheese croissant and cappuccino for my new husband. Having no idea what to expect, we were very happily surprised when our orders came. His croissant was warm, fresh, flaky and crispy – accompanied by thick slices of ham and cheese and a little salad on the side. Nicely done.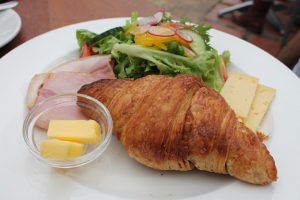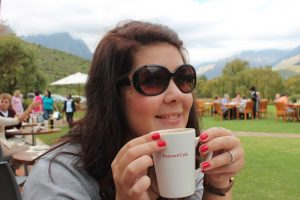 Being naturally more sweet-toothed, the carrot cake was a perfect choice for me. It was dense, moist and filled with nuts, carrot (and blissfully) no raisins. Topped with the mandatory cream cheese icing and enjoyed with a strong latte, a view, and a new husband – honeymoon was indeed off to a great start. There are options to sit inside, on the terrace or on the grass embankment – depending on the weather and your view preferences.
Being a wine farm, Stark-Conde offers wine tastings on an island deck in the middle of the lake – we took a walk and a wander around, but none of the wines really stood out to be – enough so, at least that we'd pay for the tasting. They are great value though (to buy a bottle) and perhaps I was a little quick to judge. If we're ever in the area again, we'll add this to our lunch itinerary.
Our light lunch was great – service was slow, but the view and food more than made up for it. Price are reasonable and we left very happy. A perfect Saturday afternoon.
Note : our visit was unannounced and we paid for our meal in full.