I've written about Ball® Brand jars before, when I played out my domestic goddess fantasies and discovered how to preserve at home. This time, I was invited to play around with the cutest drinking jars – and, give you the chance to win.
The challenge? Make something delicious to drink.  Making it look cute was pretty easy – as the jar are adorable. Sturdy, with handles, I particularly loved the large 700ml option. Fitted with the nifty infuser, you're able to add anything from fresh berries, to herbs and more to your every day drinking water. Having recently recovered from the flu, I'm still all about trying to get healthier – so, I chose to infuse mine with fresh lemon, thinly sliced ginger and a little parsley.
My husband joked that it looked like an adult sippy cup, but I couldn't care less. I spent the rest of the day refilling my cup with water, and was surprised at how well the flavour lasted. It definitely made hydrating so much more exciting than plain water. As the weather cools, it's easy to let my water consumption dip below the recommended 2L per day, so I'm tempted to take my jar to work and keep on my desk as incentive.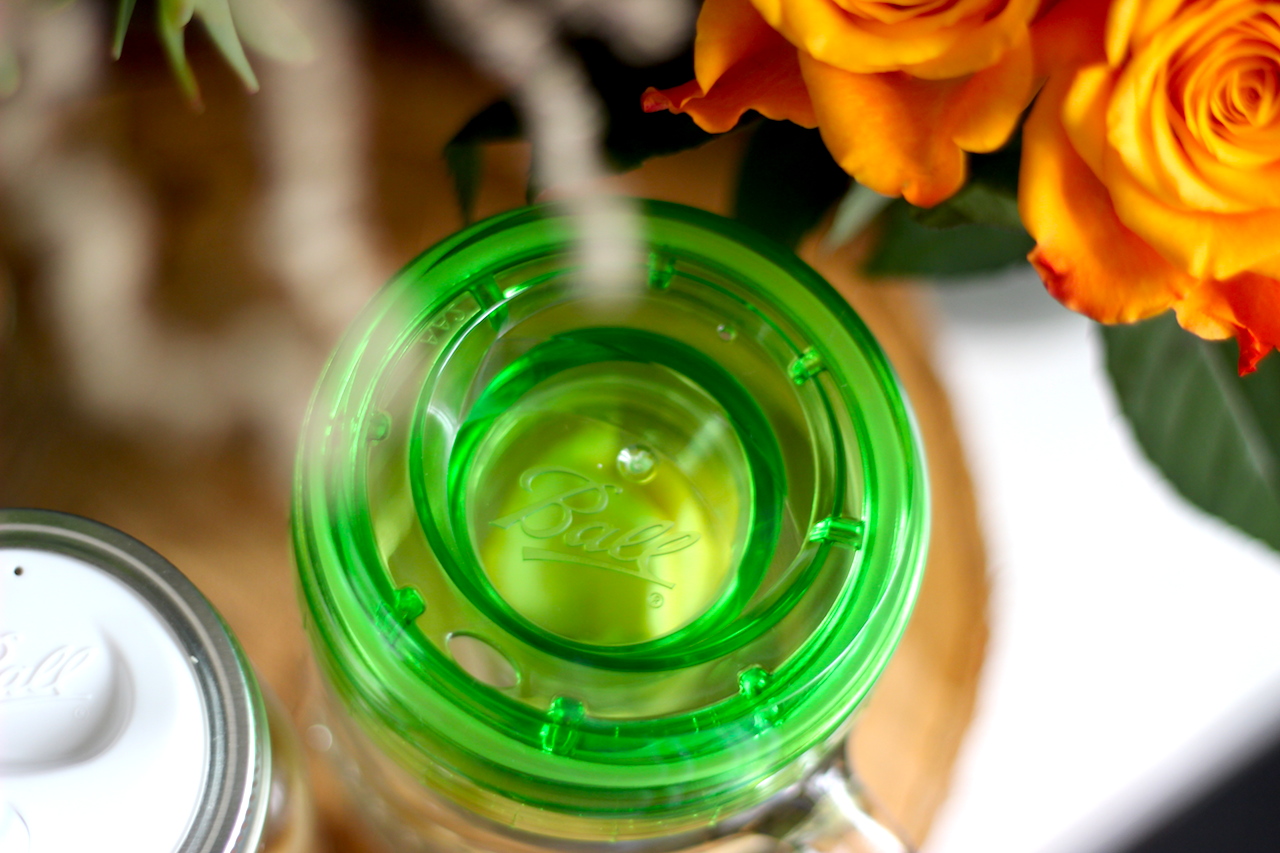 Of course, while the novelty of drinking out of my infused-water-jar hasn't worn off yet, I also had a pretty striped straw to play with. This was the perfect opportunity to share my breakfast smoothie recipe with you. I've been having this for breakfast most mornings for the past six months or so. As someone who struggles to eat in the morning – unless it's a lazy weekend brunch in bed – I've found that drinking breakfast is the best option for me.
And, this really combines pretty much everything you'd want to start your day. Coffee? Tick. Frozen banana for energy and creaminess? Tick. Almond milk for protein? Tick. Chocolate, because we can? Tick. The result is a thick and creamy drink that masquerades as a mocha milkshake. I'd recommend slicing your banana and freezing it in a plastic bag the night before – you can use ice, but that waters down the flavour. Also make your coffee the night before and let it cool overnight. All that's left to do the next morning is blend everything together. The easiest breakfast.
Win:
I'm sharing my favourite smoothie recipe below. If you're keen to win a hamper filled with Ball® Brand jars, comment on this post and let me know what your favourite smoothie recipe. Winner announced on 17 June 2016.
Ingredients:
2 bananas, sliced and frozen
200ml cold, black coffee
50ml milk of your choice (I used almond)
1 tbsp chocolate powder or protein powder
Method:
Place all ingredients into a high-powered blender. Blend on high until thoroughly incorporated and no chunks of banana remain. Serves 1. Enjoy immediately.
Ball® Product Retailers: The Ball® drinkware jars can be found at selected Spar, Farm City as well as online at Takealot.com
Note: This post has been sponsored by Ball® Brand jars. All views and images are my own.