I didn't have a December holiday. A family medical emergency saw me hurtling from 2015 into 2016, with a little added sleep deprivation and a low immune system thrown in for kicks.
As such, I will be making up for the lack of holiday over the next two months. Restaurants, fun things – and two trips planned for February – my holiday is just going to be somewhat delayed. We've had an open invitation to visit Del Mar, the new Mexican restaurant on the Camps Bay strip, and decided a trip down to the seaside would bring the happy holiday vibes to our weekend.
Owned by Bukhara, who also owns Haiku, Del Mar is elegant and refined, allowing the food to speak for itself. Offering a comprehensive menu, the food is broken up into various categories – with ceviche holding its own, followed by antojitos ("little cravings", plates of local Mexican street food), para la mesa (essential accompaniments for the table), platos principales and more.
The restaurant is situated on the 1st floor, next to blues. While it can seat 90 people, booking is recommended, especially if you want to secure a sought-after table next to the expansive windows. With a cool sea breeze blowing in, and views of beachgoers, palm trees and local buskers, its position affords diners an even better view than restaurants on  street level.
Decor is minimal, verging on non-existent. Charcoal walls, heavy wooden chairs and white table cloths are defining features. The only touch of personality is seen if you look up – with beautiful copper, oversized light-bulbs and exposed beams in the ceiling. The down-played decor makes it easier for the food to take centre stage – which is exactly what it did.
We started with margaritas, and a selection of para la mesa to enjoy with corn chips. Namely, guacamole, frijoles nero (black beans pureed with epazote) and a selection of salsas.
Next, for the Mr, was a trio of ceviche. You know they take this speciality seriously, as they offer eight different varieties. He was sent the line fish option, a trio containing leche de tigre and corn, onion, lime and fiery chipotle and jalapeño, coriander and lemon. While I skipped this round, I had absolutely no complaints, as it was such a joy to photograph. The colours were just incredible. Chatting to our waiter, he mentioned that the philosophy behind the restaurant might not appeal to all diners. Food comes in smaller portions – even main courses – allowing tables to share food and flavours. Not quite tapas, but also not the heavy, stodgy Mexican food our palates have become accustomed to.
A note on salsas, guacamole and side dishes – they aren't included in the price of a dish. The guacamole costs R50, and is enough to supply four people as an accompaniment, and you're looking at around R25 each per salsa. Considering the quality of the sides, I understand why they aren't lumped together with every dish – they deserve to be savoured separately too.
I have it on good authority from the Mr that the ceviche was an absolute winner. Next, pork belly, or pancita de puerco. Served with chipotle and a jalapeño glaze, it was sweet, spicy and incredibly tender. To give you an indication of portion sizes, the pork below was a "little craving" and not a main course-sized portion.
My "little craving" came in the form of vegetarian taquito pollo – crispy, fried tacos, filled with baby marrows and topped with ranchero sauce, red onion and coriander. Normally served with cheese on top, I asked for it to be omitted in order to make the dish vegan. It was a little spicier than I anticipated, but filled any craving I had for comfort food. The perfect balance of crispy and chewy, a pile of these would be the perfect accompaniment to a movie night at home. Mentally placing the idea of Del Mar deliveries on hold.
Luke and I shared a main course of calabacines y hongos – mushroom and zucchini fajitas. A generous portion of fried exotic mushrooms, peppers and zucchinis are served in a beautiful ceramic bowl, accompanied by guacamole and frijoles nero. The soft corn tortillas are served separately, for you to make your own taco. We were given a selection of additional salsas, in order to further play around with the different flavour combinations. We had a few favourites – including the asado, chipotle, verde tomatillo and Pico de Gallo – but a word of warning about the Habanero. While it is packed with flavour and deliciously smokey…it packs a punch. If you're going to order it, make sure you have enough food to try and absorb the burn afterwards.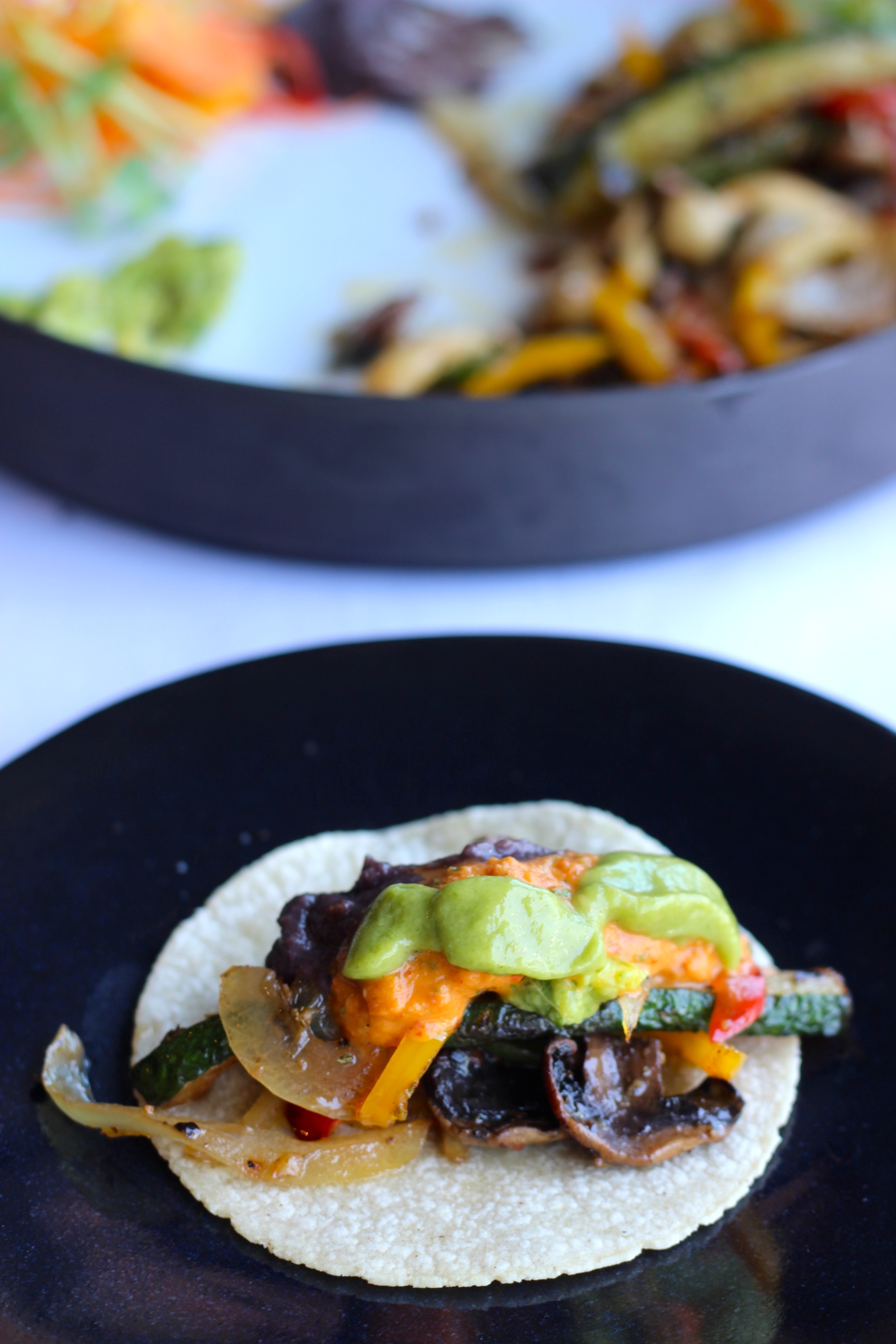 I loved having the freedom of making my own tacos and seeing what flavours I enjoyed the most. Luke and I shared this main course, and couldn't finish it. While we did have a few dishes beforehand, I think I could just finish this dish if I'd eaten nothing else.
If you're looking for a place to go with friends, down jugs of frozen margaritas and live off cheap tacos drowned in cheese – then this is not the place for you. However, if you want to experience fine Mexican cuisine, complex flavours and obsessive attention to detail – including sauces that take days to prepare – then I'd recommend booking at Del Mar immediately.
While it has only been open for a few months, I don't see it being long before it follows in the footsteps of its older siblings Bukhara and Haiku, and starts collecting the awards. Don't say I didn't warn you.
Note: We enjoyed our meal as guests of Del Mar. All images and views are my own. 
Leave a comment