Let's just cut to the chase – if you're a chocolate-lover and live in the Southern Suburbs, your next grocery or shopping trip just got a whole lot more delicious.
De Villiers Chocolate, a long-time supplier to Woolworths, has collaborated with the brand to launch the retailer's first in-store De Villiers Chocolate 'pod' in a number of their flagship stores  – and, the latest addition is at Cavendish Square.
The story of De Villiers Chocolate
If you haven't yet encountered De Villiers Chocolate – either at your local supermarket, or at one of their standalone stores, here's what you need to know: They are one of Africa's first bean-to-bar chocolate brands; made from cocoa beans sourced farmers from around the African continent. The brand started as a hobby out of a garage, and has grown – most recently, to include supplying international outlets. De Villiers Chocolate is also UTZ certified (an internationally recognised body that supports responsible and sustainable cocoa farming) – you can read more about their cocoa sourcing and chocolate journey here.
About the Chocolate Pod
The De Villiers Chocolate pod at Woolworths is a smaller version of the De Villiers Chocolate stores in Paarl and Franschhoek, and will stock the complete range of De Villiers Chocolates – allowing you to sample and meet the brand, first hand. I'm particularly excited to learn that seasonal ranges will also be launched on a quarterly basis, with limited edition flavours and packaging throughout the year. During my visit to the pod, I was quite overwhelmed by the range and variety on offer, so I suggest setting aside a few extra minutes to do the offering justice, and discover your new favourite (the Sea Salt and Caramel might have come out on top for me, while the Raspberry, Vanilla and Almond Blonde also caught my eye, both from the Treats Collection). There's also freshly-made truffles, chocolate bark and butter caramels – in case you needed a little extra motivation to plan your visit.
Here's a first-hand peek at the pod to tempt you.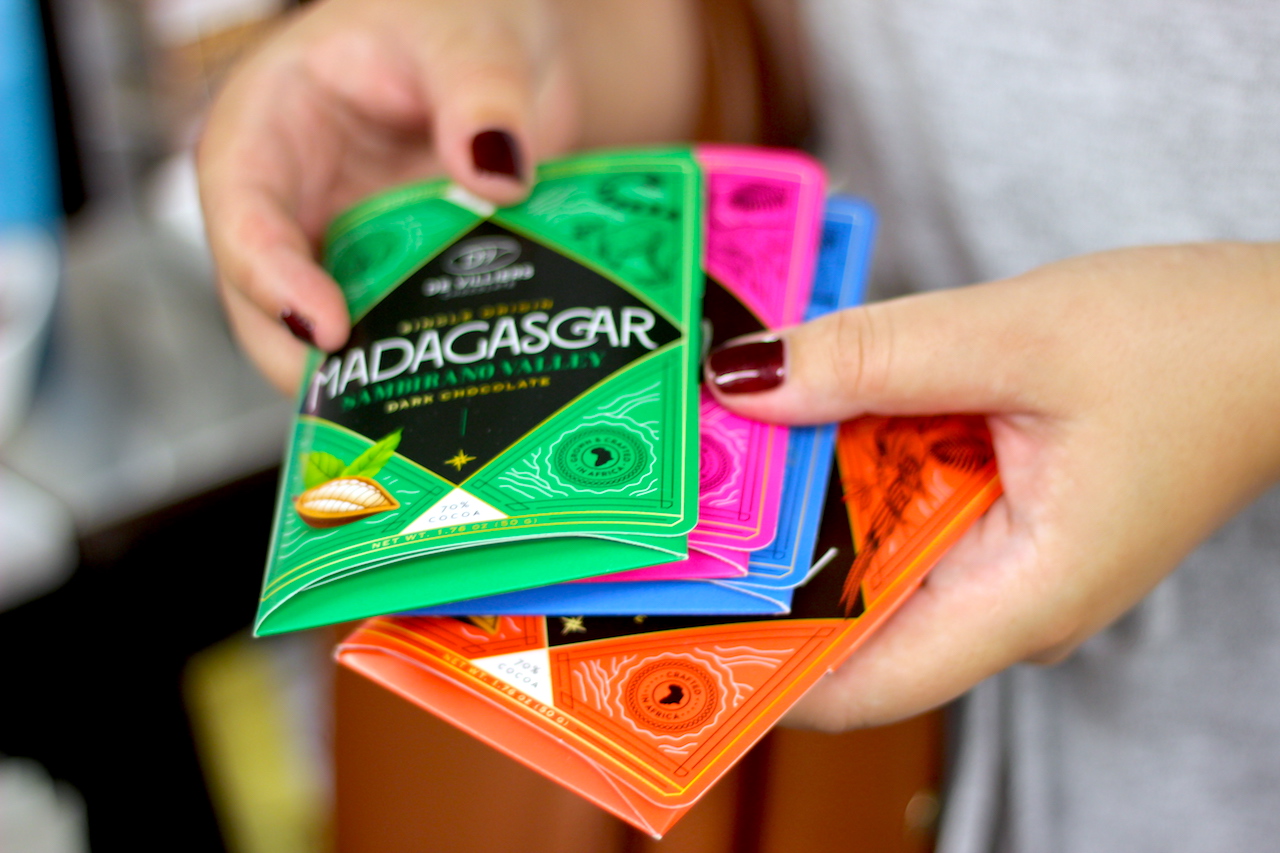 Pieter De Villiers, founder of the label, says a one-on-one connection with customers is vital. "With the launch of the De Villiers Chocolate Pod we will provide consumers with friendly, personal experiences allowing for conversations with brand ambassadors that will contribute to establishing a sense of trust and relationships with De Villiers Chocolate. People will really get to know our story."
And, let's be honest, if you aren't going to be adding a chocolate tasting and handmade chocolate treat to your next shopping trip Cavendish, then I'd say you really aren't living your best life. You deserve more.
I'm giving away four De Villiers Chocolate hampers to two lucky readers. Head on over here to enter.
This post is sponsored by De Villiers Chocolate. All views and images are my own.