Events. You generally imagine glasses of MCC, pretty people in heels and phones in hand to capture every moment. And, while this is mostly the case – and admittedly fun, for the first few – it quickly becomes a little tiresome.
Most evenings, I'd much rather stay at home, eating dinner on the couch in my pjs while catching up on my favourite series. I've developed a "hell yeah or no" philosophy, which extends to my thoughts on events. So, if an invitation doesn't immediately make me squeal with excitement, I'll pass, thanks.
The invitation for a "multi-sensory event in the beautiful Elgin Valley" and an opportunity to spend the night at Old Mac Daddy, was definitely a "hell yeah" moment.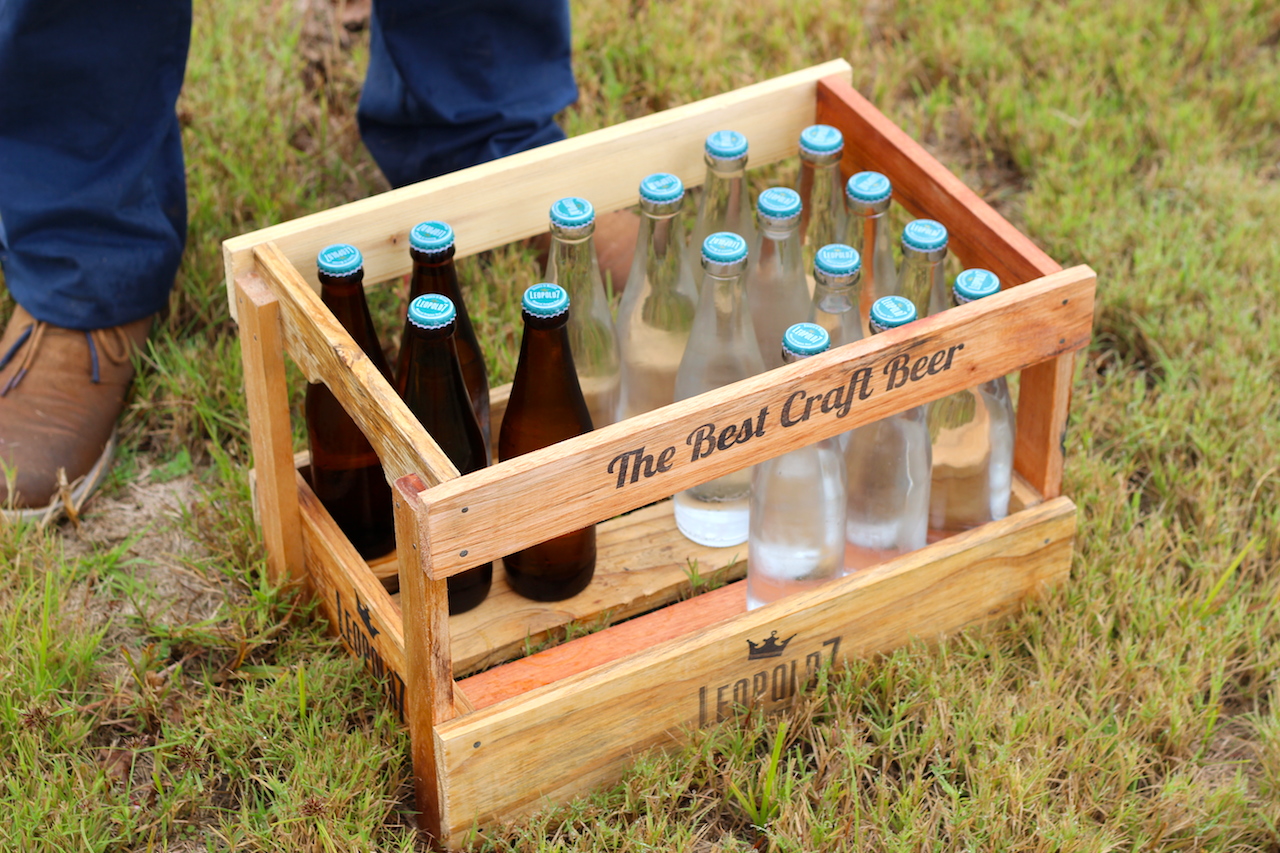 We were shuttled out to the countryside, leaving a damp and drizzly Cape Town (for a damp and drizzly Elgin, it would turn out), to celebrate creativity in all its forms, with Belgian craft beer, Leopold7. From its inception, the intention of Leopold7, specifically in South Africa, was to to associate their beer with creativity and artistic expression. Over the past few months, the brand has carved out a niche presence in the arts and design community, recently also partnering with the Cape Town Art Fair as the only beer on offer during the event.
Our adventure started in a field. Scattered with crisp, autumn leaves and dew drops, we were met with the sight of a opera singer and harpist. Against the backdrop of hills and valleys, no other sign of civilizationt, it felt as though we had well and truly stepped through the looking glass. Welcomed with homemade cordial, water and Cocoa Fair truffles, we embraced the private concert and tried to absorb our surroundings.
After a brief welcome by Alexandre Tilmans and Marquis Brown, custodians of the brand in South Africa, it was time to move on to our next adventure.
Our next stop took us to Old Mac Daddy, which would also be our home for the evening. With refreshments on offer, we caught our breath and briefly settled in, before being ushered to the dam for our first taste of the beverage of the day.
And, the beer? For someone whose beverage of choice is generally wine, I found Leopold7 to be very easy drinking – although, the slightly higher alcohol content could have also contributed to that. To quote from the team themselves, "The extended fermentation and maturation process of nearly three months results in a robust amber-coloured ale with citrusy, floral notes and excellent balance, giving easy drinkability with a notable malt and hop flavour profile."
I'm generally put off by the overwhelming bitterness of most beers, and find Leopold7 to be quite balanced. Fragrant and complex, with just the right amount of bitterness to keep it refreshing. I'l definitely be keeping an eye out for it on shelves and in restaurants going forward.
Going further down the rabbit hole, we sipped – or slurped – or beer, while being entertained by a group of synchronized swimmers in the dam below. Apart from thinking how cold they must be, all other sense of reality left me.
What should you do with a bunch of media-types after you've given them access to endless quantities of high-alcohol beer? Allow them to play with bows and arrows, of course. We joked that we hadn't signed indemnity forms, but that didn't stop us from living out our Robin Hood / Hunger Games fantasies. This is just one of the activities offered by Old Mac Daddy – another includes water zorbing, which, we were keen to do, but given our state at the time, we would very likely have drowned.
While beer might very well count as a carb, we were all properly starving at this stage. Thankfully lunch was not far away. Only a few meters from Old Mac Daddy is South Hill Wine, who kindly allowed us to picnic on their premises. Lunch was provided by Fresh at Paul Cluver, in conjunction with Caro de Waal from Eat Design, who was involved in most of the edible elements of the day.
In short, the team thoroughly outdid themselves. Gloriously fresh bread, home made organic scotch eggs, with mustard mayonnaise, goat's milk brie with rose and pelargonium preserve, an incredible white bean puree – which I might have monopolised – and, special vegan-friendly options for me. We feasted until we couldn't any more, before almost passing out on the sun-drenched wild grass. If you're going to do an afternoon in the countryside, we pretty much nailed it.
Conceptualised and directed by Tracy Lynch and Jo Skelton of Lee Lynch Studios, the day saw a number of collaborations with local  designers and artists such as Laurie Wiid van Heerden, Paul Senyol, Andrzej Urbanski, Atang Tshikare, Ceramic Matters, Dark Horse and Chapel. The collaborations were showcased in a function that evening at Old Mac Daddy, which also included additional guests from Cape Town's fashion and design scene. Feeling out of our depth, the food-and-photography crowd might have crept out to the deck and mainlined candy floss, Red Bull and vodka. You can read about our night at Old Mac Daddy here.
With thanks to Leopold7 and Old Mac Daddy for an event to remember. All images and views are my own.