Caponata is a classic Sicilian dish. I say it with my ridiculous English accent, while my Italian colleague pronounces it something like "caponarra". Pronunciation aside, the description is equally entertaining – some sites call it an aubergine relish, with others deeming it a "sweet and sour aubergine stew".
As we head into spring, aubergines are really piling up on supermarket shelves – and I couldn't be more excited. Along with the abundance of asparagus and artichokes, have a look below at what else you'll likely find on the shelves of your local Food Lovers Market in the coming months: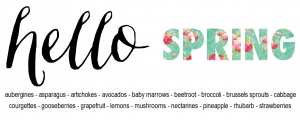 I lean more towards the side of a relish, with this olive-oil heavy dish just made to be enjoyed with torn chunks of fresh baguette. As it's best enjoyed at room temperature, and benefits from a little extra time standing for the flavours to develop, it's the perfect dish for lunches, informal dinners or to keep on standby in the fridge.
With a little investigation, I feel I've managed to narrow the essence of the dish down into three key ingredients: aubergines, capers and olive oil.
Everything in addition to that is a matter of taste and preference – some recipes add mint, some add basil. You'll likely find onions and tomato quite frequently, with chilli, parsley, raisins and olives also doing the rounds. I've now made this three times, and this is how I like to enjoy it. Feel free to experiment and come up with your own version if this dish.
Ingredients:
2 large aubergines, cut into 1cm cubes
100ml – 150ml good quality olive oil
1 large red onion, finely sliced
2 cloves garlic, finely sliced
4 tbsp capers, finely sliced
1 tbsp brown sugar
1 tbsp lemon juice
1 tbsp balsamic vinegar
handful baby tomatoes
fresh basil
salt and pepper to taste
Method:
Place 50ml olive oil in a large, non-stick pot over a medium-high heat. Add the aubergine cubes and fry for five minutes, before adding the finely sliced onion and garlic. Fry for a further five minutes, or until the aubergine just starts to brown. Cut the tomatoes into quarters and add to the pot, along with the capers, sugar, lemon juice and balsamic vinegar. Reduce the heat to medium and allow to cook gently until the tomatoes break down. Top with 50ml – 100ml olive oil, until the consistency of your liking – it should be quite moist, err on the side of more olive oil rather than less. Taste and season with more sugar, vinegar or salt, as needed. Remove from the heat and stir through the freshly torn basil. Allow to sit at room temperature for at least an hour, for the flavours to infuse. Leftovers keep very well in the fridge.
Makes enough for four as a meal with baguette.
Keen for more #foodloversfresh? Follow Food Lover's Market's social media pages (Twitter, Facebook or Instagram) and give them a follow. This post is sponsored by Food Lover's Market. All views and images are my own.