We have been so enamoured with Foxcroft's pastry selection and bounty of sweet treats, their actual restaurant offering might have slipped our mind. Unforgivable, giving that they celebrate their first birth next month.
So, on a particularly wintry August afternoon, we put their savoury offering to the test and headed off to try their lunchtime special: R320 per person for 4-courses – any two tapas, one main and one dessert, weekdays until 31 October 2017.
We were seated next to the toasty fireplace and enjoyed freshly-baked breads and butters while we watched the rain lashing at the windows. So toasty, in fact, that I opted for a glass of Chardonnay, while the Mr went for a beer. Take that, red wine weather. Not managing to finish all of my home-churned butter, topped with wild garlic oil, I may have – unashamedly – asked for more bread to finish the dirty deed. A hearty, but unofficial first course.
The tapas selection, which serves as starters for the sake of this menu, is neatly divided into three vegetarian choices and three meaty options, with hot and cold options for each. Luke ordered the 64 degree hen's egg (with black pudding, smoked apple and pork broth) and pork cheek and crackling (with pickled octopus, tamarind purée, pineapple and coriander dressing), while I went for the roast pumpkin risotto (with smoked ricotta, pumpkin seed and sage) and Belnori goat's cheese (with Tanglewood, toasted rye and smoked onion chutney).
Luke's hen's egg was tender and the perfect accompaniment to the flavour-packed pork broth and sweet apple. Octopus is a tricky ingredient to cook, but the team did it absolutely perfectly with the pork cheek, with a punchy, fragrant dressing.
My risotto was without question, the best I've ever had – rich and indulgently creamy, it could have easily been a meal on its own – which explains why some of my main course went uneaten. The Belnori goat's cheese was surprisingly light, with the smoked onion chutney the perfect accompaniment. I admit I quickly moved on from the Melba toast and went back to the bread we started the meal with, in order to scoop up every smear of cheese on the plate.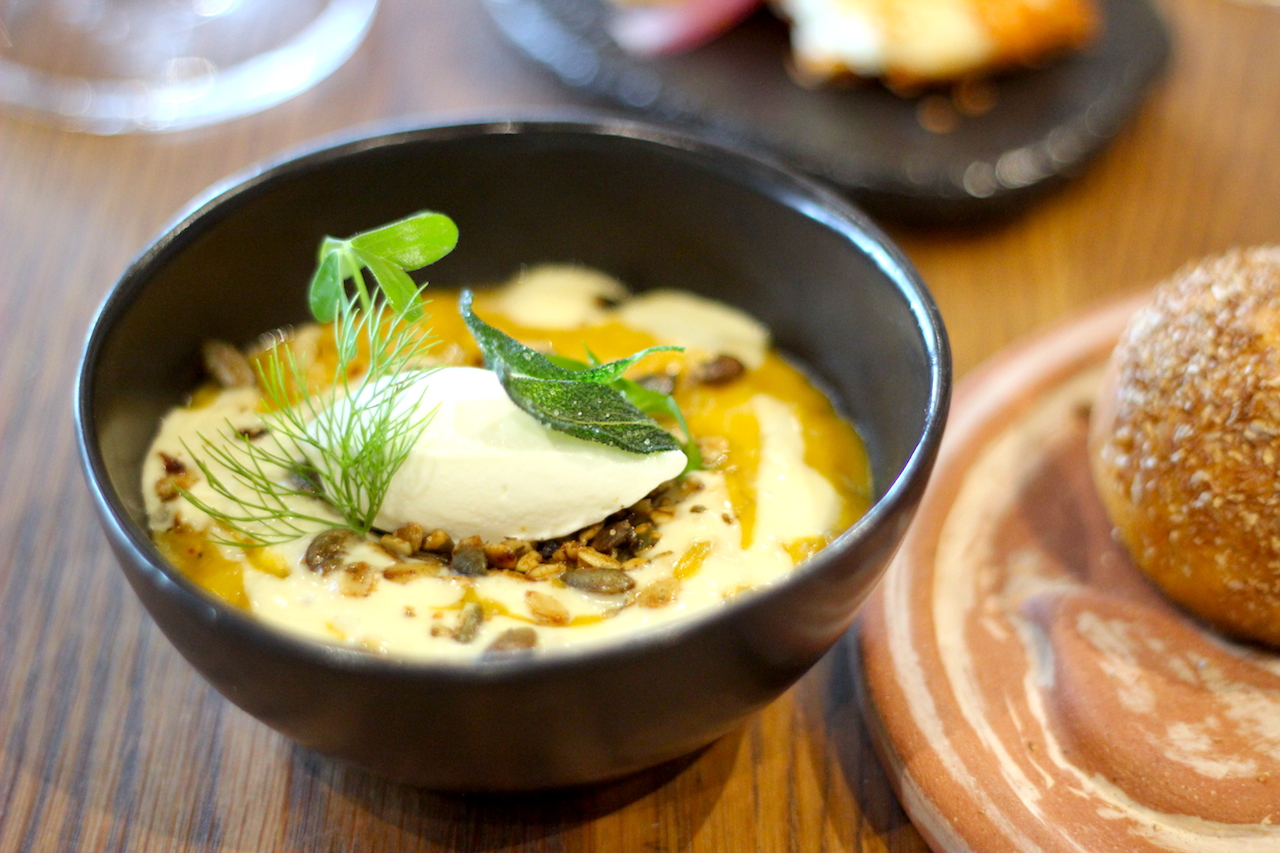 For mains, Luke went with the recommendation of our waitress, and chose the chicken and sweetbreads (with romanesco, capers, swiss chard and malt vinegar) – as chicken is not something he'd normally order when out, he trusted the recommendation and was keen to see whether it lived up to the hype. It came with the proviso that it's normally overlooked by diners, but any visiting chef is almost guaranteed to order it.
And, he quickly understood why. Simple and hearty, it celebrated the limited ingredients on the plate, with crispy, light sweetbreads added for interest and texture. It wasn't a dish that allowed the chef to hide anywhere – and, there was no need. Everything was perfect.
I chose the egg yolk ravioli with mushrooms and sherry veloute, which, despite being a vegetarian dish, is the trickiest one for the chef to prepare –  you can imagine the skill required to perfectly envelope a whole egg yolk in a thin sheet of pasta, and then cook it perfectly so the pasta is tender and yolk still gooey. It was delicious, with the mushrooms and sherry adding sweet, earthy notes, but I couldn't finish it. I knew there was still dessert coming, and had to make a strategic decision. And goodness, am I glad I did.
Ah, dessert. Thankfully Chef Glen came by our table and prepared us for the onslaught that was to come our way. Four desserts, two people. He prefaced it with "I just want you to taste, and won't be offended by what you leave behind." Let's just say that he was well-impressed by how little we left on the plates.
I initially ordered the guava (with lime cheesecake, tipsy tart and coconut) while Luke chose the Boerenkaas (done 3 ways with mebos, walnut and cumin) – however, it was the dessert we were both least-likely to order – the banana cake (with 46% Bahibe chocolate, coffee and rum) that came out on top for both of us. Light and flavourful, with soft chocolate, caramel banana, a subtle hint of coffee and rum jellies, it was complex, so well thought out and just delicious.
Don't take my word for it – taste for yourself. Book here.
Note: We enjoyed our meal as guests of Foxcroft. All views and images are my own.
featured
foxcroft