Soon after arriving in Robertson, we headed towards McGregor for a sip, and taste, of the town. Described as the "village that time forgot", it's the perfect little country escape, and a place I'd like to spend more time getting to know.
After a short tour of the town – where we discovered that paved roads quickly disappear into dirt, and dusty paths lead to nowhere – we stopped at Bemind Wyne to quench our thirst and meet winemaker and owner, Ilse Schutte.
Leaving the cool, air-conditioned embrace of our van, we were hit with the dry 36 degree heat that you only find inland – ensuring that Ilse's chilled MCC was well-appreciated. Bemind, translated to beloved is the result of the dream Ilse has had for ten years: opening her own wine cellar. Ilse has been making wine for over sixteen years, and started her own garagiste cellar in 2015.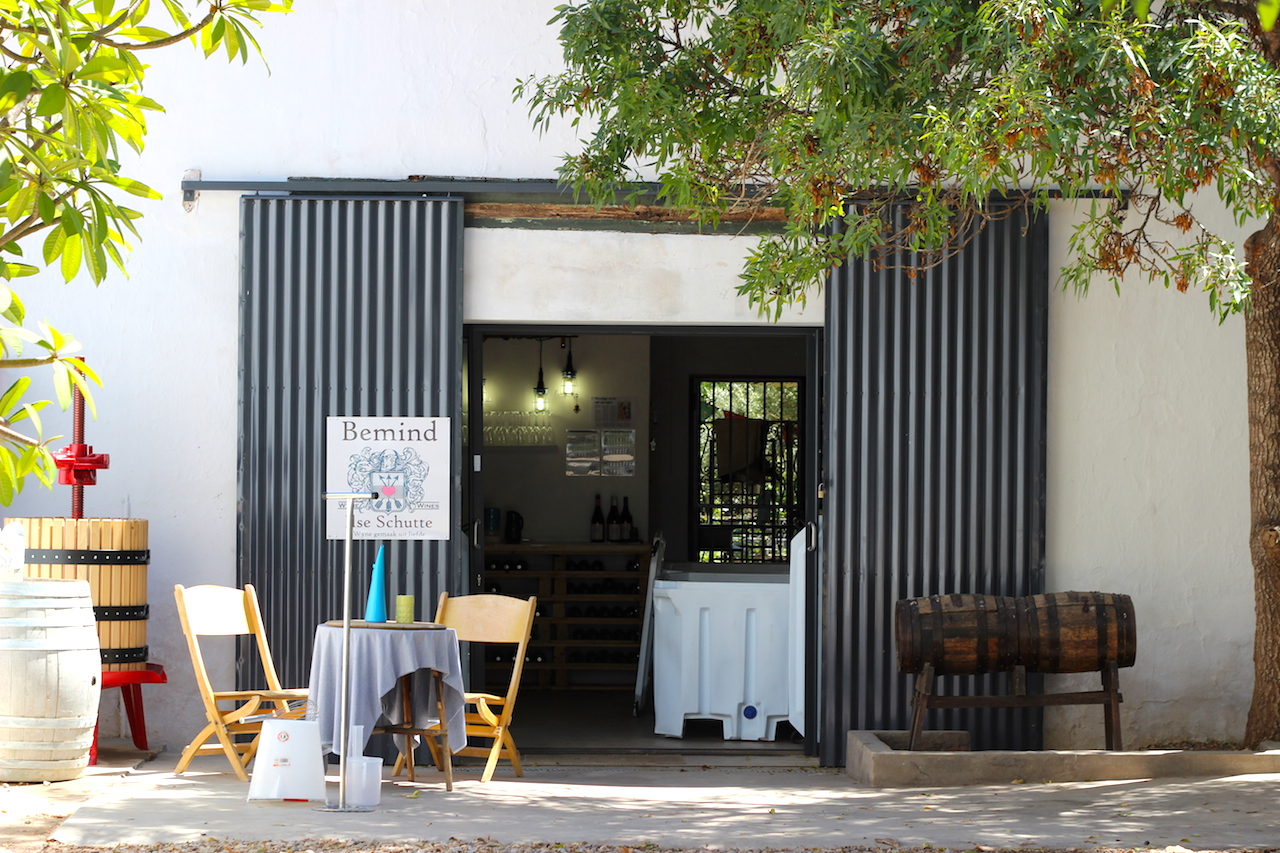 Defined as "a small-scale entrepreneurial wine-maker, originally from the Bordeaux region of France, esp one who does not adhere to the traditions of wine-making", we experienced exactly how small small is, first hand – with Ilse's entire operation smaller than most tasting rooms we've been to. Bemind is filled with everything Ilse – from her wedding dress, which hangs proudly on a wall, to the ribbons she hand cuts and ties around each bottle of MCC, to the grapes carefully chilled by frozen 2L bottles – nothing happens without her keen eye on it. A true labour of love, pop in for a tasting and buy a few bottles, before…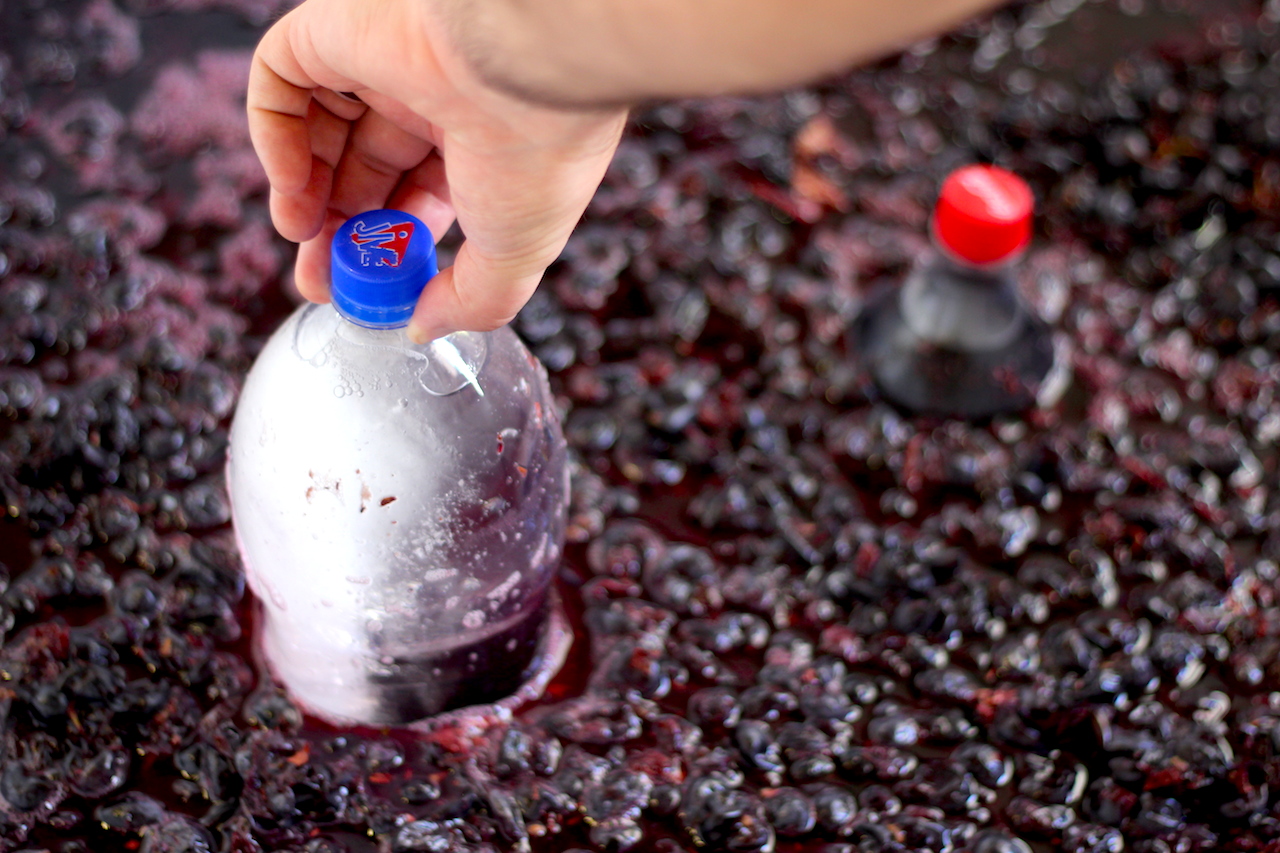 …crossing the road and enjoying them with lunch at Flora's Eating House. Having left Cape Town at 07h30, and not eaten since, we were one particularly hungry group of travelers. Flora's is a beautiful choice for lunch, with a small inside section, and larger outside seating area – where you can enjoy your meal under gently swaying tree branches. Thankfully, during our visit, they also served to provide some respite from the heat. With no liquor license, Flora encourages patrons to support Bemind Wyne across the road, which was especially easy to do, as Ilse herself joined us for lunch.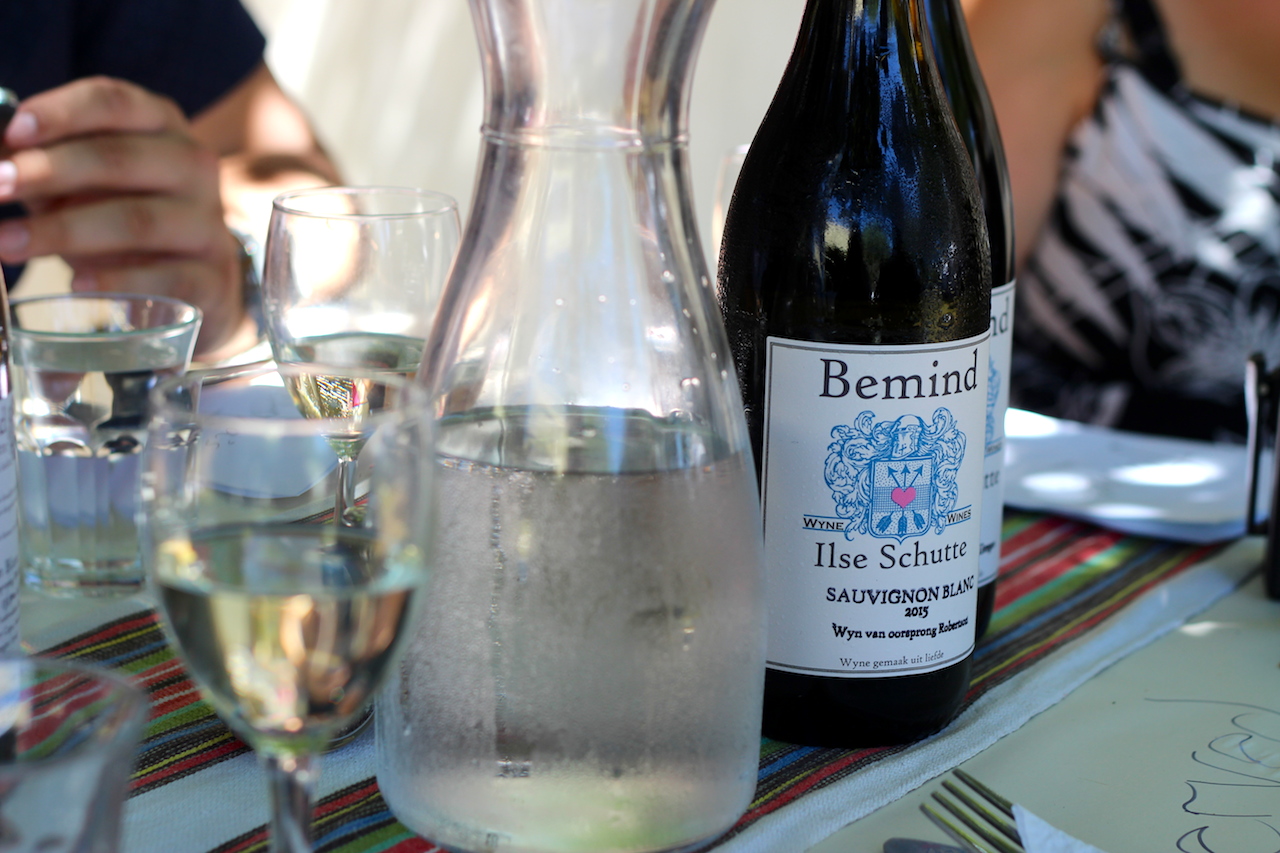 As much as possible, Flora uses produce that they have grown themselves, and focuses on healthful, tasty meals. The restaurant offers a small, set menu, and then a daily special – which we all indulged in. For the meat-eaters, this was tuna and salmon with rice noodles, pickled ginger, aubergine, sweet potato and sprouts, with crunchy ribbon vegetables and a Thai peanut dressing. The base was the same for the vegetarians and vegans, but with tofu instead of the seafood and a coconut dressing instead of the peanut.
The food was delicious and inventive, and quickly wolfed down. I did feel that it was quite pricey for the portion size though, which was more along the lines of a generous starter, than hearty country main dish. Both the meat and vegetarian option cost R95, which I feel is a little steep. Service was also extraordinarily slow – which makes me wonder if I'm just an out-of-place city mouse, not used to the ways (and prices) of the country?
So, tasty food and a beautiful setting – versus a pricey dish and slow service – Flora's makes giving a recommendation difficult. If you've ever dined there, please let me know if the comments below. I'd love to hear someone else's opinion.
We enjoyed our visit as guests of Hot Oven Marketing and Robertson Wine Valley. All images and views are my own.