With the air a little lighter and brighter, the world moves from the heavy red wines – to those a little whiter. I think it's perfectly acceptable to judge a season by the wine it provides – and with spring, a lightly wooded Chardonnay or Chenin Blanc would be the perfect bottle to share with friends.
This, coming from a dedicated red-wine drinker, I am slowly getting into the world of white wines – favourites so far include this Chardonnay and this Chenin Blanc. A lazy Saturday afternoon, or a quick afternoon catch-up almost always involves a bottle of something delicious.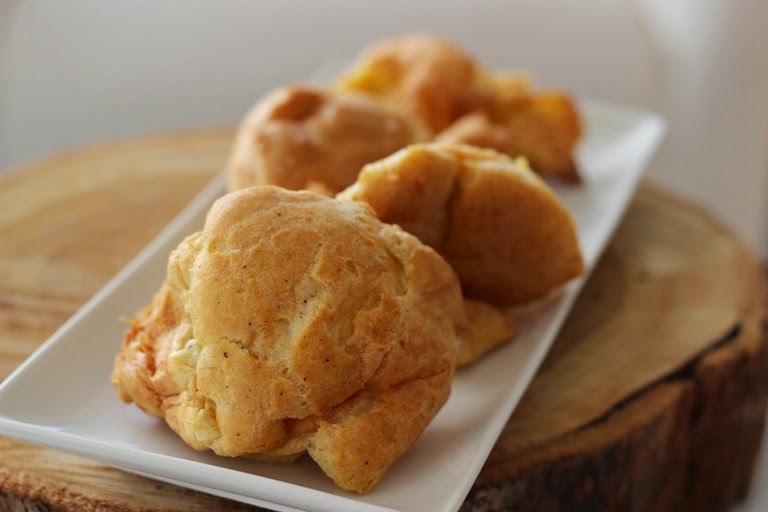 To turn mere 'drinks' into an occasion, try these gougères – cheesy balls of choux pastry make the perfect accompaniment to white wine. I used gruyere – and, while I love the cheese, it did make our entire flat smell like feet – keep this in mind when choosing your dairy.
While perfectly fine to serve as is – with a chilled glass – they could also take the place of a cheese. We served it with pickled pumpkin we received as a gift from Delheim, but any sweet preserve or cheese-board favourite would also go down well.
The recipe is effectively a savoury choux pastry – made much, much easier by cooking them in a muffin tin. Less to worry when it comes to consistency and portion control when baking them, with the muffin tin as a guide. The batter remains secure in each little cup and puffs up beautifully when done. Be sure to only fill your muffin cups halfway as they really do expand.
Ingredients:
250ml water
6 tablespoons butter
¾ teaspoon Eat.Art Persian Blue salt
pinch of nutmeg
1¼ cups cake flour
4 large eggs
1½ cups grated cheese (strong cheddar will work well – I used Gruyère)
Method:
Preheat your oven to 180 degrees C. Place the water and butter in a pot and heat until the butter has melted. Add the salt, nutmeg and cake flour, all at once. Remove from the heat and beat with a wooden spoon until the mixture comes together and pulls away from the side of the pot.  Quickly beat in one egg at a time, working quickly until all combined. Stir in the cheese.
Divide the batter among 12 greased muffin cups. Bake for 20 minutes, or until well-risen, lightly golden and cooked through.
This recipe was developed for Eat.Art. All images taken with a Canon EOS 600D from Loot.co.za
Leave a comment