Buitenverwachting is home to so many of our memories as a couple. In our early dating days, we would often spend a Saturday morning lounging on their leather couches and tasting wines.
Later on, it became home to one of our favourite wine festivals. While I'd had the privilege of dining at the restaurant before, Luke had not – so, one Saturday afternoon we decided to change that. As I hadn't been to the restaurant since becoming vegan, I was also keen to experience their offering with fresh eyes.
As any good meal tends to do, we started with MCC and fresh, warm bread. Surely one of life's simplest – and most delicious – pleasures? Luke made the most of the flavoured butters, while I happily dipped in olive oil and balsamic vinegar.
With the weather rolling in, and the dramatic views in front of is, this was always going to be a lazy lunch. It seemed the restaurant had the same idea, judging my the number of wine glasses that were placed in front of us. Throughout our meal, we enjoyed the:
Husseysvlei Sauvignon Blanc 2011
3rd Time Lucky Viognier
Christine 2010
Their menu has recently been updated, and now features two different dining styles. Rustic affairs is more casual, and features dishes such as Edgar's Caesar Salad with pan-fried Norwegian Salmon and a Buitenverwachting Beef Burger. Rustic desserts include Crêpes Suzette with Vanilla Ice Cream and Vanilla Panna Cotta with Strawberry-Balsamico Sorbet. Rustic mains range from R115 to to R155, with desserts from R75 to R105.
We were advised to try the more upmarket Indulge menu. Apart from what we ordered, this also includes dishes like Pan-roasted Scallops and Grilled Beef Fillet with Bone Marrow Crust, Red Wine Shallot Sauce. Mains on the indulge menu range from R195 to R315, with desserts from R75 to R95.
Two wines and an amuse bouche down, we started with the first course. For me, an off-menu vegan dish of minted quinoa with basil granita, tomato and olive jelly and aubergine, and for the Mr, porcini consomme with ricotta ravioli. My dish was a visual feast, and a generous portion for starters. Fresh and fragrant from the herbs, it was also a celebration of texture – from icy granita, to chewy quinoa and soft jelly. The thought that went into this dish was greatly appreciated – I left only a few leaves behind.
Luke's dish was beautiful, but in contrast to mine, quite subtle in texture and flavour – with both ricotta and porcini mild on the palate.
With the clouds rolling in, and raindrops starting to trickle down, we enjoyed our palate cleanser of cherry and red wine sorbet, served with dark chocolate. The most beautiful plum colour, it was simply delicious. I was quite tempted to request another portion for dessert. The break in courses also gave us an opportunity to catch up on our wine consumption.
For our main course, Luke had the game, springbok, which came with vanilla carrots, almond crème fraîche potato and a port wine jus, while I had oyster mushrooms, with the same vanilla carrots and roasted beets, with a leek puree, beautiful pommes Anna and tenderstem broccoli. Both dishes were exceptional. After the first forkful of springbok, Luke closed his eyes from pure pleasure – while every element of my dish was just incredible.
Perfectly cooked oyster mushrooms with crisp, 'buttery' potatoes and roast vegetables that were so good, we ate the tops. I still don't know how Chef Edgar managed to create a vegan leek puree that was so delicious and decadent – but, I'll happily have this dish again and again.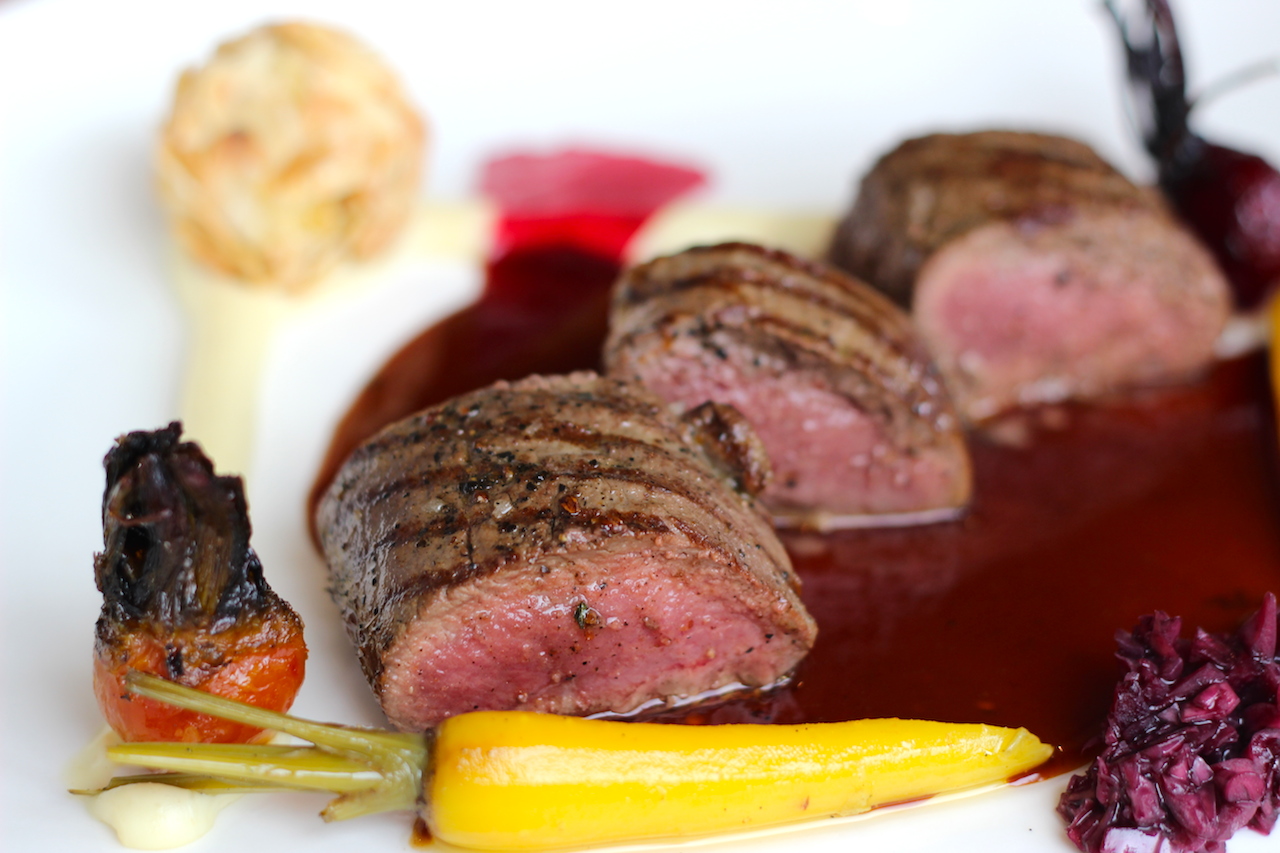 To end, Luke chose the famous Buitenverwachting Chocolate Variation, which comprised of  chocolate fondant, caramel ice cream in a chocolate cone, gianduja phyllo parcel, chocolate grand piano with crocante parfait, white chocolate mousse in baumkuchen and
orange parfait in milk chocolate ring. It was a classic, and perfect ending to his meal, living up to the indulgent theme of the menu.
My dessert was fresh fruit with plum sorbet. It was nice, but not amazing. Fair enough, the thought of vegan desserts can be intimidating, but for the first time in our meal, I envied Luke's dish.  Here's a little more vegan dessert inspiration.
It was an elegant and refined dining experience, with fantastic wines and both of us absolutely loving two out of three courses. I'd be keen to return and try the rustic menu, as it would be interesting to compare the dishes and prices points. Regardless, we'll be back.
We enjoyed our meal as guests of Buitenverwachting. All views and images are my own.