This past Sunday, we headed out to Hartenberg Wine Estate for the first time, to experience their new summer menus. Little did we know that they had a somewhat bigger celebration planned for us.
We discovered Hartenberg's wines almost two years ago, when they launched their Alchemy Range – which is still one of our absolute favourites when it comes to easy drinking value for money. We arrived at the estate, and easy 40 minute drive from the city, on a perfectly still spring morning. And yes, we started drinking wine at 10h00 – in hindsight, that could explain why I left barefoot, with shoes in hand.
We started in their informal tasting room, with a few of the estate's favourites and nibbles from their picnic menu – including sandwiches, quiches and a delightful Asian noodle salad. It was then that I discovered The Eleanor – the chardonnay that would be my downfall that day. I really did want to try the other wines, but I just couldn't tear myself away. However, Luke did indulge in some of their Riesling, which went down a treat.
Fed and hydrated, we went down into their underground cellar, where we saw wines-in-progress, and also into the private vinoteque, which filled all of us with serious wine envy.
I had honestly thought that that was the day done. But, not so. We were led down the garden path, so to speak, towards the most exquisite, Pinterest-worth table. We would later be told that this was also the launch of Hartenberg's new offering: The Celebration Table.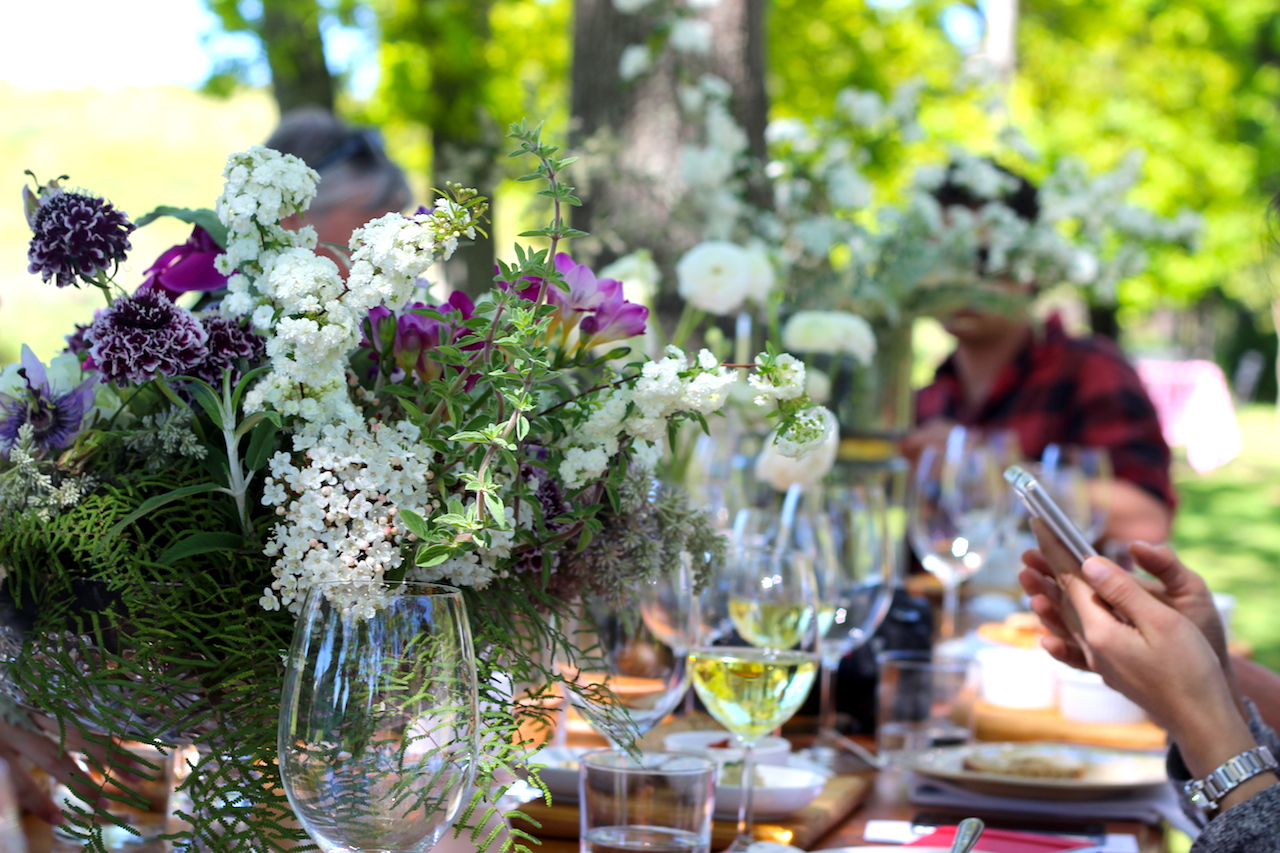 I was immediately filled with a sense of if-only-I'd-known-about-this-for-my-30th. It was simply breath-taking. Rambling flower arrangements flowed down the center of the table, with individual menus and rustic bread boards scattered in-between. Under a canopy of trees, there was also a chilled area of large cushions and blankets for those who couldn't bare to be upright any longer.
The Celebration Table costs between R360 and R560 per person, depending on the menu selection. It is suitable for between 10 and 25 guests, includes a selection of wines and fully decorated table.
If you have a baby or bridal shower, birthday, anniversary – or even an intimate wedding – coming up, I can't recommend this highly enough. Completely stress-free, all you need to do is book and arrive. For enquiries, email Johann.
Our table feasted on burgers and lamb, prawns and their famous snoek pate – accompanied by a selection of Hartenberg's finest wines. The Mr discovered their 2006 (!) Gravel Hill Shiraz and couldn't stop fawning. As for me, I only had eyes for Eleanor. A day spent with lovely people, great food and even better wine – I might have looked at it as a little private, personal birthday party.
Note: We enjoyed our day as guests of Hartenberg. All images and views are my own.