Last week we enjoyed a rather impromptu dinner at La Belle at The Alphen Hotel in Constantia. Having dined at 5 Rooms rather recently, we were keen to see the more 'casual' bistro on the property.
Before I get into the food – it is fantastic having such a lovely restaurant so close to home (Kenilworth to Constantia). After finishing work at 17h00, we had ordered, enjoyed a two course meal and paid by 18h30. Some nights you want to linger, but on others it's quite the luxury to be home by 19h00 and still have a whole evening ahead of you.
La Belle is a bakery and bistro – a little oasis of deliciousness under the green leaves of the Alphen Hotel. Open for breakfast, lunch and dinner – you find locals here on a weekend morning buying fresh pastries and treats for the day – also giving restaurant diners the option of ordering 'off menu' when it comes to dessert (which is exactly what we did).
We started with wine (if that's not a name for another blog, I don't know what is) – a Buiten Blanc for me and the ever-lovely Cecily Viognier from Beau Constantia for the Mr and munched on fresh bread and heart-shaped butter while simply enjoying the 'quiet'.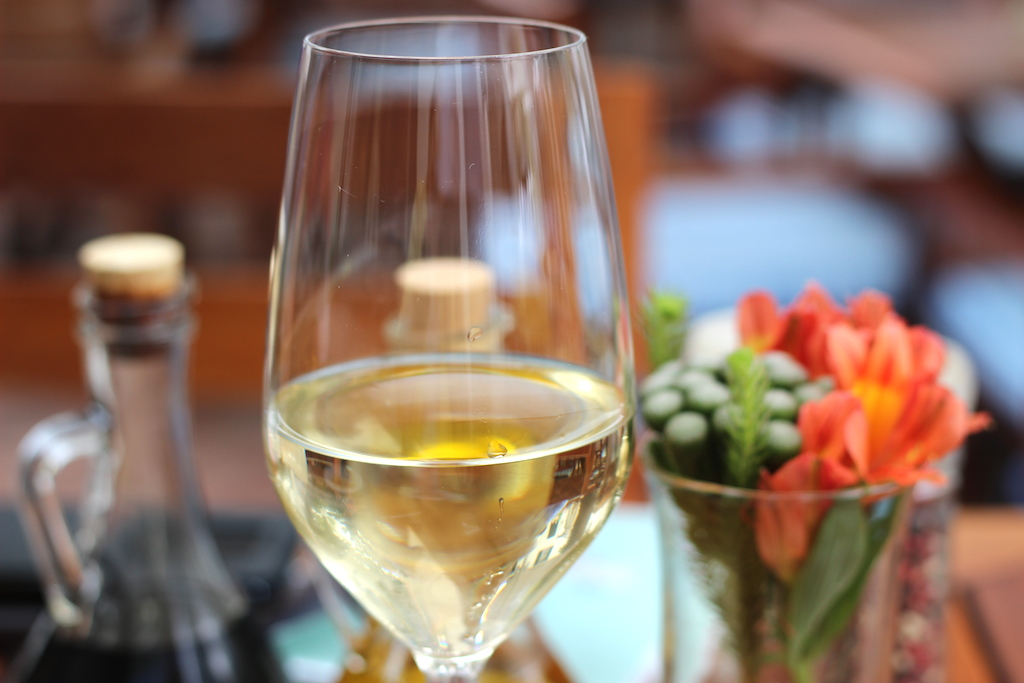 We decided not to be gluttons and went straight for mains – ignoring the starters – although, if you want to indulge, the mushroom tortellini and chicken livers did catch my eye. A little out of character, I chose the gnocchi – served with goat's cheese, Prosciutto, peas and mint. I say 'out of character' because if I do order gnocchi, it's normally dripping in blue cheese – so the goat's cheese was a leap of faith for me.
The Mr chose the burger – with avocado, crispy onions, rocket, mushroom sauce and skinny fries. As the avo delivery of the day didn't, well, deliver – the Mr was allowed to choose another topping, and went for the brie.
I generally do a blow-by-blow account of every meal via Instagram – and goodness, the reaction that this burger received! And, yes – it was a good burger. A very good burger – but I do think that my gnocchi won this round comprehensively.
Just enough, just thick enough goat's cheese sauce, with cutest Prosciutto bows, with peas and fragrant mint – I was honestly surprised at how delicious this dish was. We will go back – and I will undoubtedly order it again. I feel I need to stick up for this dish more – only because the Mr's burger received more Instagram-love – when mine was clearly the better dish. Really – don't take my word for it – at R120, it is likely the best money you'll spend all week.
While there is a dessert menu, we both ordered from the deli – a salted caramel tart for me (R45) and a flourless chocolate torte for the Mr. Mine was, well, goodness. Sticky, salty, sweet – topped with gold hazelnuts and aerated white chocolate, I made it half way through before having to admit defeat and ask to take it away.
I was so sweeted-out that I didn't even have a spoon of the Mr's torte (a rare occurrence for me), but he assured me that it wasn't too sweet, was delightfully dense and fudgy – and the perfect match for the espresso he ordered.
If you are looking for the perfect balance of sophistication and laid-back elegance, combined with a bill that won't leave you weeping – then La Belle should be on your hit list. It is definitely at the top of ours – and we will be returning soon. That gnocchi has me wrapped around it's little Prosciutto-wrapped finger.
We enjoyed our meal as guests of La Belle. All views and images are my own. 
kove collection