Part excuse for beating the after-work traffic, and part excuse for indulging in an evening filled with Italian comfort food, we recently popped into the newly-opened Lupa Osteria at the V &A Waterfront for dinner.
Popular in Joburg, this is the first outlet in Cape Town – and had only been open for three weeks by the time we went for dinner. Situated in the Clock Tower Precinct, facing the swing bring, it benefits from great views, and come summer, we're sure great foot traffic, too.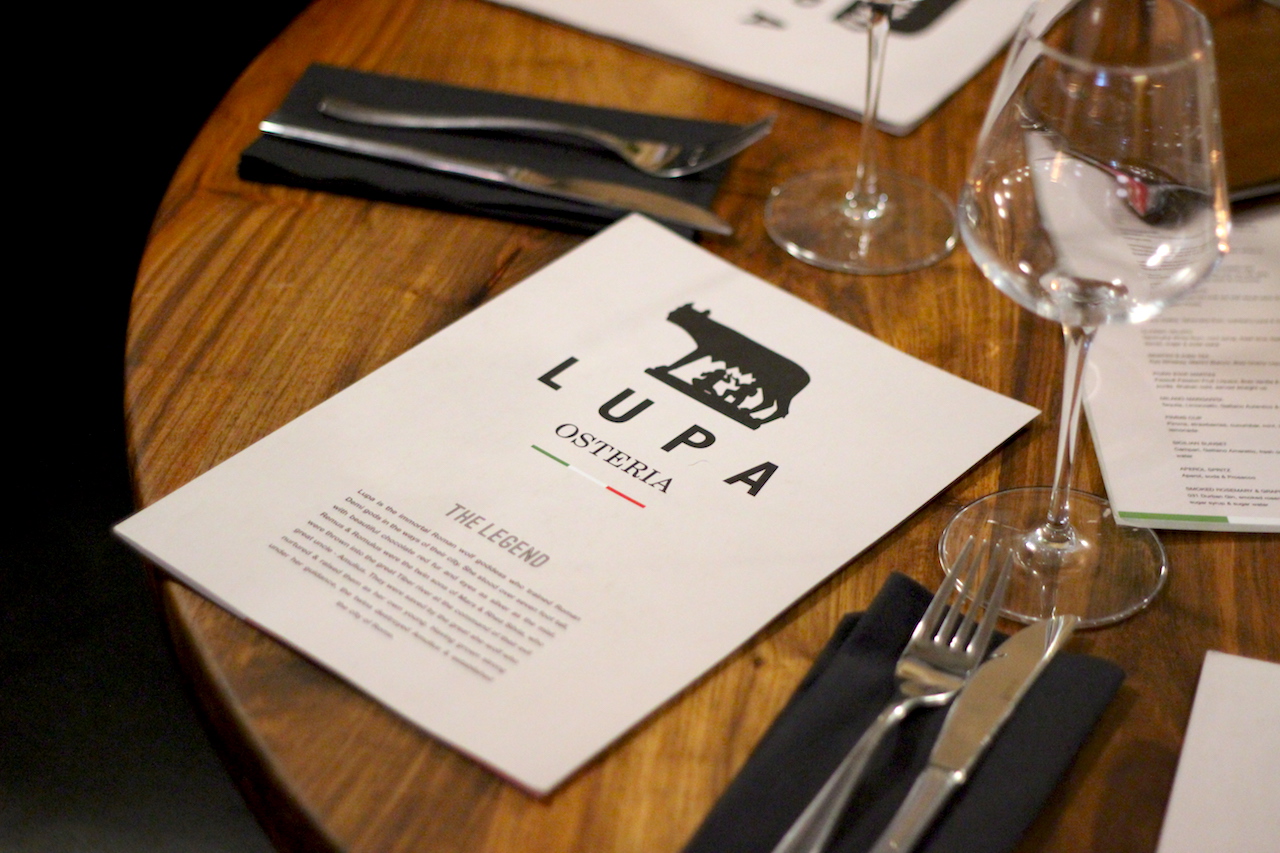 As we visited on a drizzly winter evening, we chose to sit inside and benefitted from the cosy, family-style interior – while we watched those outside enjoy the last of their afterwork cocktails under the awning, warmed both by the alcohol and gas heaters (although, given the strength of their limoncello, I feel it was mainly the alcohol doing the work here).
The team is new, nervous and very eager to please – so we were very well looked after during our meal. We started with their grilled artichoke, with anchovy and Parmesan gremolata, as well as the arancini. The latter was a bit of a risky choice, as I'd only ever had dry, crumbly arancini before – but, these were truly fantastic. Crispy, and filled with soft risotto and melted cheese inside, it was the epitome of delicious comfort food and something I could find myself craving often.
The artichokes were well-cooked, tasty and zesty – the perfect counterpart to the richness of the arancini. And yes, we were patting ourselves on the back for our fantastic starter choices. To go with our meal, we ordered two carafes of wine – a Chardonnay and Sangiovese, both from Anthonij Rupert. I spotted Aperol Spritz on the menu, something I had been wanting to try, but never got around to – so, added that to the mix too. Fresh, zesty and not as bitter as I was expecting, I'd definitely keep an eye out for it on more menus towards summer.
The menu is filled with Italian favourites – antipasti, pizza, pasta and grills, so we were a little spoiled for choice. Deciding against pizza, it was the seafood that caught our attention – with my partner choosing the Pretzel-dusted calamari with chips, and I going for the oven-roasted kingklip with zucchini fries. Cooked in the second pizza oven, my dish was fantastic, a generous portion and delicious, while Katy almost managed to finish hers (I have a feeling that lunch the next day was above-average).
As the team were over-eager to impress, we had a smallish portion of their mushroom panzerotti sent over, set on a bed of wilted spinach. With a fresh grinding of salt and pepper, it was really, really good. Well-cooked, fresh pasta, creamy mushrooms with garlic spinach underneath, if you're looking for a meal to cosy up with this winter, we've found it.
The furthest from hungry, with leftovers already earmarked for tomorrow's lunch, apparently desserts were not optional. Trying our luck once again, after the success of the arancini, we hedged our bets on the crème brûlée and pistachio gelato. The crème brûlée was a solid 7.5 out of 10 – silly smooth, good crack and hit of vanilla, but could have just been a little more set. The gelato was good, another large portion, but, it was the crème brûlée that won the dessert around.
So, overall verdict? Offering delicious, flavourful food – from somewhat refined line fish to comfort food for any day of the week – I see it becoming a popular spot in the area, from after work drinks and dinners to family-friendly food on the weekends. Recommended.
Don't take my word for it – read Katy, my dining partner's review on Food24, here.
We enjoyed our meal as guests of Lupa Osteria. All views and images are my own.