I admit, this blog post has been sitting in my drafts folder for longer than I'd like. I suppose that's often how it goes with trying to document exceptional experiences.
You go into them, knowing that you will never be able to quite fully do it justice, and are essentially just setting yourself up for failure of sorts. The task then seems insurmountable, you put it off…and, here we are, almost two months later, writing about our April anniversary meal at La Colombe, in June.
I'm not going to take you through every element, every course – partly because the menu will likely change quite a bit after their winter closing, but mostly because dining at La Colombe is about so much more than simply the food. At more than one stage during our meal – as has become customary – we'd simply stop and just take a minute to appreciate the utter perfection all around us, holding each other's gaze, giggling from pure joy or mouthing "wow" to each other. From the views to the exceptional wine and the incredible team looking after us, I'm going to through an annoying cliche in here and say that it truly is more experience than simple meal.
And yes, if you've ever asked me, I will always, always say that La Colombe is consistently the best meal of my life, and, our latest experience was no different.
Let's get into the highlights, shall we?
Starting with a local MCC with the bread service, it was the fine shavings of salsa verde butter that stole the show for me – although the colour of Luke's spiced pork lard butter was as visually appealing. It was also a bit of an "oh, we're back – and we forgot how good La Colombe is at absolutely everything". What prompted this moment? The steaming round of sourdough and delicious butter helped, but more specifically, the little linen lining that had been specially made to fit the stone dish the bread was served in. The attention to detail is just astounding.
Sourdough, Spiced Pork Lard, Salsa Verde
Tuna 'La Colombe'
This was followed by the legendary "tuna La Colombe" – which, I stand to be corrected, has been on the menu since the move to Silvermist. Chef James tried to take it off the menu, but it was brought back quickly after this decision thanks to a near-riot from guests. It remains, for good reason. A work of art, down to the finest detail – the vegetarian version tends to alternates between corn and mushroom as the hero ingredient, and is just as delicious.
Mozambican Langoustine, Snoek Dressing, Coriander and Sweet Potato
Korean Style Wagyu Tataki, Dukkah, Romesco, Hoisin
Vegetable Chawanmushi, Celeriac Puree, Summer Vegetables, Baby Gem Lettuce, Coriander Veloute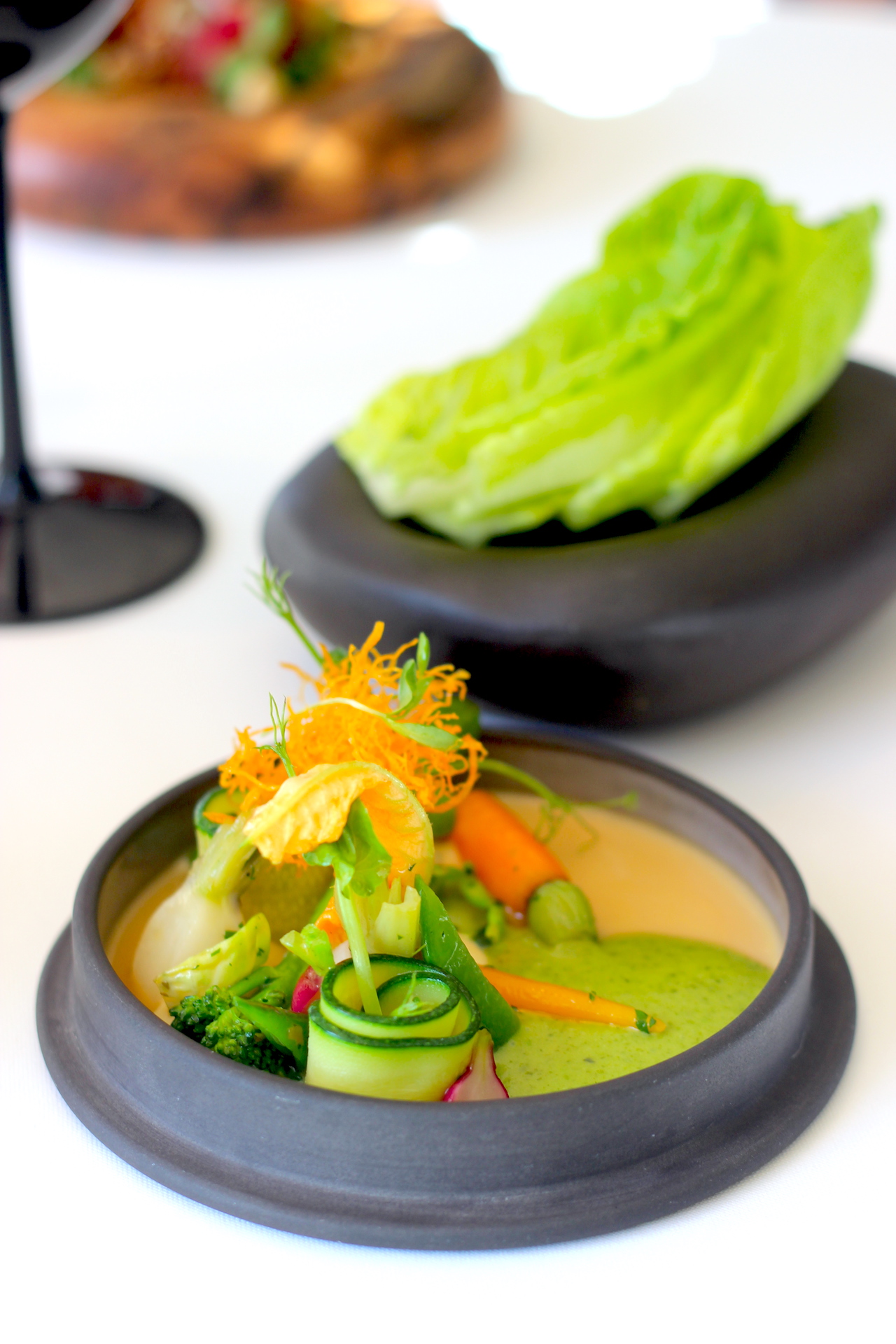 A flurry of dishes followed, of which the vegetable chawanmushi – a Japanese steamed egg custard – was my highlight. Smooth and rich, sweet and savoury, it was topped with the most delicate assortment of vegetables and served with baby lettuce leaves on the side, to help you scoop every last drop of custard out from the corners of the dish.
Taking a break from our feast, we were treated to a little table side blind wine-tasting, courtesy of extraordinary sommelier, Joseph Dhafana. Served in two black Riedel glasses, we sipped and sniffed our way to our guesses on the wine contained inside. We got the basics right – Luke, red and me, white – but, after that…let's just say that's as far as we went. To be fair, he did present us with two incredible wines – both from Rijk's: A 2010 Estate Syrah (which Luke guessed to be something along the lines of a Merlot), and a 2013 Cape Winemakers Guild Chenin Blanc, by Pierre Wahl (the nose threw me of this, slightly dry and very fruity, I was half-guessing a Gewürztraminer, but it lacked the litchi nose).
Seared Scallop, Glazed Sous Vide Pork Belly, Sweetcorn, Spiced Coconut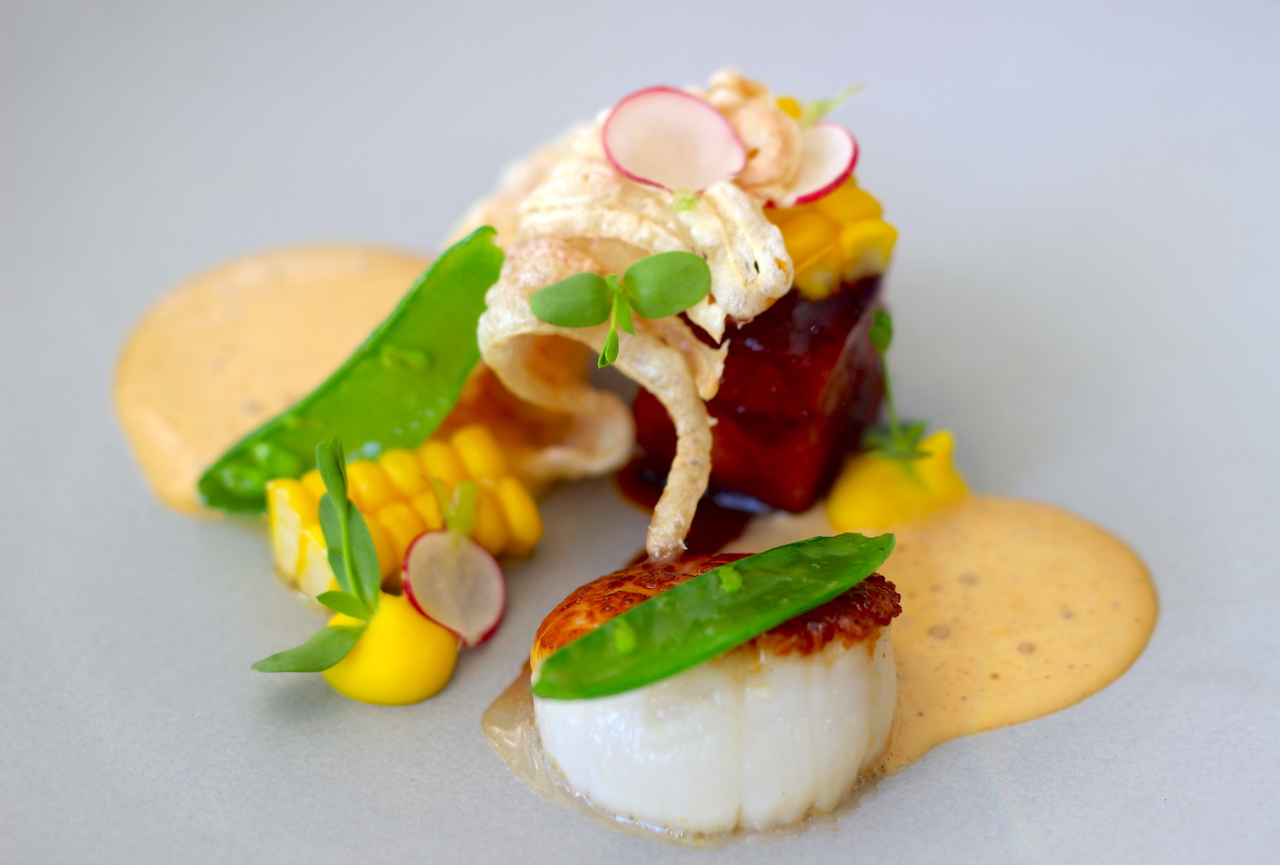 After discovering how little we actually knew about wine, even with Joseph's kind guidance, we were back in the hands of Chef James, as our feast continued – resuming our seemingly endless journey of flavour with a scallop and pork belly dish (minus the pork belly for me), which quickly became a standout dish of our meal. With fragrant coconut and sweet corn alongside the most perfectly cook scallops, it was elegant while also being packed with flavour.
Saffron Cannelloni, Swiss Chard, Smoked Sweet Potato, Beurre Noisette, Salsa Verde
Lamb Loin, Braised Neck, Tenderstem Broccoli, Turnip, Pickled Red Onion,Smoked Garlic
Linefish, Mussel and Tarragon Velouté
Even though we were nearing the end of our meal, there was still time for me to add another standout dish to my list – the line fish with tarragon and mussel velouté, the final savoury course and fitting climax, at this point.
I'm quite sure we were the last lunch diners at this point, considering we met team members arriving for the evening shift as we made our way to the parking lot afterwards – so, we got chatting to the team who had looked after us so well for the preceding hours, forgetting about the ice cream melting in front of me. Dessert had arrived, and was enjoyed in between mouthfuls of conversation – the cheese course for Luke, and the white chocolate and pineapple option for me. Both were sophisticated, complex dishes, as we have come to expect – I mean, I could have happily just swam in a puddle of plain milk chocolate at this stage, so I'm glad that the team didn't listen to my childish whims and secretly knew how best to end the meal.
Boerenkaas, Peach, Beurre Noisette And Tonka Bean, Pecan Nut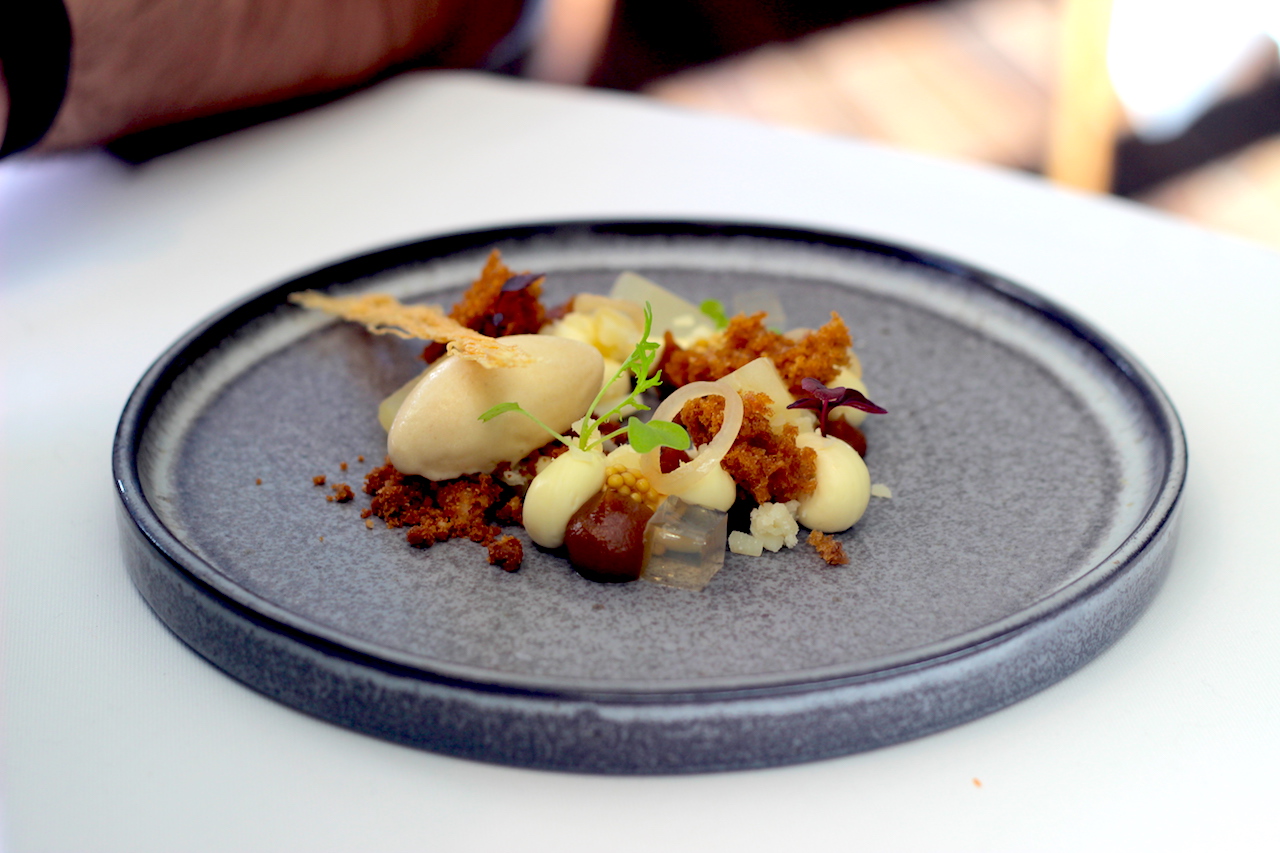 Roasted Ivoire Namelaka, Pineapple, Chamomile, Sesame, Honeycomb
Thank you to Chef James, Josh (Baby Gem!) and the entire team at La Colombe for the most perfect afternoon. We can't wait to celebrate with you again.
You can read our annual reviews of La Colombe here, for the past three years or so.
Winter special
Enjoy 4 courses for R465 per person, valid weekdays until 31 August 2018. Get all the details and book here.
La Colombe will be closed for renovations until the 15th July 2018.
We paid for our meal, a review was not expected or requested. All views and images are my own.
la colombe