I have the most temperamental skin.
I adore skincare and wish I could test and try to my heart's content, but the truth is, any innocent-looking product can set of an allergic reaction. I discovered this unfortunate fact about three years ago, when testing a facial peel at a beauty salon to review, here. It all went well, until 12 hours later I started developing bumps on my face. Over the period of five days, these became red, weeping blisters on a swollen, painful face. A trip to the dermatologist, prescription cortisone cream, a round of corticosteroids and rather painful recovery later, I vowed never to experiment again.
I've had two bad skincare reactions since – and thankfully had the medication on hand before it reached such bad levels again – but, it has made me absolutely paranoid about what I put on my skin.
So, you can imagine my absolute joy to have found The Skin Creamery. I've been eyeing the brand for a few weeks – locally made, luxurious skincare that's also cruelty-free and mostly organic – I was in love with the concept, but too scared to try it…just in case. I explained my fears to their team, who kindly sent me a few samples to try, before I committed to purchasing the full-size products. I can now happily say, with confidence – that both my skin and I adore them. Here are my thoughts on the three products I tried.

Baobab Bentonite Buchu Cleansing Powder
A fine powder that you mix with water (or, the oil-to-milk cleanser I mention below), it's a blend of Calcium Bentonite, Baobab fruit powder and Buchu, mixed with micro granules of macadamia nut shells that gently – but, effectively – buff and smooth the skin. The powder is fine, but still effective, as I could feel an immediate difference in my skin's texture after using it. Remember the days we used to use abrasive face washes with those giant particles of plastic in them to "exfoliate"?  You can read about the active properties of each ingredient in more detail, here.
Oil To Milk Cleanser
In an aim to deal with my sensitive skin, I've dialed my routine back to absolute basics – which has involved cleansing with a simple hot cloth, followed by micellar water. However, I was keen to add something more luxurious and nourishing to my routine as a treat – and, this is absolutely it. This oil cleanser gently nourishes skin, while effectively removing every last trace of impurities and makeup. After you've massaged it into your skin, add warm water to emulsify and rinse. It's a beautiful, luxurious product – and one that will become a permanent addition to my skincare regime.
Facial Hydrating Oil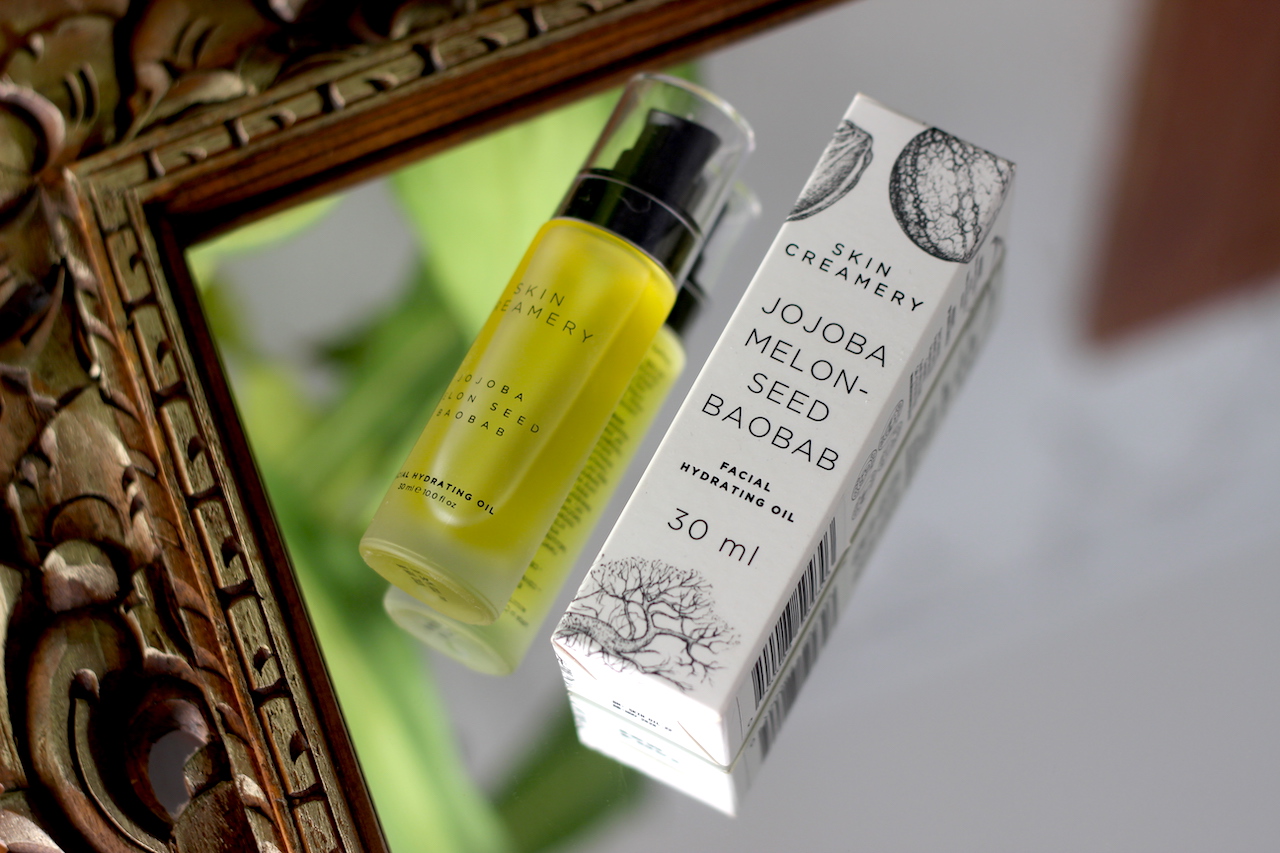 Oh my goodness, what an absolute gem of a product. Before it even touches your skin, you're greeted with the incredible scent of rose geranium, which is honestly reason enough to use this product. Then, there's the texture – it's a silky, luxurious oil – add two drops of water to the palm of your hand, add two drops of oil, and smooth over your skin. I use it every night and it's instantly become the favourite part of my skincare routine, using the application as an excuse for a little facial massage, too. The oil is a blend of jojoba, baobab and Kalahari melon seed and absorbs quickly into your skin, while the scent lingers subtly. Again, it's another absolutely-won't-and-can't-live-without-it product and one I will continue to use indefinitely.
The Skin Creamery delivers nationwide.
I received two products to trial on my skin at no cost. All views and images are my own.