I'm not an outdoorsy person. I've never been up Lion's Head or Table Mountain, and recently made only my second visit to Newlands Forest. I'd pick heels over hiking boots any day – however, when I was told there would be food involved, I quickly changed my mind.
The aim of our morning? To understand the basics of mushroom foraging and see what bounty awaited us in our own back yard, so to speak. Our group was led by experienced mushroom forager, Justin Williams and renowned forager and expert-on-all-things-wild-and-edible, Roushanna Gray of Veld and Sea.
We met at Newlands Forest, still shrouded in mist, and started with a brief introduction to everyone's favourite fungi from Justin, before heading up the stone path to the pine forest.
During our forage we spotted a large Shaggy Parasol (image directly above) and many Blusher Mushrooms. However, due to the latter being very similar to the deadly poisonous Panther Cap, we left well alone. Side note: We spotted a few Panther Caps in the forest. We always erred on the side of caution, and followed Justin's wise words of "if in doubt, throw it out". Always be 100% sure of what you are picking.
Being sensible, there are a few tell-tale signs that will immediately let you know what not to pick – i.e. white gills are generally a bad sign. We also quickly learned which two mushrooms we were mostly likely to find, and how to identify them. The same mushrooms tended to pop up a few times, we could "get our eye in", so to speak.
Justin shared his knowledge as we walked, explaining which mushrooms needed to be cut, and which needed to be pulled, and how to minimize damage to the surrounding areas and ensure maximum future mushroom growth. Handy hint: When foraging, use a basket, so mycelium can fall back to earth and grow.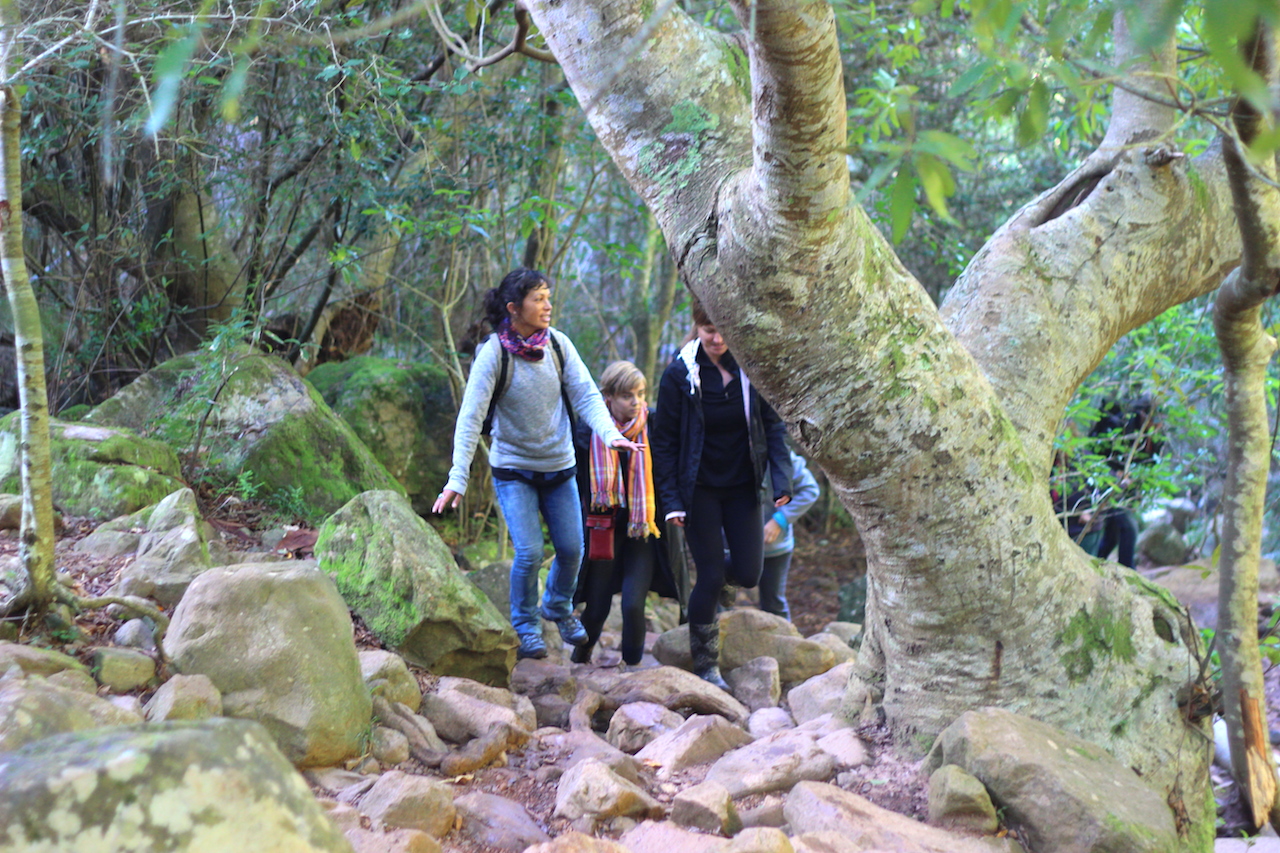 The two main kinds of mushrooms we found were the Bay Bolete (below, left) and Porcini (below, right). As Bay Bolete bruises with a blue-ish tinge, it didn't look like the most tempting variety, but Justin assured us that it was still a prized edible. Trusting that we weren't being sent to sudden death, we dutifully accepted our brown paper packets, filled with fungi bounty to be cooked at home.
When cutting both mushrooms vertically, you'll notice a yellow-ish sponge under the caps. This is edible, but after Justin described it as having a slight scrambled-egg flavour, we decided to discard this part before cooking. We enjoyed our 'shrooms pan-fried with garlic, layered on toast with avocado, spring onion and a dash of lemon juice. The mushrooms were very delicate and buttery in texture, with a cumulative flavour that intensified over time. Nowhere near the button mushrooms we're used to from our supermarket shelves.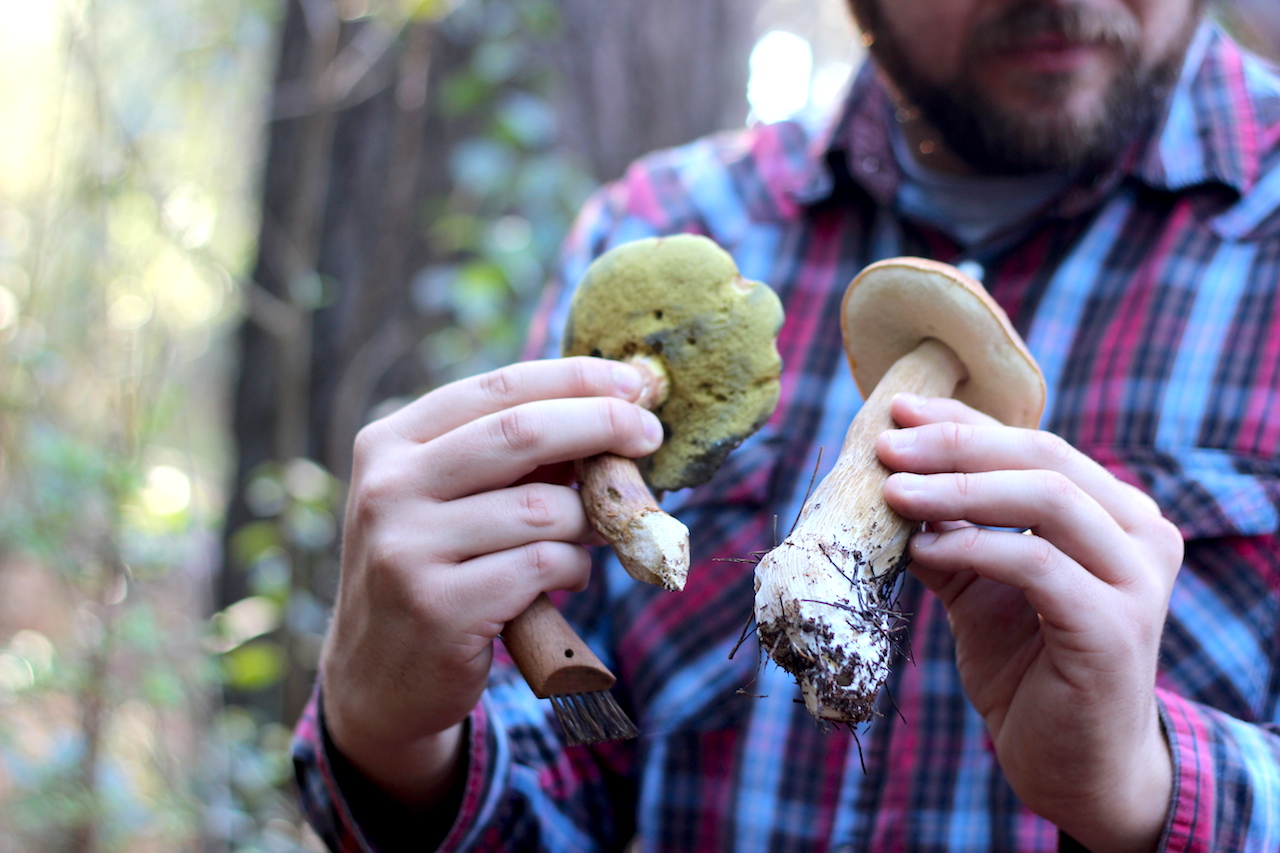 Soon, the foraging becomes an addiction. With a few porcinis found among the group, we were off with sticks, gently uncovering mounds of pine needles on the forest floor, in the hope of finding a gem to add to our bounty.
What perhaps surprised me most about our little fungi friends is how quickly they grow – with Justin estimating that most of what we found had popped up in the last 12 – 24 hours. It takes a normal button mushroom just sixteen more hours to become a large, brown mushroom. The rate of growth is incredible – which means every day foraging will be different, and unexpected. To better your chances of finding mushrooms, go on a warm day, just after it's rained. We were in the forest at 09h00, and could already see that a few foragers had been before us. The early bird catches the mushroom worm.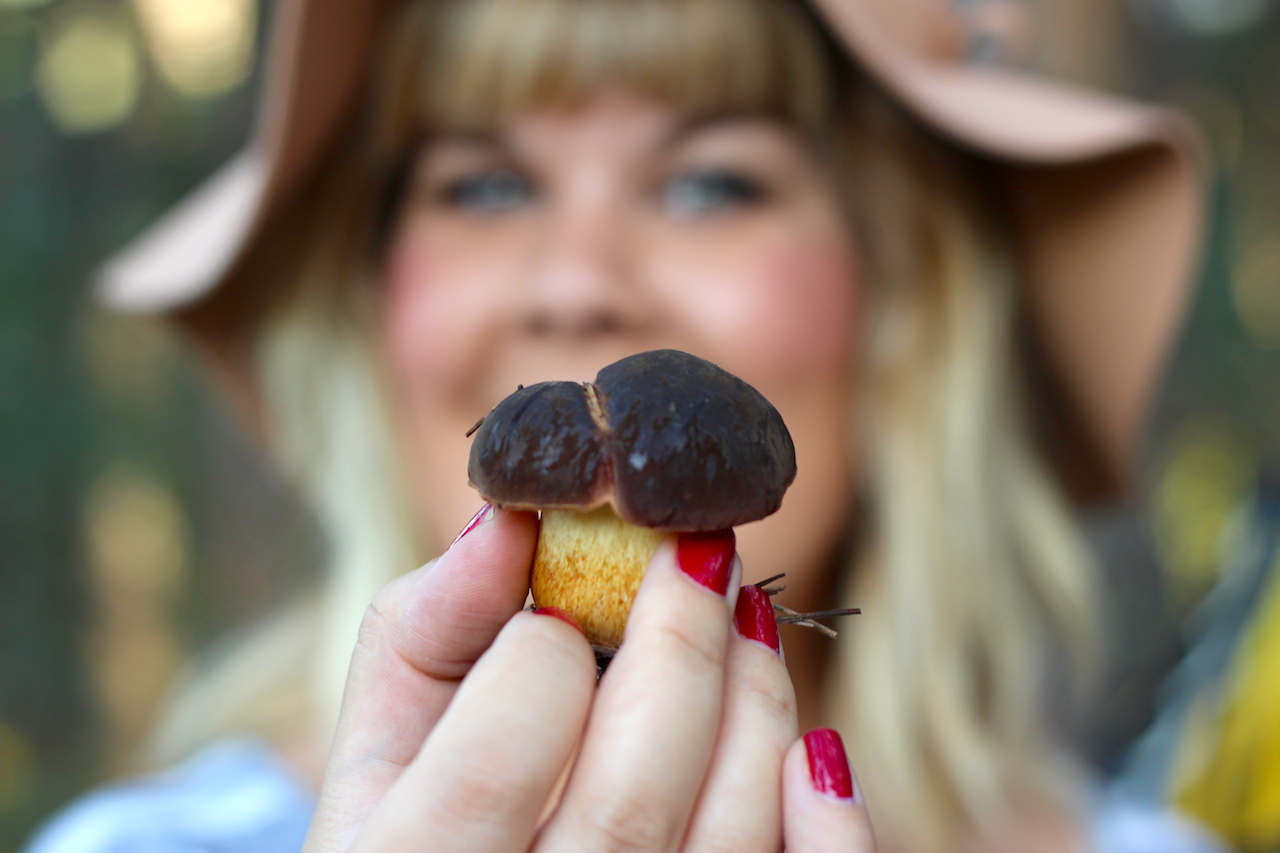 After over three hours of forest wandering, and a basket almost filled with fungi goodness, we headed back down the path to a foraged feast, prepared by Roushanna. Starting with a 'tea' made from kelp, honey bush, turkey tail mushrooms and honey, we moved on to a delicious, filling mushroom and kelp broth. After almost four hours in the forest, filled with fresh air, I couldn't have felt healthier in that moment. This was accompanied by sourdough and ciabatta, topped with an incredible porcini and roasted aubergine pate, thinly sliced radishes and fresh herbs and flowers.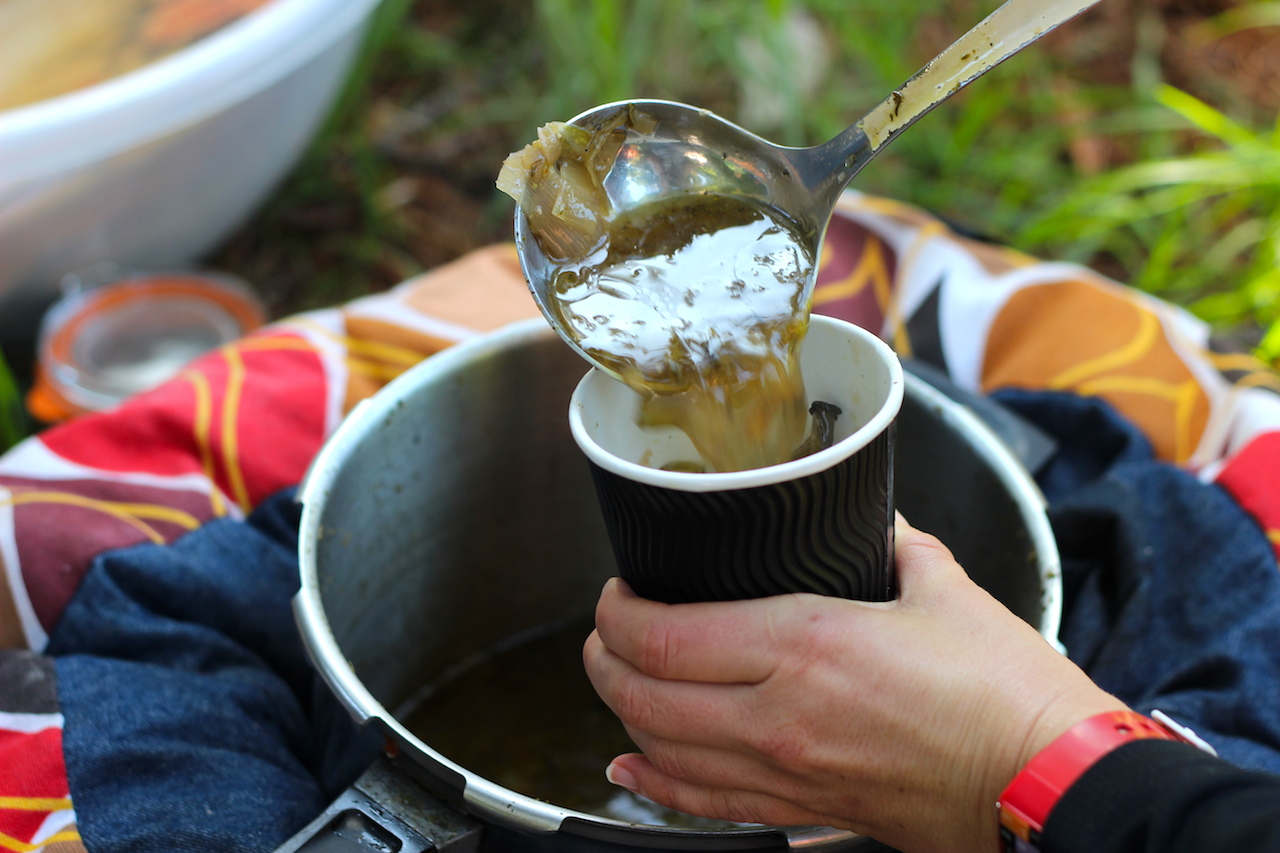 The feasting ended with double chocolate truffle brownies, and sighs of pleasure from the group.
Keen on foraging? Mushroom foraging permits can be obtained at the SANParks Conservation Office in Newlands. They are valid for three months, and allow each permit holder to collect up to one basket per week. Foraging for the first few times can be intimidating, and I'd recommend going with an experienced forager first. Visit Justin's website for tips.
We enjoyed our foraging experience as guests of Veld and Sea. All images and views are my own.