Last month saw us celebrating our three year wedding anniversary. Not feeling nearly grown up enough for this, we escaped reality and headed for the Radisson Blu Hotel, just outside the Waterfront.
While our big day, back in 2013, was a perfectly mild autumn day, we checked into the Radisson under a shroud of mist and drizzle, which would only worsen over the next few hours. More romantic cuddle-under-the-covers weather, than long-walks-down-the-pier, we embraced the arrival of autumn.
Our room was an ocean-facing Business Class Suite – and one of the loveliest traditional hotel rooms we've stayed in. A large lounge area overlooked the small yacht mooring, allowing us views over the moody ocean, and a balcony from which we could gather lungs full of fresh ocean air. Our intention was to sleep with the door open, but not even the lure of ocean air could make up for the chill and dense mist that escaped from the water.
The bedroom leads off the passage, via a closing door, but is mostly open plan to the lounge, and then balcony. Full-length shutters add extra coziness and privacy, if needed.
We spent the afternoon catching up on a few movies on the couch, braving the balcony every few minutes for a breath of fresh open air. The suite is large, and very comfortable. A Nespresso machine ensures decent coffee, without having to bother room service, and a  fully-stocked minibar means that every movie-munchie-eventuality is catered for.
We pried ourselves away from the comfort of our couch, hastily throwing off blankets and putting our shoes back on, before making our way downstairs for dinner.
Luke had carpaccio to start, which came with balls of goat's cheese, pickled red onion and a mustard mayo. Over the years we've noticed that carpaccio is quite a subjective dish, with almost everyone having their particular preference, and every chef putting their own spin on it. Luke commented that this was one of the best he'd had, and a generous portion for a starter.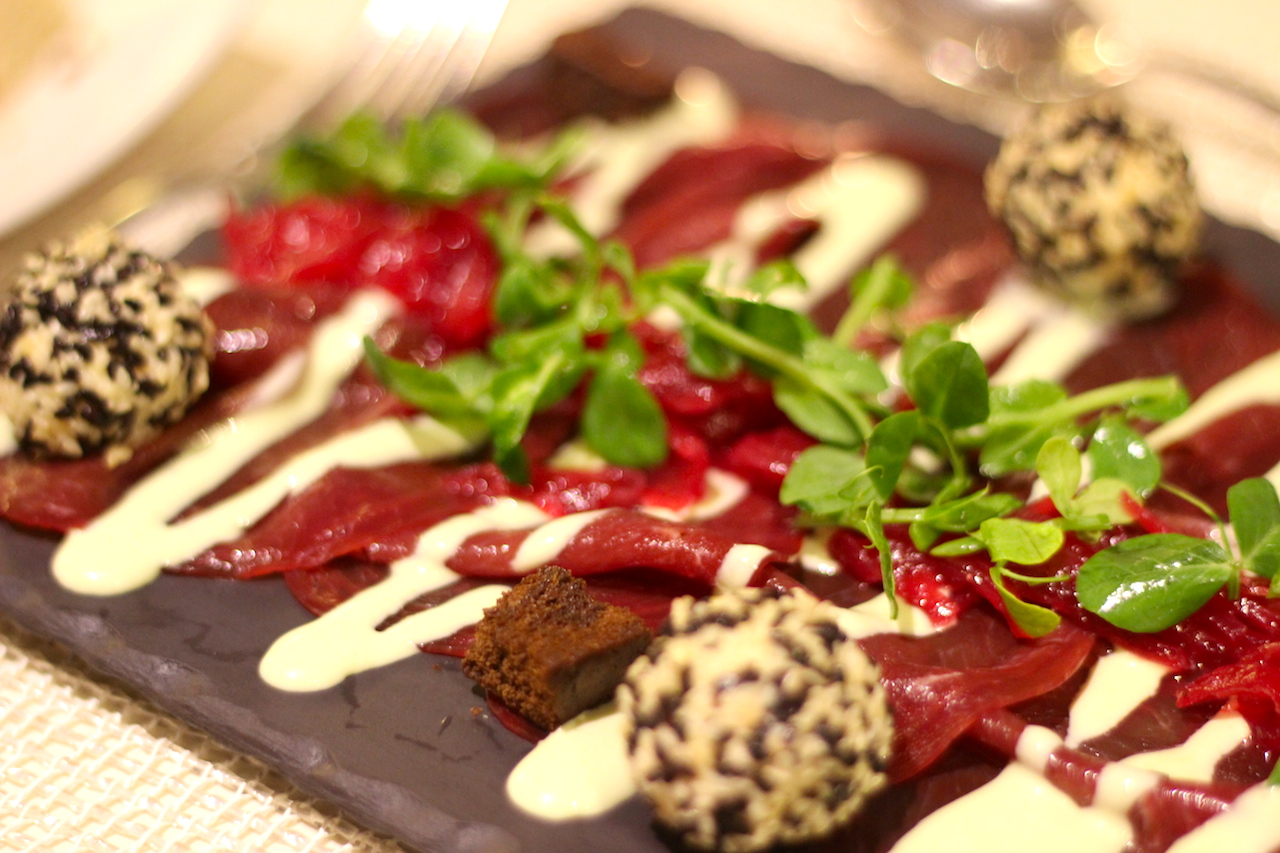 It had been quite a busy week for me, and I'd completely forgotten to warn the restaurant about my vegan dining requirement. In hindsight, I had no reason to worry.
Flipping through the menu, I noticed quite a few dishes that could easily be adapted to my needs. Given the inclement weather outside, curry was a clear winner. Our waitress kindly brought the chef to our table, and after a brief chat, dinner was sorted. The coconut paneer curry would simply have the cheese removed, and extra vegetables added. Easy and oh-so-delicious. Arriving in three bowls, with sambals, portions are deceptively large – I didn't have a starter, and barely managed to finish mine.
The Mr ordered the chicken and prawn curry, which was also a large portion. We were pleased to note that there was more than one token prawn included in the dish, with Luke going on to comment that the flavour of the seafood was well-maintained and not lost in the dish.
Filled with curry and red wine, neither of us could face the thought of dessert. Heading back up to our suite, it was a case of hot, steaming showers, before closing the black-out curtains, snuggling into bed and seeing what movie was showing. I'm not ashamed to admit that we were asleep before 22h00.
Waking early, to a world still shrouded in mist, we headed downstairs to breakfast. For such a large hotel, I loved the personality they injected into the breakfast buffet – with strands of wheat and reused grain packets as both decorative and practical elements, along with a DIY orange-juice station.
The Mr gave eggs and sausages a miss, and instead feasted on chunks of hot, smoked salmon, soft goat's cheese and croissants. After a quick word with the manager on duty,  I asked for avocado and tomato on toast, if possible. It was brought to our table within minutes. After adding some fried mushrooms, red onion and lemon from the buffet, I was more than satisfied.
I also loved that they had soy milk on offer – which resulted in one of the best soy cappuccinos I've ever had.
After eating our fill, we went back to our room to pack and complete a seamless check-out. We were home within 30 minutes, allowing us to relax and unpack, before facing the thought of a work day. If you're looking for a central stay cation, I'd highly recommend this hotel.
Note: We enjoyed our stay as guests of the Radisson Blu Waterfront. All images and views are my own.
radisson