Last month I received an invitation to attend a VIP experience in the Constantia Winelands. With not much more detail than that (other than to not wear heels), I took a day's leave and prepared for a day of adventure.
After being collected from home in an Uber, we were delivered to Silvermist Wine Estate. Perched at the top of Constantia Nek, and home to the new La Colombe Restaurant, it was the first time I'd visited. To be honest, I did a little sleuthing following the initial email correspondence about our 'adventure day', and realised that they day would begin with zip lining high above the estate. I had already made my mind up not to do it – me and heights don't get along well. To be fair, we were offered cappuccinos upon arrival, but soon afterwards we were hit with the truth : we'd soon be suspended by a cord, hurtling across the valley. I still hesitated when signing the indemnity forms, but blame it on a superior cup of coffee or simply adrenalin, I signed. I was in (and soon, in a harness).
Up, up, and up in a open jeep we went to the first line. I admit, the nervous laughter was at an all-time high. Out of of our group of five intrepid explorers, I went second last. We received a safety briefing – mostly on how to stop – and then off we went. I was snapped in, was showed how not to lose a finger, and went flying across the valley. A note : stopping is harder than it seems (relying on your hand to press down on the zipline). I didn't quite get the hang of this, which resulted in me spinning slightly, before coming to a halt about 10m from the end of the line. There were also many, many expletives used during this time, but I was grateful to have stopped and not become bug splatter on the wall.
The thing with zip lining – you have to commit somewhat. You can't only do one line – as you are then stranded on the opposite side of the valley. If you're in for one, you're in for two. As unenthusiastic as I was to do this again, the second line was much nicer than the first – mainly due to you slowing down naturally due to the slackness and angle of the line. However, two was enough for me. While two of our party went on to complete all seven lines, the female component hightailed it back down to the restaurant and started on the (much-deserved) bubbly.
After this, (thanks, SA Forest Adventures),  and more bubbly to calm our nerves, we were treated to a wine and canapé pairing. As Silvermist produces a limited range, this included wine from Klein Constantia (their KC Rose 2014), which was paired with a Lentil Bobotie Springroll, the Silvermist Sauvignon Blanc 2014, paired with a camembert burger (no beef for me), and the Groot Constantia Rood 2012, which was paired with a fudgy chocolate brownie. The  Lentil Bobotie Springroll was the standout dish for me – again, as a new vegetarian, I am easily impressed, but it was delicious, well-spiced and served with a perfectly sweet relish. Would happily have many more of those. The brownie and Rood combination was my favourite pairing – the brownie slightly more caramel than expected, but working oh-so-well.
From Silvermist, we were collected by Constantia Wine Tours – who would be our inter-estate transport for the day, and shuttled off to Klein Constantia. Needing little introduction, we were greeted by winemaker Matt Day, who gave us a brief map session and the lay of the land, before hopping onto the back of a bakkie and heading towards the top of the estate. Passing two dams, a family of pigs and what will soon be an expansive vegetable garden, we stopped on a deck overlooking the estate, before enjoying some of the local brut MCC.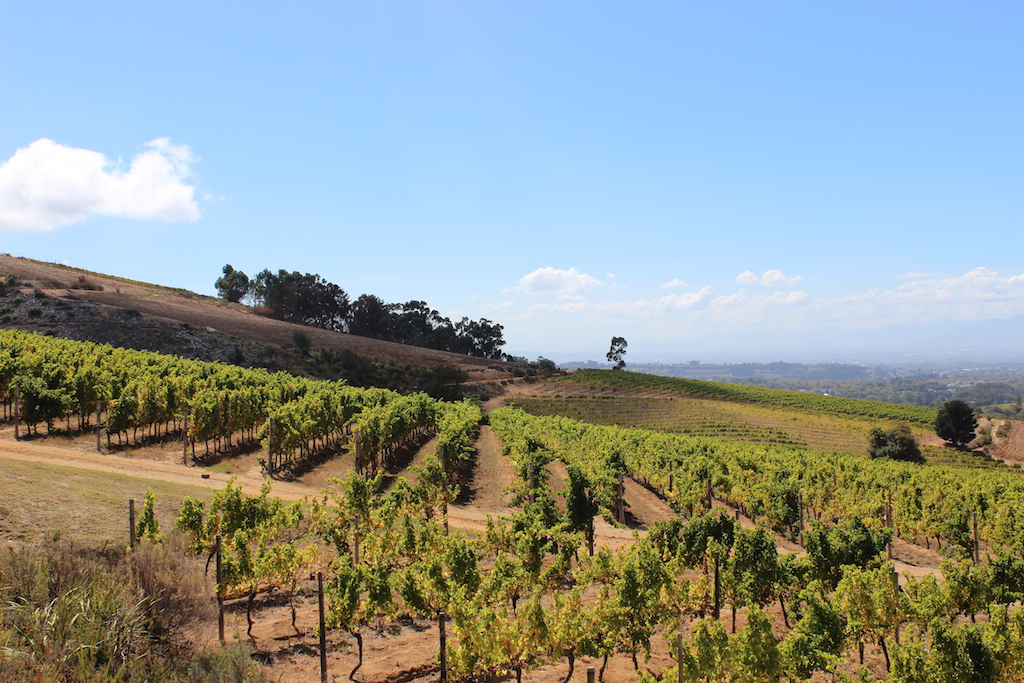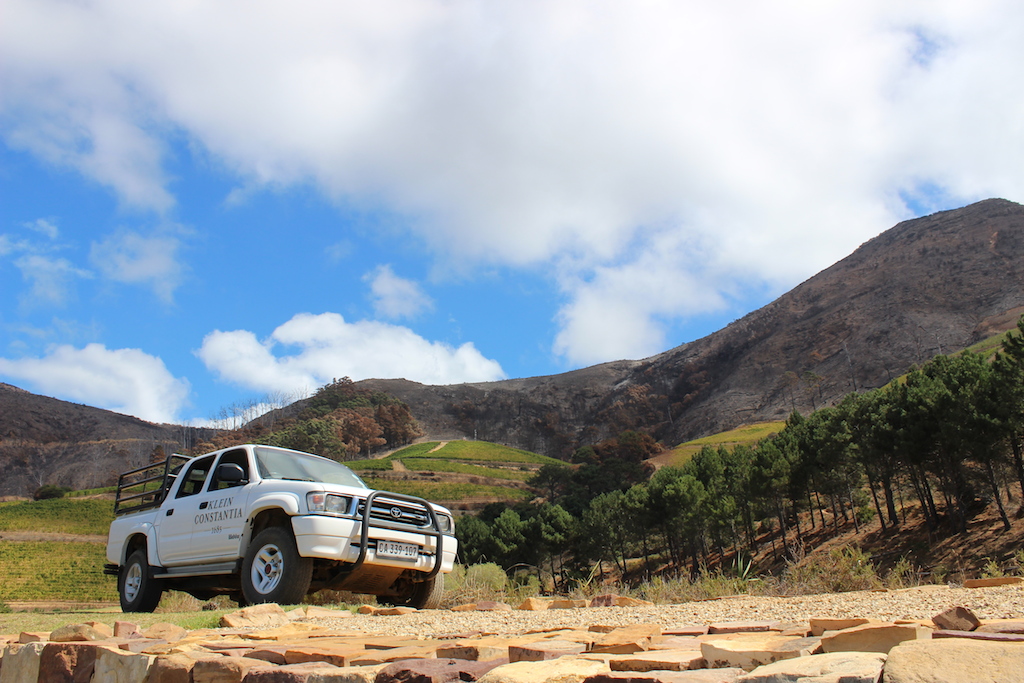 After taking in the views,  we drove back down to the lawns, where a beautiful table had been laid out for us under the trees. A tutored tasting of eight of their wines followed, including the KC, Estate and Anwilka ranges – and the famous Vin de Constance. We spent a little time on their on-site store – I walked away with the most amazing skin mousse (scented with Honey, Olive and Grapeseed Oil), which is well worth a visit to the estate alone.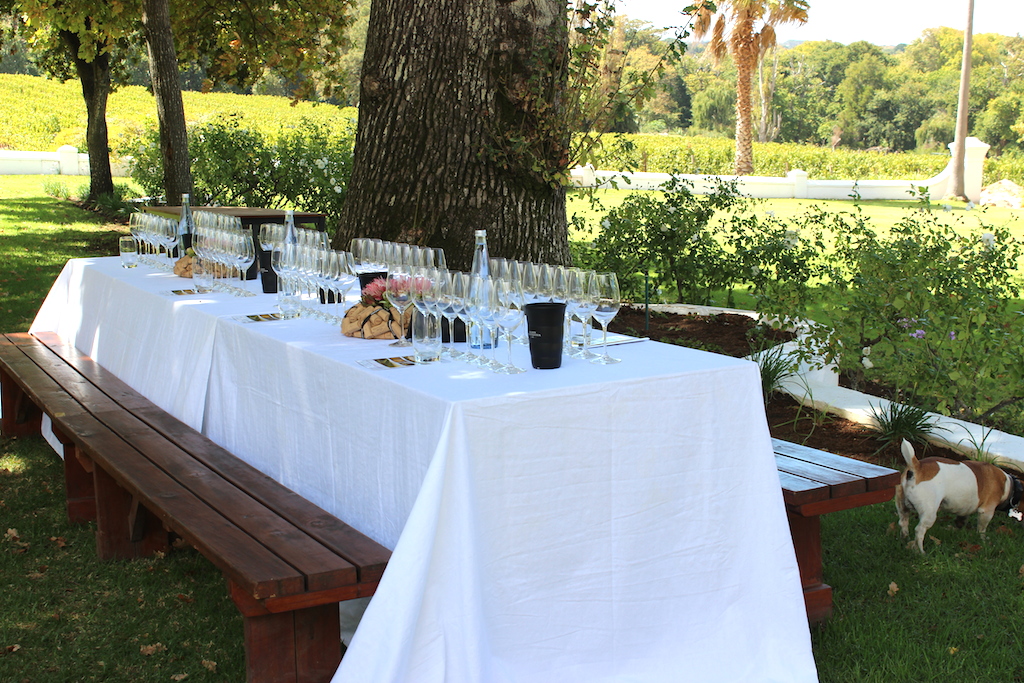 After more tastings than hours in the morning, we were almost stumbling our way to a much-needed lunch.  I was thrilled to hear that this would be taking place at our favourite Buitenverwachting. We were met by MD of the estate, Lars Maack, who also joined us for lunch, and gave us a inside glimpse into life on the estate.  Their restaurant must surely have one of the best views in Cape Town, sitting alongside the expansive table, looking up at the vineyards and mountains, we were treated to the chef's four course menu.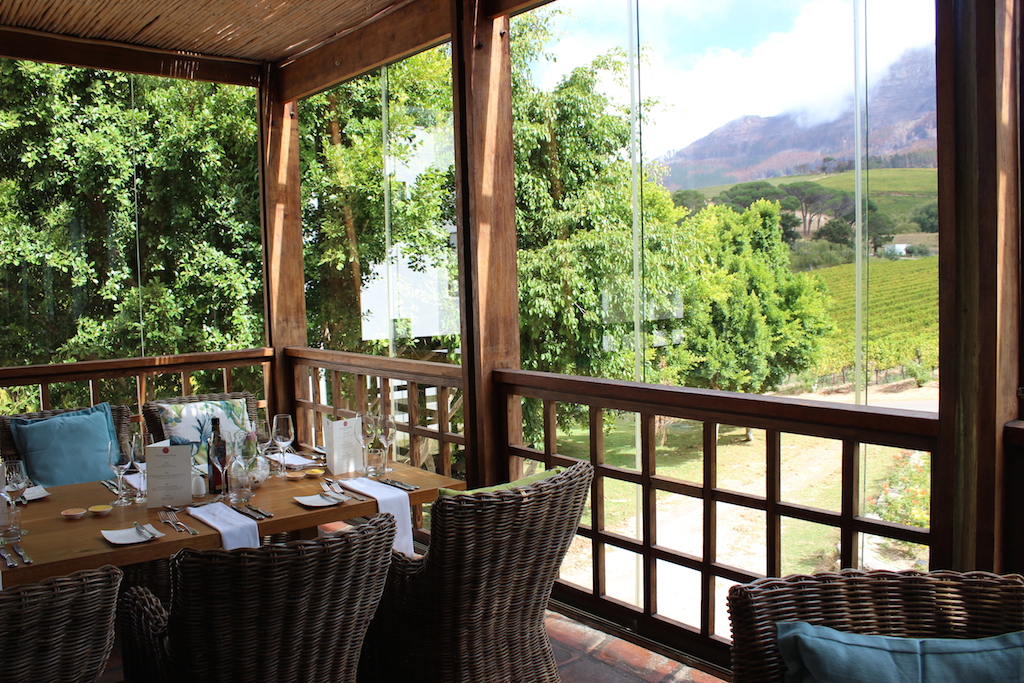 Although I never told them I was vegetarian, they had made and printed special menus – so appreciated, and completely up to the standard of this exceptional wine estate. This is what I enjoyed :
Tomato risotto with pan-fried zucchini and mint and coriander pesto
Layered pepper, aubergine, zucchini, tomato and creamy feta with rocket, basil pesto, olive tapenade, balsamic three ways with pine kernel Parmesan short bread
Broccoli and cauliflower tortellinis with kohlrabi and sweet potato puree, baby roots, port wine fig, butternut apricot timbale and burned rosemary butter
Chocolate variation 'Buitenverwachting'
The bellies filled with wine and exquisite food, we headed towards our last stop for the day – Eagle's Nest Wines. After a brief introduction in their tasting room, we were piled into a Jeep and headed up. And up, and up. The result? Spectacular views over the estate, allowing you to see exactly how the vines are contoured to the hills.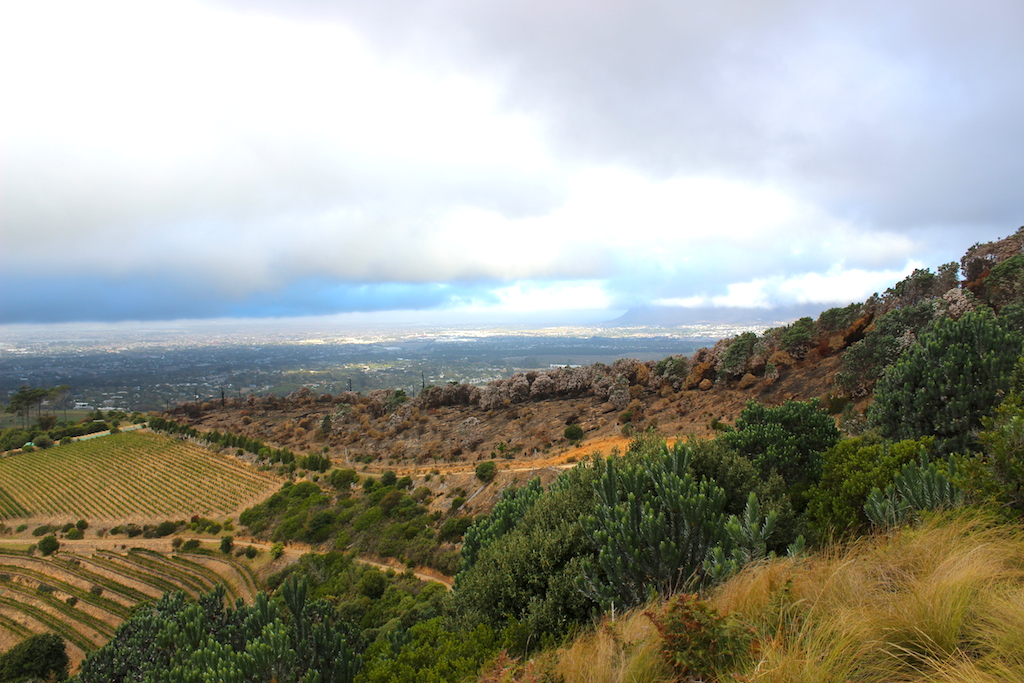 After being treated to spectacular views, we headed back to the tasting room, where we tasted three of their award-winining wines.
It was a long day – filled with adventure, excitement, fine wines and fantastic food. Thank you to the Constantia Wine Route for showcasing the valley to us – and reminding me again why it is our favourite.
Images taken with a Canon EOS 600D from Loot.co.za
Leave a comment