Last weekend, we were lucky to be given the opportunity to join Oldenburg Vineyards at the Mount Nelson Hotel, for our very first chef's table experience.
We've done tasting menus, wine-paired menus and other very lovely things, but there was a certain level of excitement at the mention of an intimate table in the heart of the kitchen.
Having visited Oldenburg once, but never knowingly tasting any of their wines, we were also keen to see what is produced by this beautiful estate. The menu was centred around their flagship wine, Rhodium, which we worked up to with the fourth course. This is what we enjoyed (with thanks to the team for putting together a special vegetarian menu for me – detailed later in the post).
Oldenburg Vineyards Chenin Blanc
Canapés

Oldenburg Vineyards Merlot
Duck rillette – smoked breast, tempura giblets, roasted pear and garlic purée, pickled thyme

Oldenburg Vineyards Cabernet Franc
Sage and mustard pork belly –  pulled BBQ shoulder, refried black beans, braised red cabbage and jus

Oldenburg Vineyards Rhodium
Slow cooked Afrikaner beef sirloin – oxtail truffle, wild mushrooms, Jerusalem artichokes, charred potato

Oldenburg Vineyards Chardonnay
Local cheese selection – home-made preserves and bread
We started with their Chenin Blanc – wooded (let the bells of joy ring from the heavens): 30% Barrel fermented, spending 10 months in 300L French oak barrels, 50% new – it was a good wine. A very good wine. From the start – let me say that all the wines we had ranged from very good, through exceptional, to goodness me, this is possibly the best Chardonnay I've ever had. Enjoyed with goat's cheese and beetroot and salmon and cream cheese canapés, we mingled in Planet Restaurant with MD and winemaker at Oldenburg, Philip Costandius, Brand and Marketing Manager, Anetha Volschenk and the rest of our intimate table of 12, before heading into the kitchens.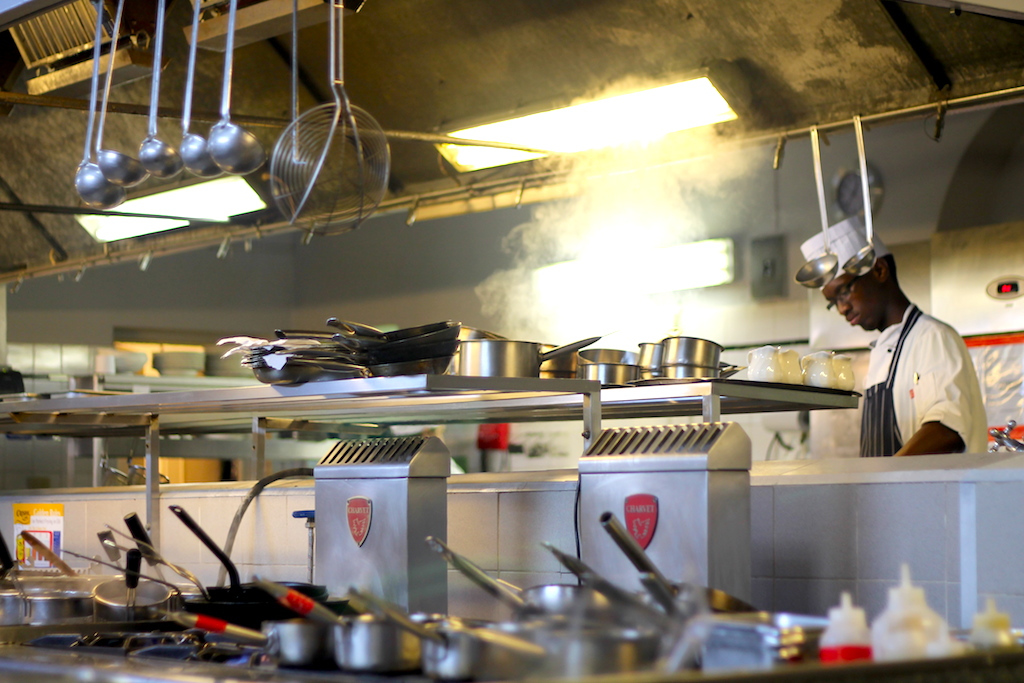 We ate all the warm, fresh bread with house-churned butter, before embarking on our first course. I was kindly given a plate of carrots –  baby carrot pickled, roasted, pureed and served with pan-roasted spiced carrot cake. A beautiful and delicate start to the meal – you can't go wrong when your first dish contains cake. This was served with the Merlot – and while I'm generally not a fan of the varietal, finding it too dull and heavy, this was by far one of the best I've had. From Oldenburg:
"Plum, prune and blackcurrant notes define the nose. The oak wood is discernible as lightly toasted almonds. Ripe, red fruit introduces the palate. Mint and plum flavours add further complexity. The tannins are mild and support an elegant palate."
Next up for me was a fantastic curry leaf and paneer filled tortellini with kale. An unusual combination, but thoroughly delicious. Spicy with green chilli, but oh-so-creamy and comforting. I could have happily had a big bowl and found a couch to curl up on in the lounge. This was served with the Cabernet Franc – spending 19 months in French Oak, it is described as "an exotic mixture of spice, red fruit and meat. On palate the wine shows finesse and elegance with integrated, dry tannins, an attractive saltiness and crisp minerality. A well defined, medium bodied wine with great class." We enjoyed it, naturally, but it wasn't one of my stand-out wines of the afternoon. To be fair, it was up against some pretty stiff competition – and actually turned out to be the favourite of someone else at the table.
We feasted, we drank and we were oh-so-merry. The main wine attraction, Rhodium, was served with main course. A blend of Merlot (53%), Cabernet Franc (40%) and Malbec (7%), this award-winning wine has "Blackcurrants, herbs and aromatic wood smoke mark the nose. This is followed in the mouth by ripe raspberries and caramel giving the wine a great finesse." It was a case of hoping I couldn't like it as much as I did…at R330 a bottle it falls firmly into my 'special occasion' category and will one day hold a notable place in our wine rack.
A note about the menu – which we were sent in advance: I was disappointed when I read 'local cheese selection' for dessert. Where is the chocolate? Where is the sugar, the cream and the vanilla pod? If there ever was a case for ending a meal on a high, this was it. Two platters laden with cheese of almost every description were brought to the table – sweet, smelly Gorgonzola, brie so ripe it dripped down my chin, rich, cumin-scented boerenkaas, local matured cheddar – and individual goat's cheesecakes topped with fresh apple – it was simply heaven. A meal on its own, we fought bravely to conquer it (and the cheese fondue that was later brought out). This has easily ruined all other cheese platters for me, for life – Mount Nelson has set the bar.
This was served with, what was co-incidentally my favourite wine of the evening – the Chardonnay. Aged in French oak for 11 months, it's my kind of white wine. Just read this description:
"The wine has aromas of orange marmalade and Melba toast, with a slight splash of cumin seed in the background. The entry on the palate is soft and supple, showing a pleasant balance between oak and fruit. Flavours of ripe Seville orange and kumquat follow through onto the palate. The wine has a beautifully rounded mouthfeel and lingers on the finish with flavours of creamy cookies."
At R130 a bottle, it's special but not unattainable – you can buy a few bottles, allowing you to ogle a few on the rack, enjoy one with dinner – and not feel too guilty afterwards.
We were hosted by Oldenburg Vineyards and the Mount Nelson Hotel. A review was not requested or expected. All images and views are my own.
mount nelson